Hungry Girl: A Comfort-Food Makeover Fit for a Prince!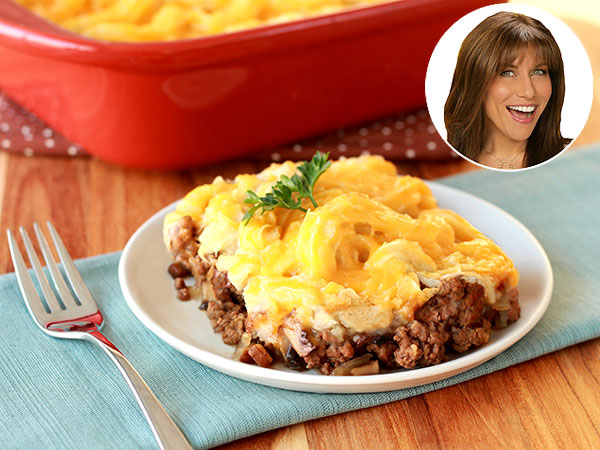 Courtesy Hungry Girl
Lisa Lillien is the author of the popular Hungry Girl website and email newsletter, featuring smart, funny advice on guilt-free eating. She is also the author of nine books, six of which debuted at number one on the New York Times Best Sellers list. Read her PEOPLE.com blog every Monday for slimmed-down celebrity recipes and more.

When we think about royalty, we generally imagine a pretty fancy lifestyle. But in a classic PEOPLE reveal, the former chef at Kensington Palace spilled that Prince William loves nothing more than good ol' cottage pie.
I can't say I blame him. How can a person not go nuts for creamy mashed potatoes over saucy beef and veggies?
However, there are some really easy ways to health-ify dishes like this, so I've whipped up a hearty swap for the royal recipe. Mashing cauliflower with potatoes is one of my favorite tricks, and using extra-lean beef, fat-slashed gravy and light cheese will help keep the nutritional stats impressive without compromising taste.
'Til next time… Chew the right thing!
Hungry Girl's Queen of the Cottage Pie
Makes 4 servings
1 cup instant mashed potato flakes
3 cups frozen cauliflower florets
1½ tsp. light whipped butter or light buttery spread (like Brummel & Brown)
¼ tsp. each salt and black pepper
⅛ tsp. ground nutmeg
1 lb. raw extra-lean ground beef (4% fat or less)
2 cups chopped brown mushrooms
1 cup chopped onion
½ cup fat-free or nearly fat-free beef gravy
¾ cup shredded reduced-fat cheddar cheese
1. Preheat oven to 375 degrees Fahrenheit. Spray an 8-in. by 8-in. baking pan with nonstick spray.
2. In a large microwave-safe bowl, thoroughly mix mashed potato flakes with 1½ cups hot water. Add cauliflower and mix well. Cover and microwave for 5 minutes. Stir, re-cover, and microwave for 5 more minutes, or until potatoes have thickened and cauliflower is hot and soft. Add butter, ⅛ tsp. salt, ⅛ tsp. pepper and nutmeg. Thoroughly mash and mix.
3. Bring a large skillet sprayed with nonstick spray to medium-high heat. Add beef, mushrooms, onion, and remaining ⅛ tsp. each salt and pepper. Cook, stir, and crumble beef about 6 minutes, until the beef is cooked through and the veggies are softened. Add the gravy, and stir well.
4. Transfer mixture to the baking pan. Evenly top with potato mixture.
5. Bake until topping has lightly browned, 30 – 35 minutes.
6. Sprinkle with cheese, and bake until melted, about 2 minutes. Enjoy!
HG Tip: If you want fancy spuds like those made for the royal family, pipe the potatoes with a pastry bag. Just let them cool a little first.
1 serving (1/4th of pie): 330 calories, 10.5g fat, 565mg sodium, 25g carbs, 3.5g fiber, 5g sugars, 34g protein