12 'Burning' Thanksgiving Questions For a Butterball Turkey Talk-Line Expert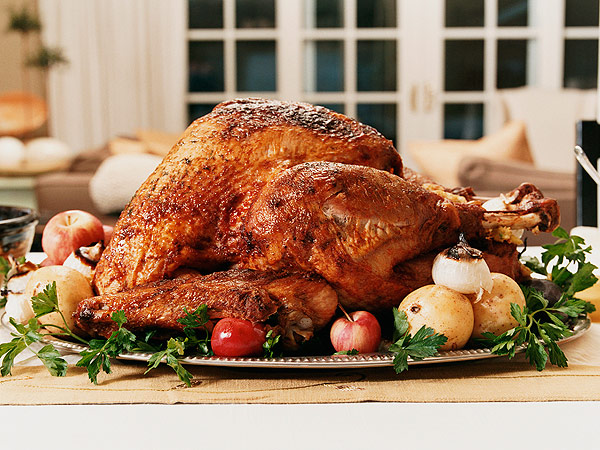 Lisa Peardon/Getty
If there's a 15-lb. turkey in your freezer and you have no idea what to do with it, who you gonna call? The Thanksgiving experts.

Much like a car's navigation system providing calming directions to a lost driver, the Butterball's Turkey Talk-Line has been helping novice chefs and Turkey Day veterans turn out Instagram-worthy — or scrapbook-worthy, prior to the days of social media — Thanksgiving meals since 1981.
Staffed by 50 food experts (mostly women) all primed and at-the-ready for Thanksgiving's toughest queries in a big room in Naperville, Illinois, the 800-BUTTERBALL hotline is open for business weekdays in November and December. If you're not really a phone person, no problem — several staffers give advice on Facebook and Twitter, and this year the company uploaded how-to videos and recipes on its site.
We had a few questions for hotline expert Nicole Johnson and, not surprisingly, she was both helpful and patient with a reassuring voice.
1. What's the number one question you get asked?
Everyone wants to know "how do I thaw my turkey?" We tell folks there are two acceptable methods: The first is refrigeration, which takes 24 hours for every 4 pounds. So a 20-pounder would take a good five days to thaw in the fridge.
2. That's a long time! Do some callers think they can thaw the bird out the day before?
Yes and that goes into the second method — the cold water bath, which takes a half hour per pound, for folks who are short on time.
3. How many calls do you typically receive on Thanksgiving Day?
We get well over 10,000 phone calls that day, plus thousands more questions on social media. (Each year the company assists more than 3 million cooks in November and December.) Most calls range from two minutes to a half hour. It's pretty much nonstop chatter at our headquarters. We go home with hoarse voices!
4. Do worried cooks ever weep on the phone?
I've talked to people in distress but not anyone who was crying. A lot of times it becomes a mediation between a husband and wife — the husband is thinking one way, the wife is thinking another, and they trust the turkey talk-line expert to give one of them the seal of approval.
5. Got any funny turkey stories?
Years ago we heard from a father who was bathing his toddler and thawing the turkey all in the same bathtub!
6. What's the biggest misconception about turkeys?
A lot of folks think roasting a turkey is an all-day process, which it is not. It takes from two hours for a small, unstuffed bird to six hours for a giant stuffed one.
7. What makes the hot-line experts qualified to talk turkey?
Each of us has a minimum of a four-year degree. We've got registered dietitians, home ec teachers, chefs — everyone is a foodie here.
8. Has a caller ever stumped an expert?
No. There's really no question we can't answer when it comes to the turkey and Thanksgiving meal.
9. Any surprising questions?
We get a lot of folks asking about giblets — do I discard them? If I cook them, what do I do with them? We tell them to use them in stuffing or gravy.
10. Do you hear from a lot of first-time cooks?
Yes, and a lot are newlyweds. One woman had her in-laws in the dining room waiting for the meal and she called us whispering from another room asking how to know if the turkey was done. We started whispering back, but then thought, "Why are we whispering?"
11. Do you ever get exasperated with callers?
No, we live and breathe Thanksgiving, and we're empathetic with the callers. There's lots of anticipation buildup because everyone wants a picture-perfect turkey.
12. What advice would you give Katie Holmes, who's making her first turkey this year?
Just make sure it's thawed in advance, use a meat thermometer, and reach out to us — we're here to help!
—Nancy Mattia