Jessica Alba, Busy Philipps & Christina Tosi Share Their Holiday Cookie Recipes — and Selfies!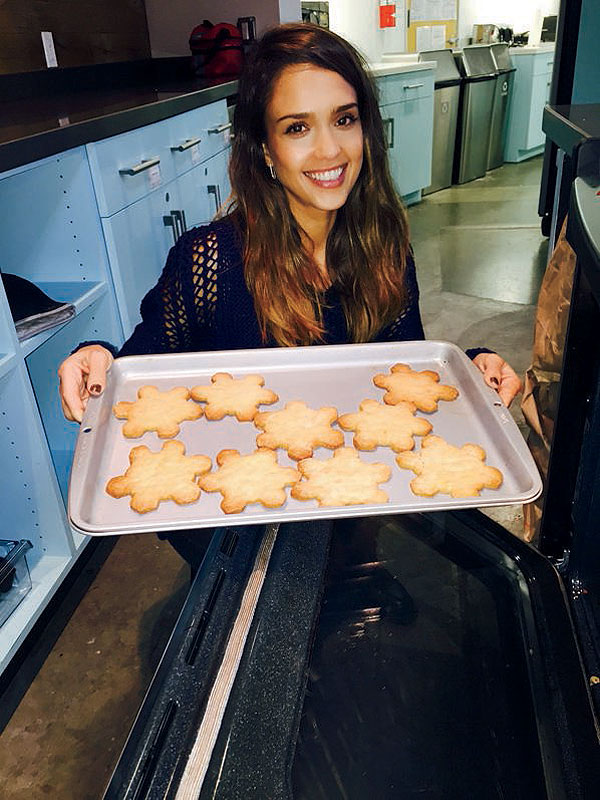 Courtesy Jessica Alba
What's better than eating two batches of cookies? Eating one, and giving the second to charity.

Stars like Jessica Alba, Busy Philipps and Milk Bar's Christina Tosi are doing just that! Cooking Light has enlisted these three ladies — along with some other celeb foodies — to help spread its #BakeItForward message of sharing your extra holiday baked goods with a friend, teacher, veteran, volunteer or another deserving cookie lover.
The magazine will be revealing a new celeb selfie every day until Christmas on its blog Simmer & Boil, plus you can also enter its #BakeItForward photo contest for a chance to win $500!
We got an exclusive first look at what some celebs were baking this season, who they were sharing it with — plus the recipes!
Alba, who's already wooed us with her apple banana bread pudding, whipped up her vegan sugar cookies for the volunteers at FoodCorps, which focuses on connecting kids with their food through school gardens.
Jessica Alba's Vegan Sugar Cookies
Makes about 3 dozen cookies
1 ½ cups confectioners sugar
⅛ tsp. salt
1 cup softened (not melted) coconut oil
¼ cup unsweetened coconut milk, soy milk, or almond milk
1 tsp. vanilla
2 ½ cups unbleached all-purpose flour
2 tbsp. cornstarch
1 tsp. baking soda
1 tsp. cream of tartar
1. In a large bowl, beat 1 ½ cups powdered sugar, ⅛ teaspoon salt, coconut oil, ¼ cup coconut milk, and 1 teaspoon vanilla with an electric mixer on medium speed to combine.
2. Stir in flour, cornstarch, baking soda and cream of tartar until blended. If dough is too crumbly, add a little more milk until it comes together.
3. Cover and refrigerate at least 2 hours.
4. Preheat oven to 375 degrees Fahrenheit.
5. Line a cookie sheet with parchment paper or lightly grease with cooking spray. Divide dough in half.
6. Roll each dough half to ¼ inch thickness on a floured surface and cut out with cookie cutters. (Dough may need to sit and soften until it is easier to roll out.)
7. Place shapes on the cookie sheet 2 inches apart and bake 7-8 minutes until edges just begin to turn golden brown. Cool on a wire rack.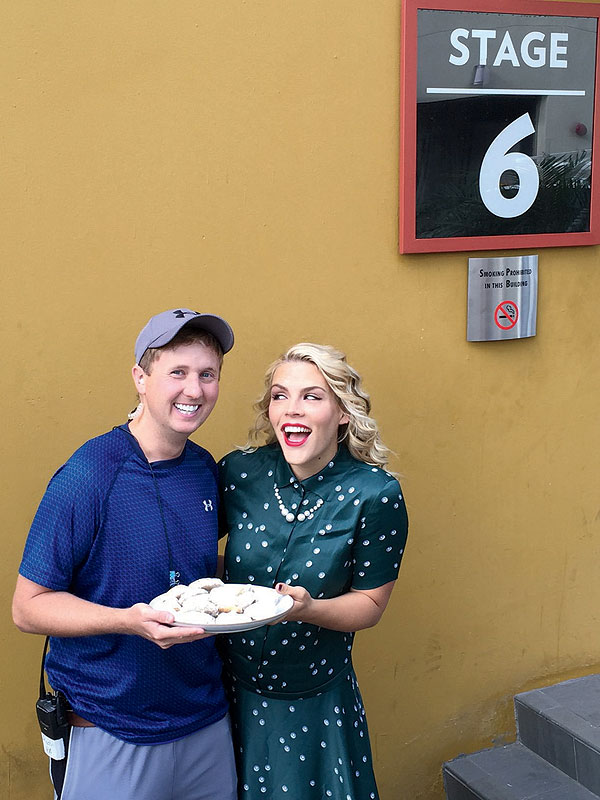 Courtesy Busy Philipps
Philipps baked a batch of crescent cookies for Rustin Davis, one of the production assistants on Cougar Town, to show him just how much she and the other cast members appreciate his hard work. (Note to self: In next life, come back as someone who works with Busy Philipps.)
Moot's Great Crescent Cookies from Busy Philipps
Makes about 3 dozen cookies
1⁄2 lb. butter
1⁄2 cup confectioners sugar
1 tsp. vanilla
2 cups sifted flour
1 cup chopped pecans
1. Cream together butter and sugar until well blended. Add vanilla, nuts and flour.
2. Divide dough and put it in waxed paper to make a roll. Refrigerate for an hour.
3. Shape small pieces of dough into crescents on an ungreased cookie sheet. Bake at 350F for about 20 minutes.
4. As soon as the cookies are removed from the oven, roll them in powdered sugar which forms a coating and looks like frosting. The best way to do this is in a plastic bag — but it must be done carefully as the cookies can break easily.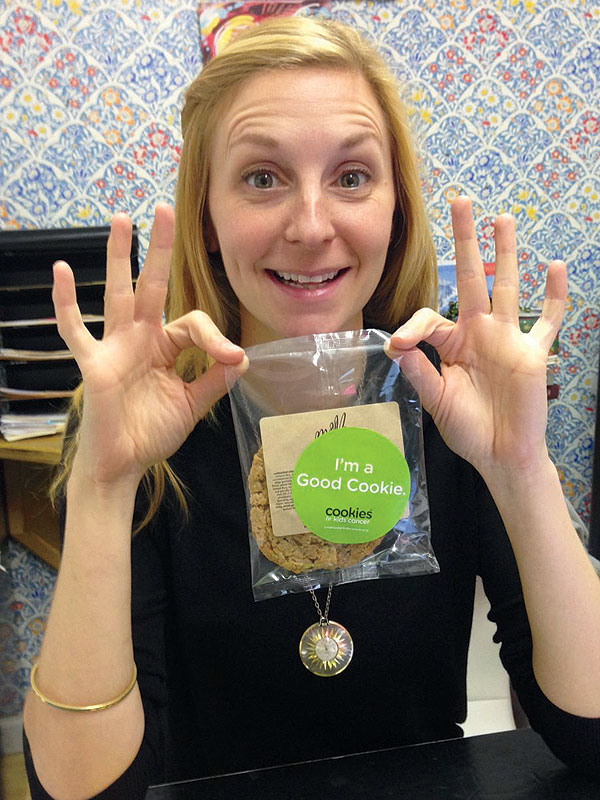 Courtesy Christina Tosi
And finally, Christina Tosi, owner of Milk Bar and Karlie Kloss's baking buddy, is giving her second batch of Cornflake-Chcoolate-Chip-Peppermint Cookies to Cookies for Kids' Cancer.
Christina Tosi's Cornflake-Chocolate-Chip-Peppermint Cookies
Makes about 2 dozen cookies
16 tbsp. (2 sticks) butter, at room temperature
1 ¼ cups granulated sugar
⅓ cup tightly packed light brown sugar
1 egg
1 tsp. peppermint extract
1 ½ cups flour
½ tsp. baking powder
½ tsp. baking soda
1 ½ tsp. kosher salt
1 batch Cornflake Crunch (recipe follows)
⅔ cup mini chocolate chips
40 peppermints or 18 candy canes, crushed
1 ¼ cups mini marshmallows
1. In a stand mixer with the paddle attachment, cream the butter and sugars medium-high for 2 to 3 minutes. Scrape down the sides of the bowl, add the egg and peppermint extract, and beat for 7 to 8 minutes.
2. Reduce the mixer speed to low and add the flour, baking powder, baking soda, and salt.
3. Still on low speed, paddle in the cornflake crunch, mini chocolate chips and peppermints. Paddle in the mini marshmallows just until incorporated.
4. Using a 2 ¾ ounce ice cream scoop (or ⅓ cup measure), portion out the dough onto baking sheet. Pat the tops of the cookie dough domes flat and refrigerate for 1 hour until the dough is chilled.
5. Heat the oven to 375 degrees Fahrenheit.
6. Arrange the chilled dough a minimum of 4 inches apart on parchment-lined baking sheet. Bake for 18 minutes. The cookies will puff, crackle, spread and smell like the holiday season.
Cornflake Crunch
5 cups cornflakes
½ cup milk powder
3 tbsp. sugar
1 tsp. kosher salt
9 tbsp. butter, melted
1. Heat the oven to 275 degrees Fahrenheit.
2. Pour the cornflakes in a medium bowl and crush them with your hands to one-quarter of their original size. Add the milk powder, sugar, and salt and toss to mix. Add the butter and toss to coat. As you toss, the butter will act as glue, binding the dry ingredients to the cereal and creating small clusters.
3. Spread the clusters on a parchment-lined sheet pan and bake for 20 minutes, at which point they should look toasted, smell buttery, and crunch gently when cooled slightly and chewed.
4. Cool the cornflake crunch completely before storing or using in a recipe. Stored in an airtight container at room temperature, the crunch will keep fresh for 1 week; in the fridge or freezer, it will keep for 1 month.
—Kristin Appenbrink