Alex Guarnaschelli: The Easiest Way to Fix Winter Vegetables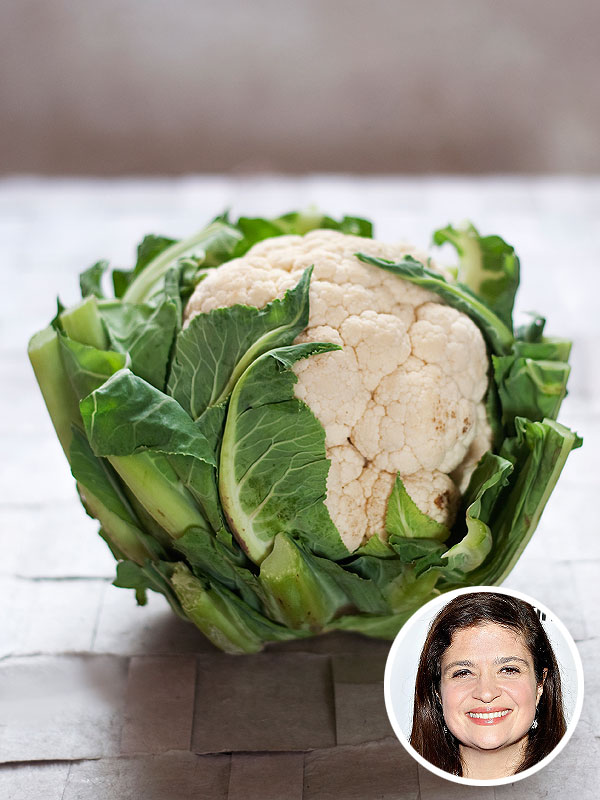 Roger Stowell/Getty; Inset: Cindy Ord/Getty
Alex Guarnaschelli is an Iron Chef, Food Network celebrity chef, author of Old-School Comfort Food and the executive chef at New York City's Butter restaurants. Read her PEOPLE.com blog every Tuesday to get her professional cooking tips, family-favorite recipes and personal stories of working in front of the camera and behind the kitchen doors. Follow her on Twitter at @guarnaschelli.

As soon as I pack up that turkey and the last of the cranberry sauce, I have the same ritual to signal the true end of Thanksgiving: I eat my last slice of pumpkin pie at the kitchen counter. I contemplate what healthy things I am going to cook for the rest of the week to balance out my turkey day food fest.
I imagine eating parsley leaves and watercress juice. I imagine a smoothie that lasts an entire week made from Chia seeds and pineapple juice. All delicious things. But aren't they going to leave me craving a cookie or another slice of pecan pie? I need something tasty and satisfying and most importantly simple! Can I keep it simple and still eat tasty food? While I will never qualify as a vegetarian, I certainly believe a meal or two composed uniquely of hearty vegetables is certainly refreshing after the turkey wings I ate with such gusto this past weekend!
I recently had the privilege of being a part of Bobby Flay's show Thanksgiving at Bobby's on Food Network. I contributed a cauliflower steak recipe that was meant as a side dish or as something meaty for vegetarians to enjoy in place of turkey. To be honest, I serve this particular cauliflower dish, with a few added bells and whistles, at my restaurant, Butter, in NYC. We are always so surprised at how many we sell! People can fall in love with vegetables, if they are simple and delicious.
One simple technique opens up many possibilities — stove-top vegetables. I simply cut some Jerusalem artichokes (a.k.a sunchokes) in half and put them, flesh side down, on a little bit of hot olive oil. I arrange a single layer off the heat and then simply "roast" them on the stove top over low heat until they brown and get tender on the inside. I flip them on their skin side and let them to cook for a couple of additional minutes. A sprinkle of salt, a squeeze of lemon, serve and eat.
Next, I move on to the bag of leftover cut Brussels sprouts in the fridge by doing a single layer of Brussels sprout halves in warm olive oil. I brown them, salt them and cook them over low heat until tender, about 12–15 minutes. A splash of red wine vinegar and done! It also works wonderfully with fingerling potatoes, carrots, parsnips and rutabaga. For the root vegetables, I like to add a splash of honey and a tiny grate of nutmeg (Just one grate! Not more!) at the end for a little kick. And that's it.
The same concept of stove-top roasting until they are tender and then adding a splash of vinegar or a sprinkle of spices really makes for a tasty side dish. There are no rules for what to add. Here are a couple of my favorite combinations: green beans cooked in a little butter with a drizzle of honey and some black pepper and broccoli and garlic with some apple cider vinegar. You can find inspiration in your own kitchen with just a few ingredients. I like the idea of eating lightly, healthfully and tastily without feeling deprived.
Broiled Cauliflower Steaks with Parsley and Lemon
Makes 8 to 10 servings
Cauliflower
2 large heads cauliflower (2 to 2 1/2 pounds each)
Kosher salt
Two 13 1/2-ounce cans unsweetened coconut milk
2 tbsp. coriander seeds, lightly crushed
1 tsp. red pepper flakes
Vinaigrette
2 tbsp. fresh lemon juice
2 tbsp. Dijon mustard
2 tbsp. red wine vinegar
2/3 cup extra-virgin olive oil
Gremolata
1 cup flat-leaf parsley leaves, chopped
Zest of 1 lemon
2 medium cloves garlic, minced
1. For the cauliflower: Place the first head of cauliflower upright (stem-side down) on a flat surface. Using a large knife and imagining that you are creating two large steaks from each head of cauliflower, trim a little off each end so that when you split the cauliflower in half, each half will lie flat. Cut the cauliflower in half. You should yield two "steaks," each weighing about 14 to 15 ounces. Repeat with the other cauliflower.
2. Bring 6 quarts of water to a rolling boil in a pot large enough to hold the cauliflower steaks. Add salt until the water tastes like mild seawater. (How will you know? Take a little water with a spoon and taste a drop of it.) Layer a baking sheet with a kitchen towel. Add the cauliflower steaks to the boiling water and cook until they are slightly tender when pierced with the tip of a knife, 6 to 8 minutes. Use a large slotted spoon or spatula to carefully transfer the steaks to the baking sheet to drain.
3. In a container large enough to fit the cauliflower snugly, whisk the coconut milk together with the coriander, red pepper flakes and a generous pinch of salt. Submerge the steaks in the coconut milk marinade and refrigerate for at least 2 hours and up to 24 hours.
4. For the vinaigrette: Whisk together the lemon juice, mustard and vinegar in a medium bowl. Slowly whisk in the olive oil. Set aside.
5. For the gremolata: Combine the parsley, lemon zest and garlic in a small bowl. Set aside.
6. Finish the cauliflower: Preheat the oven to 375 degrees Fahrenheit.
7. Remove the cauliflower steaks from the coconut milk marinade and arrange them in a single layer on a baking sheet. Season with salt. Place in the oven and cook until tender, 10 to 15 minutes. Heat the broiler and place the cauliflower under the broiler for a few minutes, until the top chars. Transfer the steaks to a serving platter (or individual plates) and drizzle liberally with all of the vinaigrette. Top with all of the gremolata. Add a pinch more salt if desired. Serve immediately.