EXCLUSIVE: You Must See Lance Bass and Michael Turchin's Pop-Art Wedding Cake From All Sides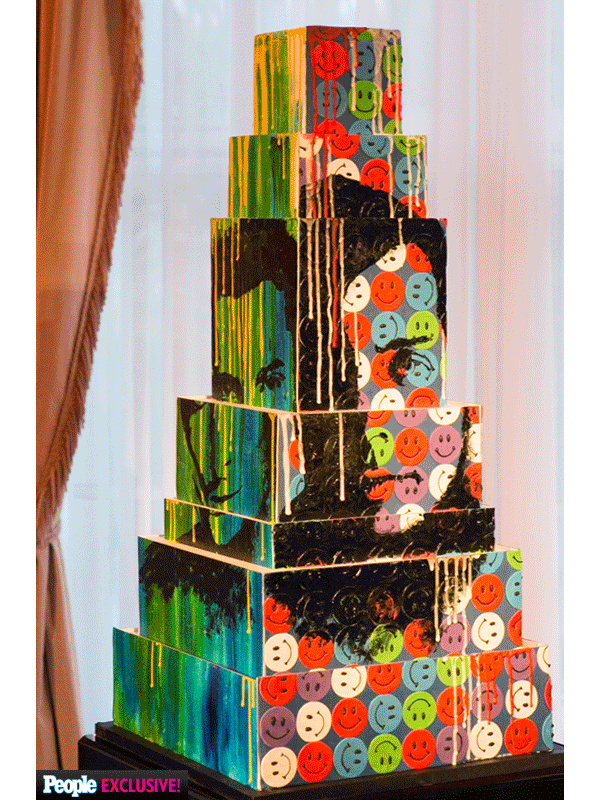 Michael Segal
Lance Bass and Michael Turchin's wedding cake was truly a work of art!

The couple — who married on December 20 in L.A. with an elaborate celebration orchestrated by wedding planner Sharon Sacks — worked with Kimberly Bailey of The Butter End Cakery to design a one-of-a-kind cake.
"They [originally] wanted a royal wedding-inspired cake, a white cake with metallic accents," Bailey tells PEOPLE. "We were designing that collectively and then I found out that Michael's an artist. We pulled up his artwork and I saw how vibrant and pop culture-inspired it is. I had sitting in front of me two vibrant, pop culture guys, and one of them created this vibrant fun art. I'm like, why don't we use the art as the cake. The cake became a giant canvas to recreate his artwork."
To incorporate them both into the design, they used an existing portrait of Turchin, who also sent over a portrait of Bass and six different painting backgrounds for Bailey to choose from. The winner: a 70s-esque, smiley face mosaic design.
"One side of the cake gives you one full image and the other gives you another full image, but if you look at it from an angle you actually can see the two of them together," says Bailey, who also created Kaley Cuoco's gravity-defying, upside-down wedding cake last year. Using complimentary colors, the baker sought to create "a cohesive piece."
The seven-tiered cake took about three days to make, but Bailey says "it was super fun and rewarding because I wanted to honor the vibe of Michael's work. It was completely unique and really, really personal for them."
As for the flavors, Bass and Turchin opted for The Butter End's signature carrot cake with walnuts and cream cheese frosting and chocolate almond cherry with a cherry buttercream frosting. "We gave them five different flavors to choose from and they loved them all," Bailey says. "It was adorable. They were really enthustastic about the cake."
—Michelle Ward