Girl Scouts Release Three New Cookies, Including Two Gluten-Free Flavors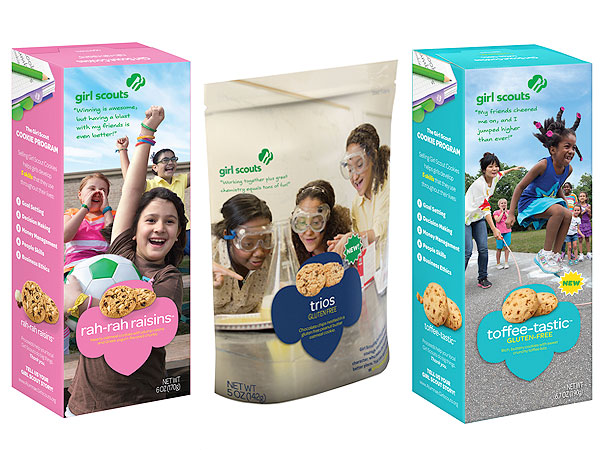 Courtesy Girl Scouts
Good news, Girl Scout Cookie fans (a.k.a. everyone): Three new flavors are joining the cookie lineup for 2015.

The GSUSA announced Monday that Toffee-tastic, Trios and Rah-Rah Raisins will be available this selling season, which lasts from mid- to late-January until the end of April.
Watch out, Thin Mints.
Toffee-tastic (buttery cookies with toffee bits) and Trios (peanut butter, chocolate chips and whole grain oats) are both gluten-free, making this the first time in the 98-year Girl Scout cookie-selling history that a G-free cookie is available nationwide. Last year, the Scouts tested a gluten-free Chocolate Chip Shortbread in select markets.
The third new flavor, Rah-Rah Raisins, is an oatmeal raisin cookie with whole grain oats, raisins, and Greek yogurt-flavored chunks.
Last month, GSUSA announced that its cookies will be available for purchase online — so stocking up on these new treats will be easier than ever.
This news calls for a big, celebratory glass of cold milk — or a no-bake Girl Scout Cookie Ice Box Cake. Your choice.
—Morgan Gibson