PHOTOS: Look Inside Nick and Drew Lachey's New Sports Bar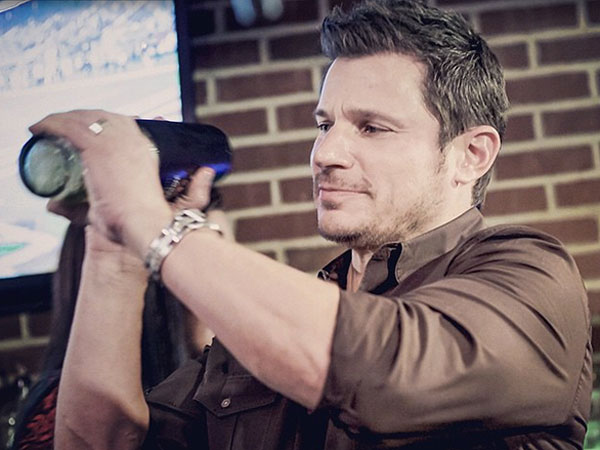 Courtesy Nick Lachey
The Lachey brothers are officially in the restaurant business!
To mark the grand opening of Lachey's – Nick and Drew Lachey's Cincinnati-based sports bar – the brothers and 98 Degrees bandmates celebrated with a VIP party.
Playing the dutiful host, Nick even took over as bartender for the occasion. "The best thing about owning your own bar is that no one can stop you from getting behind the bar!!" the soon-to-be dad-of-two wrote on Instagram.
Located in the Over-the-Rhine neighborhood, the 4,000-square-foot space is a reflection of the Lacheys' interests and hometown spirit. Equipped with 20 televisions and a running sports ticker (for watching their beloved Cincinnati Bengals, who fell to the Indianapolis Colts on Sunday) the bar is a sports lover's dream.
The menu, curated by chef Brian Duffy, includes game-ready appetizers, flatbreads, sandwiches, salads and entrees like maui maui and honey-ale marinated chicken. The chef Instagrammed a few tasty dishes such as a slow cooked cuban, tequila chicken flatbread and a bison burger.
The restaurant, the focus of Nick and Drew's upcoming A&E reality series, Lachey's Bar, also includes 14 craft beers, six wines, and signature cocktails including the #17, named in honor of the bus route the brothers used to take to get to the nearby School for the Creative and Performing Arts.
Drew, who lives in Cincinnati with wife Lea and his two kids and Nick, who splits his time between his hometown and L.A., seemed to enjoy celebrating with friends and family. And, although Nick's wife, Vanessa Lachey, was too pregnant to make the trip out from their California home, she did send her support. Posting a photo of the ribbon cutting ceremony on Instagram, she wrote. "Sooo proud of these brothers! Love you boys!"
–Michelle Ward