This Is Quite a Jolt: McDonald's and Dunkin' Donuts Offer Free Coffee on Mondays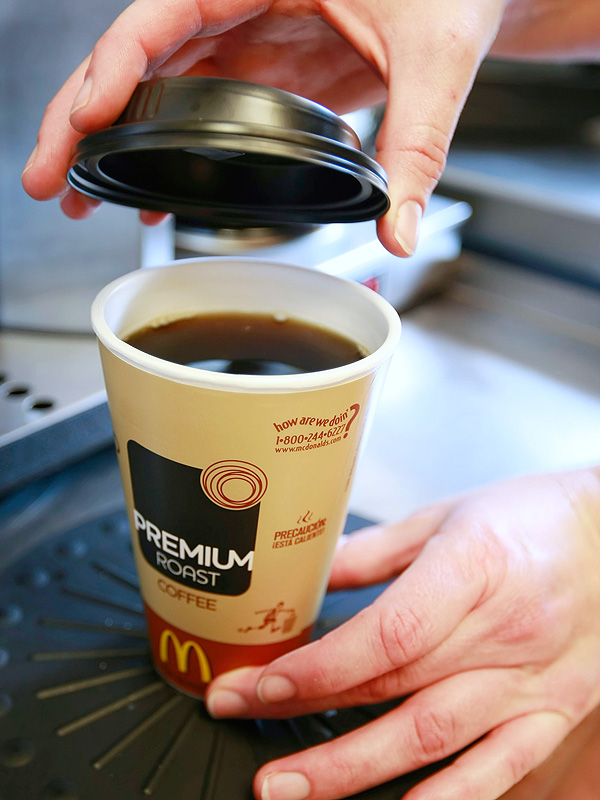 George Frey/Bloomberg News/Getty
McDonald's and Dunkin' Donuts may have found a cure for manic Mondays: Free coffee.

Yes, really. And the best part? You don't need to buy a McMuffin or don't-call-it-a-Cronut to go with your hot or iced cup of joe — this is a no-purchase-necessary deal that the two fast food chains are implementing in 2015, Money reports.
The move is more of a business booster than a feel-good favor, available in areas where sales could use a bump. The fast food giants are hoping that you will actually buy that McMuffin or Cronut doppelgänger to go along with your free drink.
The promotions kicked off at the beginning of the new year, and while all are limited-time offers, the definition of "time" varies widely depending on location: In the greater Washington, D.C. region, McDonald's free coffee deal will run through December 31; in central Indiana, it's the complimentary java runs out on June 1.
The deal is open to anyone who asks, as long as it's at a participating restaurant — which are definitely limited: Other McDonald's areas giving away free coffee include Cincinnati, Austin and Johnstown-Altoona, Pennsylvania. "The markets determine what is best for their customers and customize their offers accordingly," a company spokesperson said.
Dunkin' Donuts is targeting mostly cities in the Midwest. So if you're in places like Omaha, Milwaukee, Witchita, or Des Moines, step right on up — your free drink awaits.
—Nancy Mattia