Meet Your New Boyfriends: Ben & Jerry's Cookie Butter Ice Creams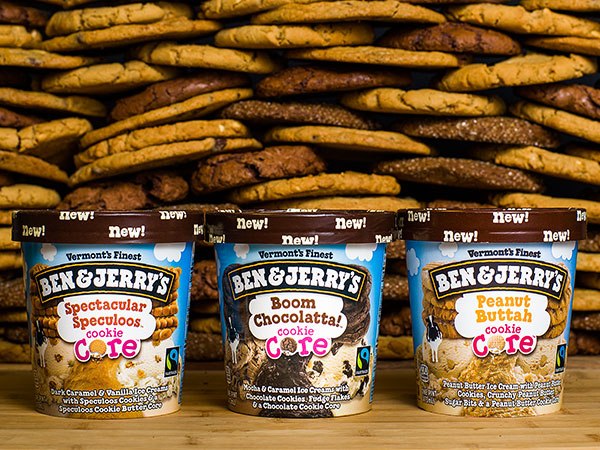 Courtesy Ben & Jerry's
WHAT IS IT: Ben & Jerry's new Cookie Cores flavors; Spectacular Speculoos Cookie Core, Boom Chocolatta! Cookie Core and Peanut Buttah Cookie Core

WHO TRIED IT: Morgan Gibson, PEOPLE Associate Food & Lifestyle Editor, @morgangibson
WHY WE DID IT: These pints combine every delicious thing ever created: Cookies, ice cream, cookie butter — we had to make sure Ben & Jerry's did their ingredients justice.
Hold on to your spoons — Ben & Jerry's just created your new boyfriend (in a pint).
The Vermont ice cream company announced Tuesday that three new cookie-centric flavors are joining Ben & Jerry's permanent lineup in freezer aisles starting now, with nationwide distribution hitting in a few weeks.
We always get excited about testing new products and flavors — even if it's one of the weirdest sounding creations ever — but these pints had us grinning from ear to ear the moment we saw them.
Why? Because their sole inspiration is cookie butter. Cookie butter, which, if you aren't familiar, is a blended cookie spread and one of the greatest things to be jarred since Nutella. That's a fact.
These Cookie Core pints are an expansion of Ben & Jerry's original Core line, which debuted last year with four varieties that all feature an inch-wide "core" of some gooey filling amid different ice cream flavors. Salted Caramel has a core of — what else? — salted caramel, That's My Jam has a core of strawberry jam and Peanut Butter Fudge has a core of peanut butter fudge, and so on.
These new pints all feature three different flavors of cookie butter. So, we've already got a recipe for success.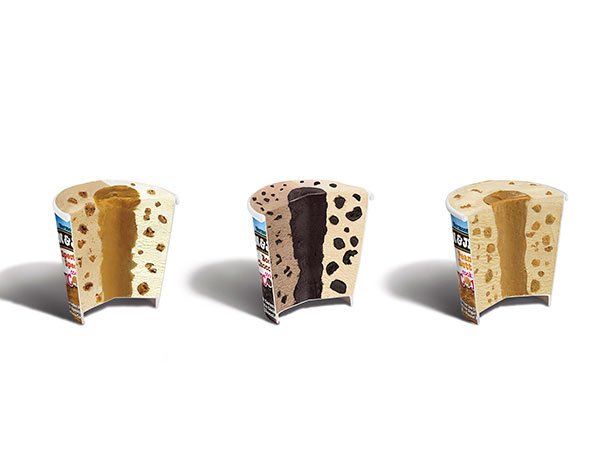 Courtesy Ben & Jerry's
But the question remains: How do these pints compare to previous stunners like Half Baked, Phish Food and Cherry Garcia?
And, more importantly, which one is the best?
Spectacular Speculoos Cookie Core
(For reference: Speculoos is a gingerbread cookie spread, it's kind of spicy and totally delicious)
What's in it? Dark Caramel & Vanilla Ice Cream with Speculoos Cookies & Speculoos Cookie Butter Core
How does it taste? Forget ice cream, just give me a spoon and let me continue to go to town on this Speculoos. Okay, back to ice cream: The B&J team did a good job of finding complementary flavors to wonderfully-bold gingerbread butter. The caramel ice cream isn't too intense, and the sweet cream tastes nice and light — and those crunchy cookie pieces are a lovely textural contrast. I could keep eating this one for days. Sidenote: This is the meltiest of the three — it gets gooey real fast.
Boom Chocolatta! Cookie Core
What's in it? Mocha & Caramel Ice Creams with Chocolate Cookies, Fudge Flakes & a Chocolate Cookie Core
How does it taste? Not as decadent as one would assume, this flavor is reminiscent of Half Baked, with some chocolate here, cookies there, all melding together in one smooth, addictive bite. The cookie core is gritty and tastes like a thick brownie batter, while the gooey fudge flakes melt in your mouth. The mocha ice cream delivers a bit of a punch, but the caramel flavor keeps it light. If you want a super-rich chocolate pint, look elsewhere — but for non-chocoholics, this is quite yummy.
Peanut Buttah Cookie Core
What's in it? Peanut Butter Ice Cream with Crunchy Peanut Butter Sugar Bits, Peanut Butter Cookies & a Peanut Butter Cookie Core
How does it taste? We'll get to the taste, but that smell! As soon as you peel off the lid of the carton, you are flooded with the scent of peanut butter, which prepares you for the most intense peanut butter-y ice cream I have ever tasted. I wouldn't want to eat the ice cream by itself — a little too strong — but with the cookie bits and peanut butter cookie core (which is quite delightful on its own) — it makes for a good bite. If peanut butter cookies are your favorite, this is for you.
After tasting all three in this order, I dived right back into the Speculoos pint — not only is it the tastiest, but it's also the most unique and interesting, with just enough spicy, molasses-spiked gingerbread butter to leave you craving another spoonful.