Did Domino's Really Run This S&M-Themed Sriracha Pizza Ad?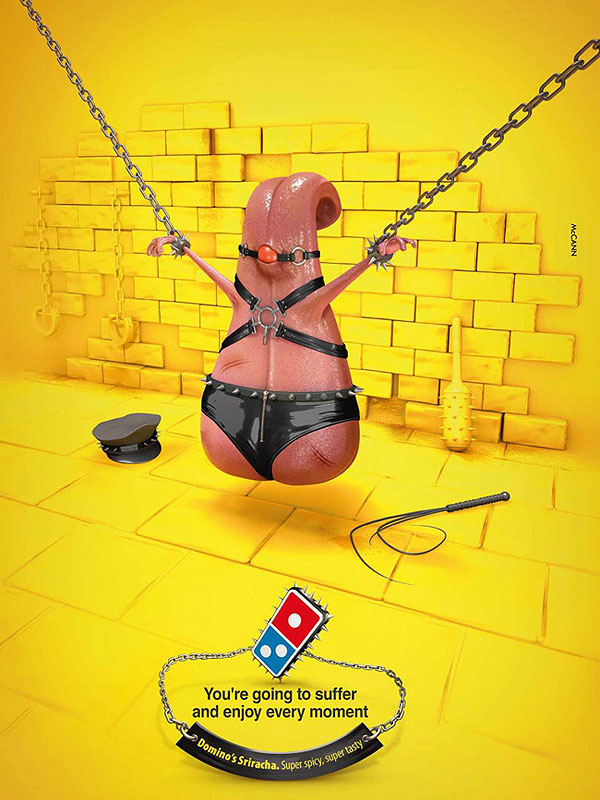 Courtesy Dominos
"You're going to suffer and enjoy every moment."

So proclaims a bold new Domino's ad for Sriracha pizza that surfaced online Tuesday. The ad, which purportedly appeared in print in Israel, features a tongue tied up and ball-gagged. Because nothing says "pizza" like good ol'fashioned S&M.
But is it the real deal? Domino's says yes… Sort of.
"It's real," company spokesman Tim McIntyre tells PEOPLE. "The ad was created and pitched by an agency to the independent franchise in Israel."
The catch? It never ran in print – or anywhere for that matter.
"It never 'officially' appeared anywhere, because it was ill-advised, unfunny and not brand-appropriate," McIntyre adds. "In a word, it was stupid."
The ad only surfaced online because it was leaked. Now it's "being presented as something that actually ran in Israeli media," McIntyre explains. "It did not."
The spokesman admits that even he thought it was a joke when he learned of the risqué ad. "When I first saw it myself, I thought it was a parody, just in time for the premiere of Fifty Shades of Grey," he says. "I'm still shaking my head."
So are we.
–Tara Fowler