Hungry Girl: Make a Lightened Up Wahlburgers' BBQ Bacon Burger at Home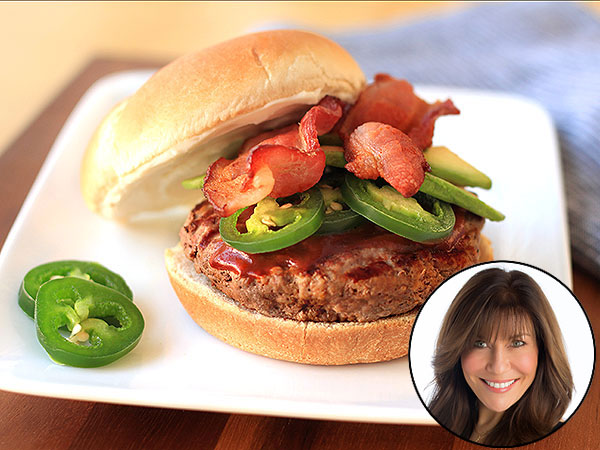 Courtesy Hungry Girl
Lisa Lillien is the author of the popular Hungry Girl website and email newsletter, featuring smart, funny advice on guilt-free eating. She is also the author of nine books, six of which debuted at number one on the New York Times Best Sellers list. Read her PEOPLE.com blog every Monday for slimmed-down celebrity recipes and more.

Are you an NKOTB fan who never got over Donnie Wahlberg? A cinephile who's got love for Mark, despite (or because of) his Funky Bunch past? Or are you a foodie who's more into Paul? One thing's for sure, there's no shortage of Wahlberg fans… or brothers!
And while Wahlberg enthusiasts everywhere can catch Wahlburgers on A&E, only those in the Boston and Toronto areas are currently lucky enough to dine at the show's namesake restaurant.
That's why I whipped up an at-home swap for one of the joint's classic burgers: the BBQ Bacon Burger, a.k.a. Donnie's Choice! With cheese, bacon, and avocado, this burger's definitely got the right stuff. (Sorry… Had to!) Well, not only is this Hungry Girl spin a great way to enjoy it at home, it's also guilt-free, thanks to some key ingredients.
P.S. In another life, playing pool with a Wahlberg was just another Thursday night… click for proof.
'Til next time… Chew the right thing!
Hungry Girl's BBQ Bacon Burger
Makes 1 serving
1 slice center-cut bacon or turkey bacon
4 oz. raw extra-lean ground beef (4% fat or less)
1 tbsp. liquid egg whites (about half a large egg white)
Dash each salt and black pepper
Dash onion powder
1 light hamburger bun (or HG Alternative)
1 wedge The Laughing Cow Creamy White Cheddar cheese (or other flavor)
1 tbsp. BBQ sauce with 45 calories or less per 2-tbsp. serving
4 slices jalapeño pepper
½ oz. sliced avocado
1. Cook bacon until crispy, either in a skillet over medium heat or on a microwave-safe plate in the microwave. (See package for cook time.) Break slice in half.
2. In a medium bowl, thoroughly mix beef, egg whites, and seasonings. Evenly form into a patty about 4 inches wide.
3. Bring a grill pan (or skillet) sprayed with nonstick spray to medium-high heat. Cook patty for 3 – 4 minutes per side, or until cooked to your preference.
4. Meanwhile, split bun into halves, and lightly toast. Spread cheese wedge on top half.
5. Transfer patty to the bottom half of the bun. Top with BBQ sauce, jalapeño, avocado, and bacon halves. Finish with the top half of the bun.
Nutritional information: 347 calories, 12g fat, 937mg sodium, 26g carbs, 6g fiber, 6.5g sugars, 34g protein
HG Alternative: Can't find light hamburger buns, which have around 80 calories? Try a 100-calorie flat sandwich bun, like an Arnold/Brownberry/Oroweat Sandwich Thin. Just adjust the calorie count accordingly.