Alex Guarnaschelli: Add These Simple Vegetable Sides to Tonight's Dinner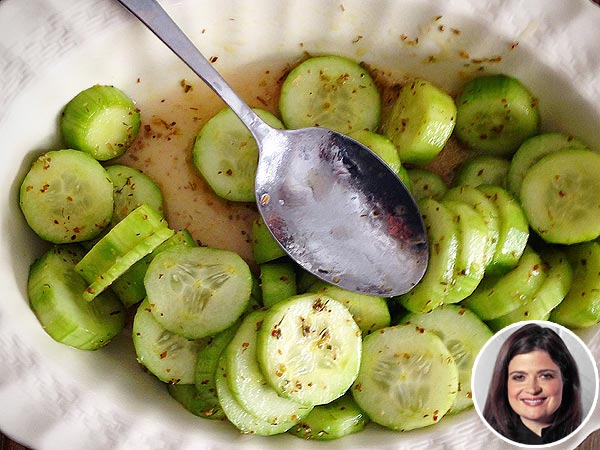 Courtesy Alex Guarnaschelli; Kevin L/Food Network
Alex Guarnaschelli is an Iron Chef, Food Network celebrity chef, author of Old-School Comfort Food and the executive chef at New York City's Butter restaurants. Read her PEOPLE.com blog every Tuesday to get her professional cooking tips, family-favorite recipes and personal stories of working in front of the camera and behind the kitchen doors. Follow her on Twitter at @guarnaschelli.

Simple side dishes are hard to come by.
I always start out so simply and then I usually end up adding ingredients — more steps and a pile of dirty dishes later, I only have a small plate of food that I devour in just a few minutes!
These are three simple dishes I've recently made that really deliver. The cucumber salad is great with some grilled shrimp or next to some canned tuna. I have topped the mushrooms with a fried egg or put them into a sandwich. The carrots I sometimes just eat as is (without sharing or adding anything to go with it). I love the carrots with chicken or pork chops.
What I love most is letting go of the rules. You don't have to do anything in particular with these dishes other than enjoy them.
I am quite an omnivore, but I love an occasional meal that is just vegetables.
Marinated Cucumber Salad (pictured above)
I have been known to make this and let it sit for a few hours before eating. I love how ice cold and juicy the cucumbers get. I also stir in some slices of fresh Jalapeno if I want to add a kick. It's a great topping for chili or a taco.
2 medium hot house cucumbers, peeled
Kosher salt
2 tsp. oregano
1 tsp. dill (or caraway) seeds
3 tbsp. Rice Wine vinegar
1 tbsp. extra-virgin olive oil
1 medium avocado, halved, pitted
1 lime
Place the cucumbers on a flat surface and cut them into ½-inch thick rounds. Arrange them in a single layer on a baking sheet. Season them lightly on both sides with salt, the oregano and the dill seeds. Toss in a bowl with the rice wine vinegar and olive oil. Use a tablespoon to scoop out the avocado in bits and sprinkle with the lime juice. Toss to blend and chill for 30 minutes before serving.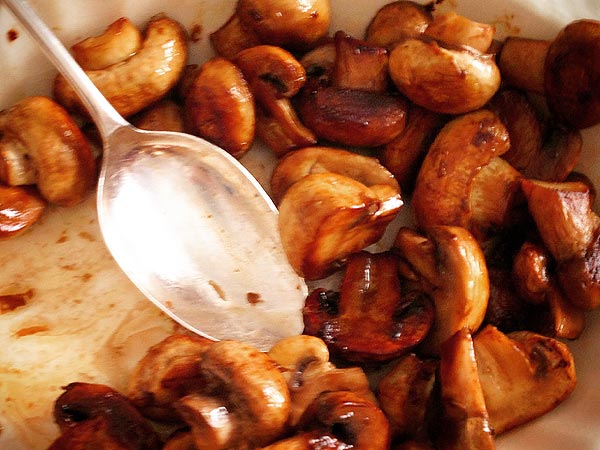 Courtesy Alex Guarnaschelli
Braised White Button Mushrooms with Garlic
The white mushrooms sit, loyally, on the shelf all year round at the supermarket. They're only a few dollars and they are so meaty and tasty! My mom made them a lot when I was growing up. She loved to finish them with a splash of heavy cream and some cayenne.
2 tbsp. extra-virgin olive oil
2 medium cloves garlic, minced
Kosher salt
1 lb. white button mushrooms, ends trimmed (but stems still attached) and washed
¼ cup dry Marsala (or Sherry)
Heat a large saucepan over medium heat. Add the olive oil and the minced garlic and lower the heat. Season with salt and pepper and cook until translucent, 2-3 minutes. Add the mushrooms. Season with salt and pepper. Cook until the mushrooms are tender and a lot of the liquid has evaporated at the bottom of the pan, 6-8 minutes. Add the Marsala to the mushrooms and cook until the flavor of the alcohol has mellowed considerably, 3-4 minutes.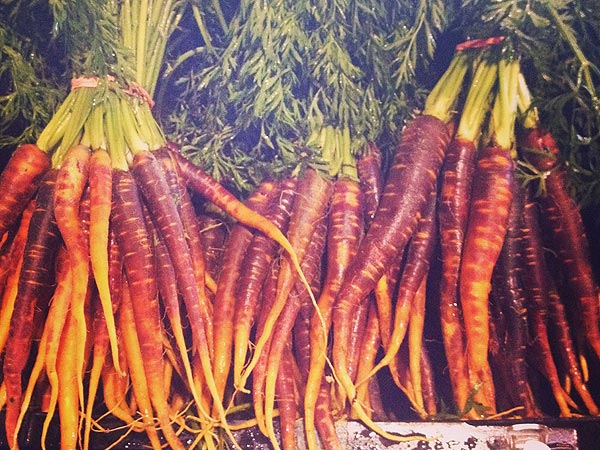 Courtesy Alex Guarnaschelli
Mom's Simple Braised Carrots
This is a dish I would ask for when I was home sick from school. Probably an excuse to eat brown sugar with carrots tagging along for the ride…But it always surprises me how carrots can be so simply turned into a real comfort food that feels a lot richer than it actually is! I find these carrots addictive.
2 tbsp. unsalted butter
2 tsp. coriander seeds, lightly crushed
12 medium carrots, peeled and halved lengthwise
½ cup light brown sugar
Kosher salt
½-1 cup water
1 tbsp. red wine vinegar
Heat a skillet large enough to hold the carrot halves in a single layer and add the butter, coriander seeds, carrots and brown sugar. Season the carrots with salt and add about ½ cup water. Continue to cook the carrots over medium heat for a few minutes. Add another splash of water to finish the cooking process if the carrots aren't yet tender when pierced with the tip of a knife. You want to finish with tender carrots and not that much liquid in the pan. When the carrots are tender, add the red wine vinegar. Taste for seasoning. Serve immediately.