President 'O'Bama' Struts His Irish for St. Patrick's Day at the White House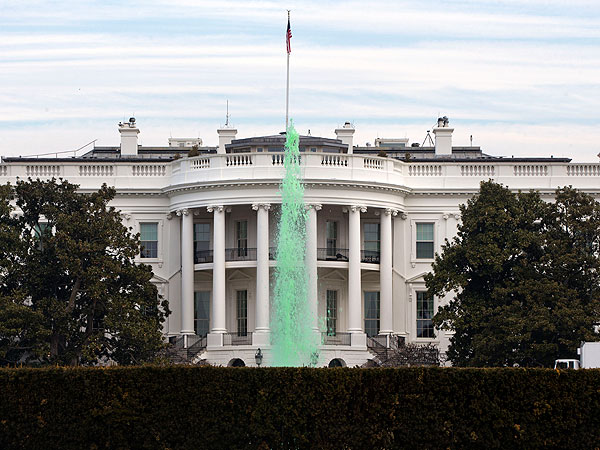 Jacquelyn Martin/AP
The green necktie has become almost obligatory, but President Obama, who can claim a great-great-great-grandfather from the Irish village of Moneygall, did more than just sport the color of the day. He put it in the White House water.

Fountains on the executive mansion's lawn ran green on St. Patrick's Day, and the president, who has joked his name is really "O'Bama," celebrated with bagpipes, shamrocks and the poetry of Yeats.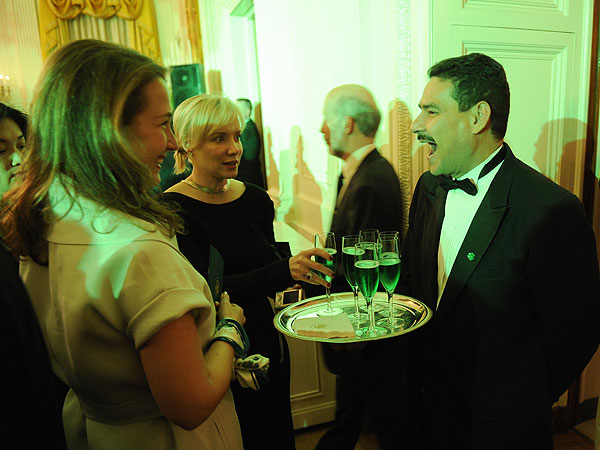 Charles Dharapak/AP
"This is an annual affair and always one of my favorites. It allows me to trot out my Irish heritage," Obama said as an Oval Office visit from Taoiseach (Irish Prime Minister) Enda Kenny kicked off the St. Patrick's Day festivities at the White House that included bagpipes on the East Landing, Guinness draft and Jameson whiskey in the East Room and a traditional menu of lamb, shepherd's pie and shamrock-shaped shortbread.
Kenny gifted Obama with a slender green volume of poems by William Butler Yeats, whom the president called one of his favorite poets and one of Ireland's best "exports." Vice President Biden held a holiday breakfast of country potatoes and Irish soda bread at his official residence, joking: "Anyone wearing orange is not welcome in here!"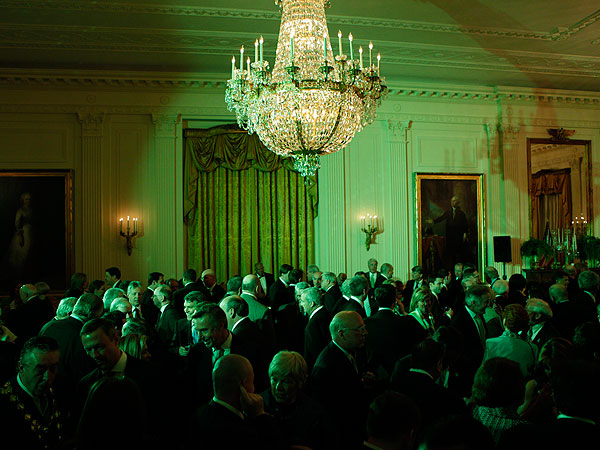 Charles Dharapak/AP
On Capitol Hill, where Obama, Biden and Kenny joined congressional leaders for lunch in the Capitol's Rayburn Room, the St. Patrick's menu was considerably more highbrow than the one-pot meal of corned beef and cabbage many of us associate with the holiday. VIPs instead dined on mesclun salad with fallen goat cheese soufflé and a balsamic vinaigrette; Dover Sole meunière with steamed spinach and saffron turned potatoes; and a salted caramel pie with graham cracker crust and vanilla bean ice cream for dessert.
Oh, and for those of us keeping it real on St. Patrick's Day, there were shamrock-shaped cookies decorated in bright green icing.
—Sandra Sobieraj