The 2015 James Beard Awards Finalists Announced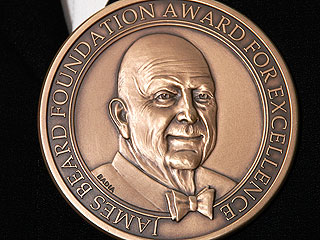 Victor Spinelli/WireImage
The envelope, please: On Tuesday morning, the James Beard Foundation, one of the country's leading culinary nonprofit organizations, announced the finalists for its annual Restaurant and Chef Awards and Book, Broadcast, and Journalism Awards.

Considered the Oscars of the food world, the 2015 James Beard Awards gala will be hosted by Alton Brown at the Lyric Opera of Chicago on Monday, May 4, while the book and broadcast dinner will hosted by The Chew's Carla Hall at Pier Sixty in N.Y.C. You can read a full list of nominees here, but we've summarized some of the most highly anticipated races below. Best of luck to the nominees — and may the Beard odds be ever in your favor.
Restaurant and Chef Award
Best New Restaurant
A restaurant opened in 2014 that already displays excellence in food, beverage, and service and is likely to have a significant impact on the industry in years to come.
Bâtard, N.Y.C.
Central Provisions, Portland, Maine
Cosme, N.Y.C.
Parachute, Chicago
Petit Trois, Los Angeles
The Progress, San Francisco
Spoon and Stable, Minneapolis
Outstanding Baker
Joanne Chang, Flour Bakery + Cafe, Boston
Mark Furstenberg, Bread Furst, Washington, D.C.
Jim Lahey, Sullivan Street Bakery, N.Y.C.
Belinda Leong and Michel Suas, B. Patisserie, San Francisco
William Werner, Craftsman and Wolves, San Francisco
Outstanding Bar Program
An establishment that displays and encourages excellence in cocktail, spirits, and/or beer service.
Arnaud's French 75 Bar, New Orleans
Bar Agricole, San Francisco
Maison Premiere, Brooklyn, New York
Trick Dog, San Francisco
The Violet Hour, Chicago
Outstanding Chef
A working chef in America whose career has set national industry standards and who has served as an inspiration to other food professionals. Candidates must have been working as chefs for at least the past 5 years.
Michael Anthony, Gramercy Tavern, N.Y.C.
Sean Brock, Husk, Charleston, South Carolina
Suzanne Goin, Lucques, Los Angeles
Donald Link, Herbsaint, New Orleans
Marc Vetri, Vetri, Philadelphia
Outstanding Pastry Chef
A chef or baker who prepares desserts, pastries, or breads and who serves as a standard-bearer for excellence. Candidates must have been pastry chefs or bakers for at least the past 5 years.
Dana Cree, Blackbird, Chicago
Maura Kilpatrick, Oleana, Cambridge, Massachusetts
Dahlia Narvaez, Osteria Mozza, Los Angeles
Ghaya Oliveira, Daniel, N.Y.C.
Christina Tosi, Momofuku, N.Y.C.
Outstanding Restaurant
A restaurant in the United States that serves as a national standard-bearer for consistent quality and excellence in food, atmosphere, and service. Candidates must have been in operation for at least 10 or more consecutive years.
Blue Hill at Stone Barns, Pocantico Hills, New York
Highlands Bar and Grill, Birmingham, Alabama
Momofuku Noodle Bar, N.Y.C.
Per Se, N.Y.C.
The Spotted Pig, N.Y.C.
Outstanding Restaurateur
A working restaurateur who sets high national standards in restaurant operations and entrepreneurship. Candidates must have been in the restaurant business for at least 10 years. Candidates must not have been nominated for a James Beard Foundation chef award in the past 10 years.
JoAnn Clevenger, Upperline, New Orleans
Donnie Madia, One Off Hospitality Group, Chicago (Blackbird, Avec, The Publican, and others)
Michael Mina, Mina Group, San Francisco (Michael Mina, RN74, Bourbon Steak, and others)
Cindy Pawlcyn, Napa, California (Mustards Grill, Cindy's Back Street Kitchen, and Cindy's Waterfront at the Monterey Bay Aquarium)
Stephen Starr, Starr Restaurants, Philadelphia (The Dandelion, Talula's Garden, Serpico, and others)
Outstanding Service
A restaurant that demonstrates high standards of hospitality and service. Candidates must have been in operation for at least the past 5 years.
The Barn at Blackberry Farm, Walland, Tennessee
Marea, N.Y.C.
Quince, San Francisco
Restaurant August, New Orleans
Topolobampo, Chicago
Outstanding Wine Program
A restaurant that displays and encourages excellence in wine service through a well-presented wine list, a knowledgeable staff, and efforts to educate customers about wine. Candidates must have been in operation for at least 5 years.
A16, San Francisco
Bern's Steak House, Tampa, Florida
FIG, Charleston, South Carolina
McCrady's, Charleston, South Carolina
Spago, Beverly Hills, California
Outstanding Wine, Beer, or Spirits Professional
A winemaker, brewer, or spirits professional who has had a significant impact on the wine, beer and spirits industry nationwide. Candidates must have been in the profession for at least 5 years.
Sam Calagione, Dogfish Head Craft Brewery, Milton, Delaware
Ron Cooper, Del Maguey Single Village Mezcal, Ranchos de Taos, New Mexico
Ted Lemon, Littorai Wines, Sebastopol, California
Rajat Parr, Mina Group, San Francisco
Harlen Wheatley, Buffalo Trace Distillery, Frankfort, Kentucky
Rising Star Chef of the Year
A chef age 30 or younger who displays an impressive talent and who is likely to have a significant impact on the industry in years to come.
Tanya Baker, Boarding House, Chicago
Alex Bois, High Street on Market, Philadelphia
Erik Bruner-Yang, Toki Underground, Washington, D.C.
Jessica Largey, Manresa, Los Gatos, California
Cara Stadler, Tao Yuan, Brunswick, Maine
Ari Taymor, Alma, Los Angeles
Best Chef: Great Lakes (IL, IN, MI, OH)
Curtis Duffy, Grace, Chicago
Jonathon Sawyer, Greenhouse Tavern, Cleveland
Paul Virant, Vie, Western Springs, Illinois
Erling Wu-Bower, Nico Osteria, Chicago
Andrew Zimmerman, Sepia, Chicago
Best Chef: Mid-Atlantic (D.C., DE, MD, NJ, PA, VA)
Joe Cicala, Le Virtù, Philadelphia
Spike Gjerde, Woodberry Kitchen, Baltimore
Rich Landau, Vedge, Philadelphia
Greg Vernick, Vernick Food & Drink, Philadelphia
Cindy Wolf, Charleston, Baltimore
Best Chef: Midwest (IA, KS, MN, MO, NE, ND, SD, WI)
Paul Berglund, The Bachelor Farmer, Minneapolis
Justin Carlisle, Ardent, Milwaukee
Gerard Craft, Niche, Clayton, Missouri
Michelle Gayer, Salty Tart, Minneapolis
Lenny Russo, Heartland Restaurant & Farm Direct Market, St. Paul, Minnesota
Best Chef: Northeast (CT, MA, ME, NH, NY STATE, RI, VT)
Karen Akunowicz, Myers + Chang, Boston
Barry Maiden, Hungry Mother, Cambridge, Massachusetts
Masa Miyake, Miyake, Portland, Maine
Cassie Piuma, Sarma, Somerville, Massachusetts
Andrew Taylor and Mike Wiley, Eventide Oyster Co., Portland, Maine
Best Chef: Northwest (AK, ID, MT, OR, WA, WY)
Greg Denton and Gabrielle Quiñónez Denton, Ox, Portland, Oregone
Renee Erickson, The Whale Wins, Seattle
Blaine Wetzel, The Willows Inn on Lummi Island, Lummi Island, Washington
Justin Woodward, Castagna, Portland, Oregon
Rachel Yang and Seif Chirchi, Joule, Seattle
Best Chef: New York City (Five Boroughs)
Marco Canora, Hearth
Mario Carbone and Rich Torrisi, Carbone
Mark Ladner, Del Posto
Anita Lo, Annisa
Ignacio Mattos, Estela
Jonathan Waxman, Barbuto
Best Chef: South (AL, AR, FL, LA, MS, PR)
Vishwesh Bhatt, Snackbar, Oxford, Mississippi
Justin Devillier, La Petite Grocery, New Orleans
Jose Enrique, Jose Enrique, San Juan, Puerto Rico
Slade Rushing, Brennan's, New Orleans
Alon Shaya, Domenica, New Orleans
Best Chef: Southeast (GA, KY, NC, SC, TN, WV)
John Fleer, Rhubarb, Asheville, North Carolina
Edward Lee, 610 Magnolia, Louisville, Kentucky
Steven Satterfield, Miller Union, Atlanta
Jason Stanhope, FIG, Charleston, South Carolina
Andrew Ticer and Michael Hudman, Andrew Michael Italian Kitchen, Memphis
Tandy Wilson, City House, Nashville
Best Chef: Southwest (AZ, CO, NM, OK, TX, UT)
Kevin Binkley, Binkley's, Cave Creek, Arizona
Aaron Franklin, Franklin Barbecue, Austin
Bryce Gilmore, Barley Swine, Austin
Hugo Ortega, Hugo's, Houston
Martín Rios, Restaurant Martín, Santa Fe, New Mexico
Justin Yu, Oxheart, Houston
Best Chef: West (CA, HI, NV)
Matthew Accarrino, SPQR, San Francisco
Stuart Brioza and Nicole Krasinski, State Bird Provisions, San Francisco
Michael Cimarusti, Providence, Los Angeles
Corey Lee, Benu, San Francisco
Jon Shook and Vinny Dotolo, Animal, Los Angeles
2015 James Beard Foundation America's Classics
Archie's Waeside, Le Mars, Iowa
Owner: Robert Rand
Beaumont Inn, Harrodsburg, Kentucky
Owners: Elizabeth and Dixon Dedman, Helen and Chuck Dedman
Guelaguetza, Los Angeles
Owners: The Lopez Family
Sally Bell's Kitchen, Richmond, Virginia
Owners: Martha Crowe Jones and Scott Jones
Sevilla Restaurant, NYC
Owners: Jose Lloves and Bienvenido Alvarez
2015 James Beard Foundation Who's Who of Food & Beverage in America Inductees
Allan Benton
Pork Producer and Purveyor
Madisonville, Tennessee
Dale DeGroff
Mixologist
N.Y.C.
Wylie Dufresne
Chef and Restaurateur
N.Y.C.
Nathalie Dupree
Cookbook Author and Television Personality
Charleston, South Carolina
Maricel Presilla
Chef, Restaurateur, and Cookbook Author
Hoboken, New Jersey
2015 James Beard Foundation Humanitarian of the Year
Michael Nischan
CEO, President and Co-Founder of Wholesome Wave
Westport, Connecticut
2015 James Beard Foundation Lifetime Achievement Award
Richard Melman
Lettuce Entertain You Enterprises
Chicago
Book, Broadcast, and Journalism Awards
American Cooking
Heritage
Sean Brock
(Artisan)
The New England Kitchen: Fresh Takes on Seasonal Recipes
Erin Byers Murray and Jeremy Sewall
(Rizzoli New York)
Texas on the Table: People, Places, and Recipes Celebrating the Flavors of the Lone Star State
Terry Thompson-Anderson
(University of Texas Press)
Baking and Dessert
Baking Chez Moi: Recipes from My Paris Home to Your Home Anywhere
Dorie Greenspan
(Rux Martin/Houghton Mifflin Harcourt)
Della Fattoria Bread: 63 Foolproof Recipes for Yeasted, Enriched & Naturally Leavened Breads
Kathleen Weber
(Artisan)
Flavor Flours: A New Way to Bake with Teff, Buckwheat, Sorghum, Other Whole & Ancient Grains, Nuts & Non-Wheat Flours
Alice Medrich
(Artisan)
Beverage
Death & Co: Modern Classic Cocktails, with More than 500 Recipes
Alex Day, Nick Fauchald, and David Kaplan
(Ten Speed Press)
Liquid Intelligence: The Art and Science of the Perfect Cocktail
Dave Arnold
(W. W. Norton & Company)
Sherry: A Modern Guide to the Wine World's Best-Kept Secret, with Cocktails and Recipes
Talia Baiocchi
(Ten Speed Press)
Cooking from a Professional Point of View
Bar Tartine: Techniques & Recipes
Nicolaus Balla and Cortney Burns
(Chronicle Books)
Never Trust a Skinny Italian Chef
Massimo Bottura
(Phaidon Press)
Relæ: A Book of Ideas
Christian F. Puglisi
(Ten Speed Press)
Focus on Health
A Change of Appetite: Where Healthy Meets Delicious
Diana Henry
(Mitchell Beazley)
Cooking Light Mad Delicious: The Science of Making Healthy Food Taste Amazing
Keith Schroeder
(Oxmoor House)
Nom Nom Paleo: Food for Humans
Henry Fong and Michelle Tam
(Andrews McMeel Publishing)
General Cooking
The Kitchn Cookbook: Recipes, Kitchens & Tips to Inspire Your Cooking
Faith Durand and Sara Kate Gillingham
(Clarkson Potter)
Marcus Off Duty: The Recipes I Cook at Home
Marcus Samuelsson
(Rux Martin/Houghton Mifflin Harcourt)
Saveur: The New Classics Cookbook
The Editors of Saveur
(Weldon Owen)
International
The Cuban Table: A Celebration of Food, Flavors, and History
Ana Sofía Peláez
(St. Martin's Press)
My Paris Kitchen: Recipes and Stories
David Lebovitz
(Ten Speed Press)
Yucatán: Recipes from a Culinary Expedition
David Sterling
(University of Texas Press)
Photography
A New Napa Cuisine
Photographer: Jen Munkvold and Taylor Peden
(Ten Speed Press)
In Her Kitchen: Stories and Recipes from Grandmas Around the World
Gabriele Galimberti
(Clarkson Potter)
Sherry: A Modern Guide to the Wine World's Best-Kept Secret, with Cocktails and Recipes
Photographer: Ed Anderson
(Ten Speed Press)
Single Subject
Bitter: A Taste of the World's Most Dangerous Flavor, with Recipes
Jennifer McLagan
(Ten Speed Press)
Charcutería: The Soul of Spain
Jeffrey Weiss
(Agate Surrey)
Egg: A Culinary Exploration of the World's Most Versatile Ingredient
Michael Ruhlman
(Little, Brown and Company)
Vegetable Focused and Vegetarian
At Home in the Whole Food Kitchen: Celebrating the Art of Eating Well
Amy Chaplin
(Roost Books)
Plenty More: Vibrant Vegetable Cooking from London's Ottolenghi
Yotam Ottolenghi
(Ten Speed Press)
Vegetarian Dinner Parties: 150 Meatless Meals Good Enough to Serve to Company
Mark Scarbrough and Bruce Weinstein
(Rodale Books)
Writing and Literature
The Chain: Farm, Factory, and the Fate of Our Food
Ted Genoways
(HarperCollins Publishers)
The Language of Food: A Linguist Reads the Menu
Dan Jurafsky
(W. W. Norton & Company)
The Third Plate: Field Notes on the Future of Food
Dan Barber
(Penguin Press)