Wine Milkshakes Are Real, and They're Spectacular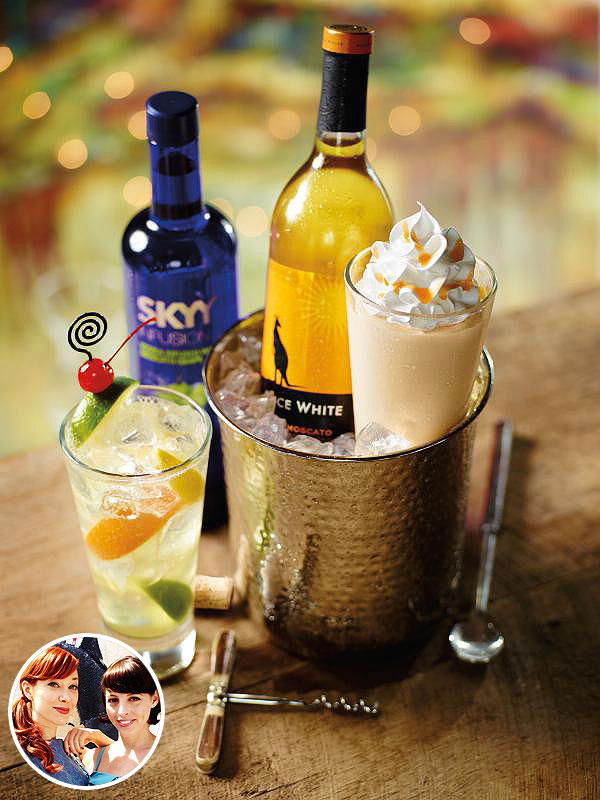 Courtesy Red Robin. Inset: Courtesy Alie and Georgia
Alie Ward and Georgia Hardstark, a.k.a. Alie & Georgia, host Cooking Channel food-travel series Tripping Out with Alie & Georgia. Visit PEOPLE.com every Thursday for their playful spins on celebrity recipes, cocktails, entertaining ideas—and, of course, lots of laughs!

Of all the weird world news this week (hostage-taking cats, oh my!) the headline that might be everyone's favorite — or perhaps least depressing — is that mid-priced, average-tasting, mall-dwelling corporate burger chain Red Robin has thrown their hand into the crafty cocktail game by offering a wine milkshake on their new seasonal menu.
RELATED: See Which Celebrities Have Their Own Wine Collections
That's right: Wine. Milkshake. Two words. together in the same sentence. Together in the same glass. Targeting "35- to 49-year-old moms in need of a break," this sugar bomb is something we, though not their target audience as non-moms, are curious about.
But what about those moments in life where you're like, "I'm not a 35-49-year-old mom, nor am in need of a break, but I also don't want to put on pants and dine at a burger joint." What then??! Well we've created two boozy "milk"shakes that don't require being a mom or putting on pants.
We hereby present two 3-ingredient boozy shakes that are easy, and crazy-tasty. Whip one up, and toast to all those moms at malls who need breaks and to the fact that you made this at home without pants or (hopefully) wailing children.
RELATED: Alie & Georgia: What to Order When You're Feeling Clueless at the Bar
Whiskey-Wine Shake
2 oz. moscato wine
¾ oz. whiskey
½ cup salted caramel gelato
Twist of lemon
Peachy Sorbeta-scato Shake
2 oz. moscato wine
1 oz. vodka
½ cup peach sorbet
Twist of orange
1. Mix first 3 ingredients with an immersion blender until incorporated and frothy.
2. Pour into glass and twist citrus peel over the top, then garnish.
3. Send us a thank you note.