The 10 Best Things to Eat and Drink in Charleston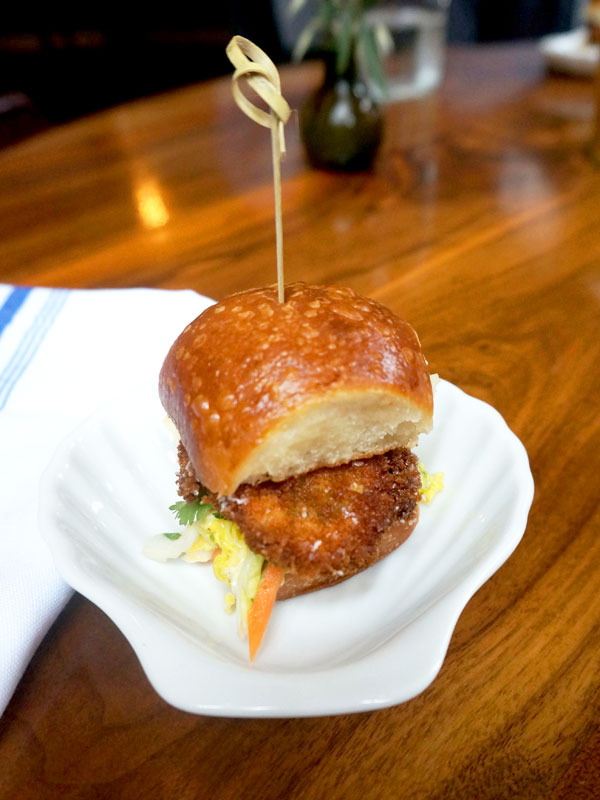 Regan Stephens
There are plenty of solid reasons to visit Charleston, S.C. Tourists flock to the oldest city in the state to stroll its quaint streets and gardens, take in its elegant historic homes, and relax on its nearby beaches—all served with a side of Southern hospitality.

But if we're being honest, one reason trumps all the rest: the food. As anyone who has recently dined in Charleston will tell you, whether you're craving classic Lowcountry cuisine, fresh seafood, or something altogether different, they're cooking it here.
We've done the delicious research, and here are 10 dishes you shouldn't miss in Charleston.
RELATED: 5 Can't-Miss Bites In Savannah, Georgia
Oyster Slider at The Ordinary
Housed in a former bank, the open, light-filled space makes a beautiful backdrop for scarfing down seafood. The diver scallop crudo, fish fry (dredged in a combination of rice flour, cornmeal, and old bay seasoning), and cocktails are all excellent, but the standout—and frontrunner for best bite of the week—is the Oyster Slider (above.) One perfectly crispy fried oyster tucked in a squishy Hawaiian bun (house-made with coconut milk and coconut butter) gets a little kick from jalapeno, cabbage, pickled carrots, and cilantro.
Charleston Nasty Biscuit at Hominy Grill
Southern comfort food at its finest, Hominy Grill (a 2015 James Beard Foundation Award nominee for outstanding restaurant) features heavenly shrimp and grits, fried green tomatoes, hot cornbread, and homemade chocolate pudding. But with fried chicken breast, cheddar cheese, and sausage gravy, the Charleston Nasty Biscuit had us fighting over the last bite.
Fish Taco at 167 Raw
This fishmonger opened nine months ago with a handful of seats for lucky diners. They've expanded to 18 seats, but come early to snag one. The small but stellar menu is packed with insanely fresh fish and has several stars, including an over-stuffed lobster roll, a crispy oyster taco, and any of the fish tacos. The latter changes daily, but on our recent visit we were bowled over by the crispy flounder taco with house guacamole, rock sauce, pickled red onion, cilantro, house hot sauce, and soy caramel. Don't miss the homemade key lime pie for dessert.
Shrimp and Grits at Slightly North of Broad (S.N.O.B.)
The casually refined dining room brings together loyal locals and tourists in search of a traditional taste of Charleston. And the award-winning Maverick Shrimp and Grits — with piping hot local Geechie Boy grits piled with shrimp, sausage, ham, tomato, and green onion—easily caters to both.
Fried Chicken and Scalloped Potatoes at Leon's Fine Poultry and Oysters
The name says it all. The crispy, slightly spicy fried chicken (brined in a bath of salt water, brown sugar, and Crystal's Hot Sauce) is a well-deserved fan favorite. Pair it with a side of their char-grilled oysters, or their "old school" scalloped potatoes served in a perfectly squared portion.
RELATED: Cooking for Mindy Kaling? Make Shrimp and Grits
Frogmore Chowder at The Obstinate Daughter
A rich, creamy play on a Lowcountry classic, this Frogmore Chowder is swimming with shrimp, kielbasa, corn, and potatoes (all the staples of a Lowcountry boil). Other tasty options include the Lowcountry shrimp roll and the Geechie Frites—made with fried polenta from local Geechie Boy Mills.
Ricotta Gnocchi with Lamb Bolognese at FIG
FIG (which stands for "Food is Good") changes up its menu frequently to bring diners the freshest possible fare. One dish that remains, however, is the ricotta gnocchi. Prepared without potatoes, the result is light, fluffy puffed pillows that—despite arriving smothered in rich bolognese—will allow room for dessert. Which you should most definitely order.
Fried Chicken Biscuit Callie's Hot Little Biscuit
Find Callie's on Upper King Street by the line of drooling biscuit-seekers snaking out the door. Each buttery biscuit is made fresh, and none will disappoint, (see: Country Ham, Pimento Cheese, or Cinnamon Biscuits) but the Friday Fried Chicken Biscuit special is out of this world.
Tacos at Minero
Chef Sean Brock's (also of Charleston's Husk and McCrady's) latest endeavor features Mexican fare with his signature stamp of fresh ingredients and complex flavors. The kitchen grinds the corn to make fresh tortillas daily, and you can taste it in the tacos. We imagine anything tastes good tucked inside these hot tortillas, but the Fried Catfish Taco and the Taco al Pastor (grilled pork and pineapple) were especially tasty. You'll regret leaving without trying the freshly-fried churros with spicy chocolate, too.
Any Sandwich at Butcher & Bee
The menu at this "craft" sandwich shop changes daily, so you can either preview it when they post to twitter, or have faith that if you love food you'll find something you love here. The burger with pimento cheese is a staple, and plates like Porchetta or Roast Beef with chimichurri and onion jam, both served on their fresh-baked rolls, will make you question everything you thought you knew about sandwiches. Afterward, head next door to The Daily, also by Butcher & Bee, for some tiny treats paired with a hot or cold Stumptown coffee. On a recent visit we tried their mini cinnamon roll, coffee cake, and strawberry rugelach – all house baked, all divine.
RELATED: 10 Sandwiches That Are Better with Potato Chips Stuffed Inside
—Regan Stephens, @reganstephens