You Have to See the Scrabble Floor in Penn Jillette's Bathroom (Photos)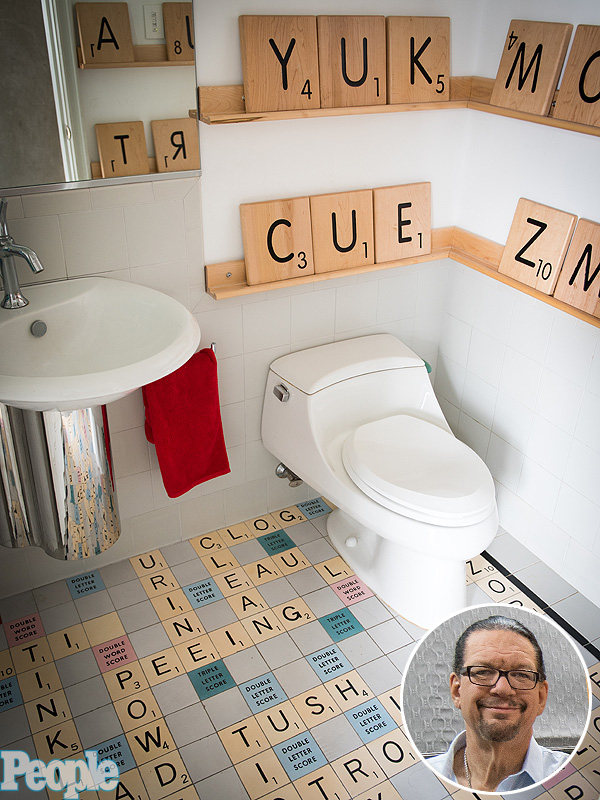 Courtesy Amazon
Penn Jillette's home is filled with quirky touches — including a Goldfish cracker-shaped pond and a hot pink office — but perhaps the most unique room of all is his Scrabble-themed bathroom.

Located by the entrance of the addition to his original Las Vegas house, the room features a floor that looks like a game in progress, and shelves lining the walls that hold extra Scrabble tiles that spell out the family members' names.
"This is a bathroom designed by my wife, [Emily]," the magician, 60, tells PEOPLE. "We worked on this forever."
The tiles on the floor spell out "bathroom-type terms" including "tile," "toilet," "lotion" and "powder."
"We tried not to get too dirty," explains the star of The CW's Penn & Teller: Fool Us — after all it's located in the area of the house most frequently used by his two children, Moxie CrimeFighter, 9, and Zolten Penn, 8.
Despite having a room dedicated to the word game, Jillette says he's not a big Scrabble player.
"My wife likes Scrabble — I don't," he says. "I can't spell!"
For more of our interview with Jillette, and to get a peek inside his Las Vegas house, pick up the latest issue of PEOPLE, on newsstands Friday.
—Gabrielle Olya