A Masked Katy Perry Waits in Line for an Hour to Eat at Tokyo's First-Ever Taco Bell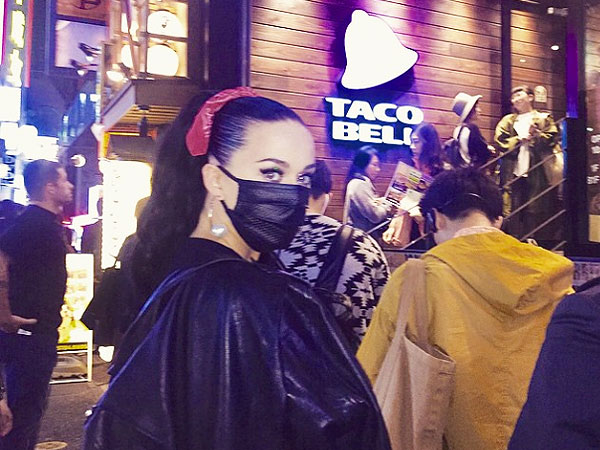 Courtesy Katy Perry
Even mega-famous pop stars have to wait in line for fast food.

During her trip to Tokyo, a black-mask-wearing Katy Perry made a pit stop at the city's first-ever Taco Bell location, which opened in the Japanese capital last week.
"You can take the girl out of America but you can't take the Taco Bell out of the girl, okuurrrr," Perry posted to Instagram, noting that there was an hour-long wait for the grub—clearly a worthy way to spend an evening.
The new Taco Bell location has been drawing serious crowds since its opening, which attracted hundreds of people to line up before the doors opened at 10 a.m. Some even camped out overnight.
150 people waiting for the opening of the first #TacoBell in Japan #TacoBellJapan pic.twitter.com/vDoDtwBUKd

— Axel Riffard (@AxRiff) April 21, 2015
Clearly these consumers know that it's never too early for tacos.
It's begun. #TacoBellJapan pic.twitter.com/UTCTfRjhbT — Billy Grenham (@BillyGrenham) April 21, 2015
The Tokyo location may have a familiar logo, but the menu is tailored for the Japanese audience—featuring Asian-inspired dishes like taco rice and a shrimp-and-avocado burrito. There are also some American classics (like the Crunchwrap Supreme) to round out the menu.
We're happy to see that Perry also seems to live by our life motto: No matter where you are in the world, there's always room for tacos.
—Diana Pearl