Alex Guarnaschelli Blogs: You Can Pickle That!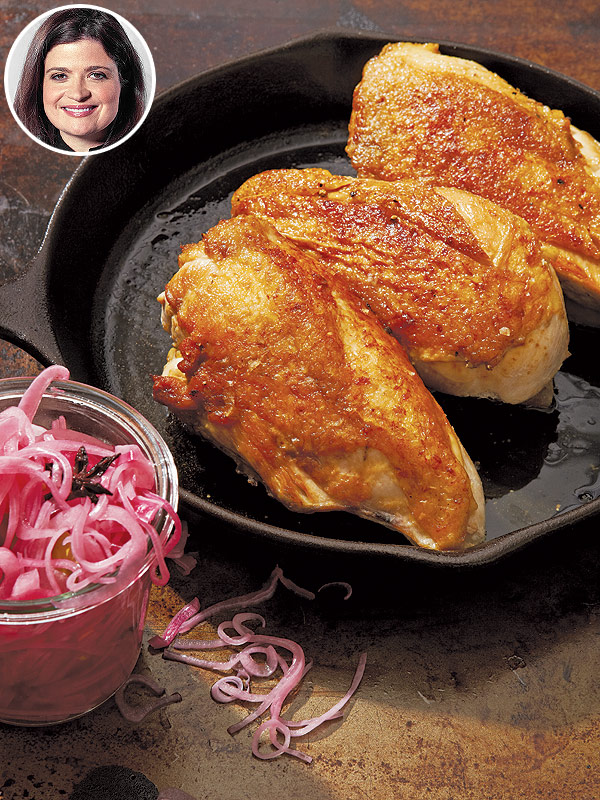 Courtesy Alex Guarnaschelli; Kevin Lynch/Food Network
Alex Guarnaschelli is an Iron Chef, Food Network celebrity chef, author of Old-School Comfort Food and the executive chef at New York City's Butter restaurants. Read her PEOPLE.com blog every Tuesday to get her professional cooking tips, family-favorite recipes and personal stories of working in front of the camera and behind the kitchen doors. Follow her on Twitter at @guarnaschelli.

Why is pickling so chic these days? Well, the story begins with pickles themselves. Everyone has a different kind of pickle they grew up with: from the sweet slices of Bread and Butter pickles for sandwiches to the "half sours" that are crunchy and closely resemble a raw cucumber sprinkled with fresh vinegar, my parents always had them in the fridge when I was growing up.
Pickles are simple enough to make — a combination of vinegar, water and salt (in different proportions and time lengths depending on the desired result) and some (I prefer) Kirby cucumbers. I think people really love the idea of being able to make something to their liking, extra crunchy or tangy, for example. They are tart, offering great acidity and great crunchy texture.
They are also low in calories. Sure: they are great cut into slices, batter-dipped and fried. But they are just as good sliced and tossed into a salad dressing or sandwich. They can add a really depth of flavor with zero guilt factor!
To step outside your comfort zone, try pickling some other vegetables — from turnips to fennel to onions — and toss them into salads for extra zing. Making things that are so simple and tasty from scratch just makes food taste better.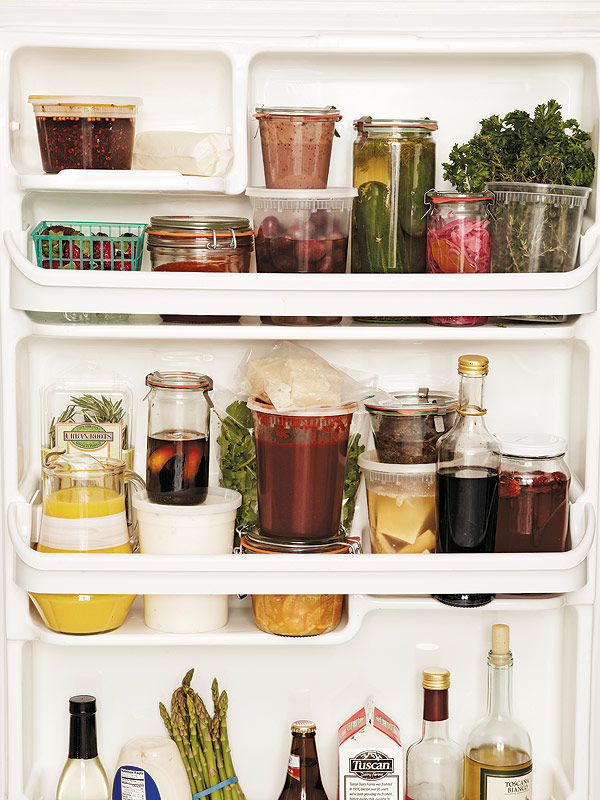 Courtesy Alex Guarnaschelli
These pickled onions and grapes (recipes below) can be kept in the fridge door as a secret weapon to toss into a salad dressing or over meat or fish on a night when you don't have time to add that little something special and homemade for dinner.
I even have my daughter enjoying the zing of pickled onions on her lunch sandwiches from time to time. Sometimes she just looks at me, though, and says "Can I just have turkey today, mom?" ….Who would've thought I would have a seven year old with pickled vegetable fatigue? Here are a couple of my favorites from my cook book Old School Comfort Food.
I know a lot of people imagine chefs are at home every night eating scoops of caviar and exotic mushrooms, but we are actually creatures of simplicity. At the restaurant, my pastry chef is always over at the grill asking for scraps of meat—and the grill guy is always over by the pastry department, hoping for a misshapen cookie now and then. Me, I love chicken and never get tired of cooking it. This recipe is something I make often when I get home from work.
Flattened Chicken Breast with Pickled Red Onions (pictured above)
Serves 2
Pickled onions
1 medium red onion, halved and cut into ¹⁄8-inch slices
²⁄³ cup distilled white vinegar
¼ cup sugar
1 small garlic clove, smashed and peeled
1 dried bay leaf
12 black peppercorns
1 tsp. mustard seeds
1 whole star anise
Chicken
2 (10-oz.) "airline" skin-on chicken breast halves (small wing bone intact)
1 tbsp. fresh thyme leaves
3 tbsp. canola oil
Kosher salt and black pepper
1. Pickle the onion: Put the onion in a quart-size, nonreactive heatproof container with a lid. Combine the rest of the ingredients in a small saucepan and bring to a boil, stirring to make sure the sugar has dissolved. Pour the vinegar mixture over the onion.
2. Butterfly the chicken: This is one of those small gestures that makes a real difference with something as ubiquitous as chicken. The edges of the chicken breast are thinner than the meatier part closer to the wing bone. Leveling the playing field prevents the thinner part of the breast from overcooking before the thicker is cooked through. Put the chicken breasts skin side down on a cutting board. Use a large knife to make a lengthwise but horizontal cut through the upper quarter of the meat and towards the wing, but cutting only halfway through the meat. Pull your knife out and use your hand to fold the cut section of the thicker part of the breast (and the little "tender" on top of it) over. The result should be a breast that is much flatter. It should even the meat out and flatten it at the same time.
3. Cook the chicken: Heat a cast-iron skillet large enough to hold the chicken breasts in a single layer over medium heat and add the oil. Rub 1 tablespoon of the canola oil on the breasts and spread the thyme leaves on the flesh side of each. Season generously on both sides with salt and black pepper. When the oil begins to smoke lightly, shut off the heat and add the breasts, skin side down, to the pan. Turn the heat back on to medium, cover the breasts with a piece of foil just large enough to cover them, and top with a smaller heavy pan, such as cast iron, with something heavy in the center to weight the meat down as it cooks. Cook, undisturbed, until browned, about 10 minutes. Resist the urge to check it or fuss with it. Remove the weight from the chicken breasts and flip them to the other side. Reduce the heat to medium-low and allow the breasts to finish cooking gently until the meat near the wing bone reaches 155°F, 3 to 5 minutes more. Season them again with salt, if needed.
4. Serve the chicken: Transfer the chicken breasts to a platter or individual plates and top with some of the pickled onions and a little of the pickling liquid. Serve immediately.
Old-School Tip: Sometimes I want to have a dressing or sauce with a thick consistency without being heavy. It's nice when vegetables (in this case, onions) can act as the thickeners. Instead of just topping the chicken with onions and some of the pickling liquid, put ¼ cup of the liquid and a handful of the onions in a blender with the pan drippings from cooking the chicken and blend on low speed until smooth. Taste for seasoning and add a little extra-virgin olive oil through the top if the sauce needs some additional richness. Put some of that under the chicken breast like a sauce, so you bite into the crispy skin and then dig into the meat mixed with the delicious sauce underneath!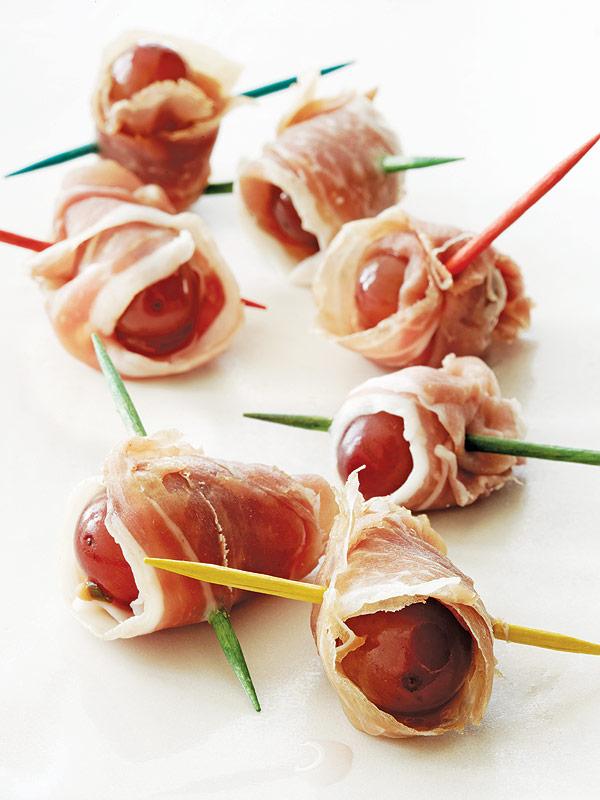 Courtesy Alex Guarnaschelli
The most important choice you can make here is a grape that you love to eat and one that is seedless. The seeds add bitterness and disrupt that wonderful "pop" that grapes have when you bite into a whole one. I look for ones about the size of a smaller cherry and find ½ pound is 20 to 24 grapes. To me, pickling these grapes leaves you with the right amount of raw fruity freshness and juice combined with the acidity from the vinegar. Wrapped in a slice of prosciutto, this is the type of nibble that makes you feel hungrier as you eat.
Pickled Grapes with Prosciutto
Serves 8
1½ cups white wine vinegar
¾ cup sugar
9 whole cloves
1 tablespoon mustard seeds
1 tablespoon black peppercorns
1½ teaspoons kosher salt
½ pound seedless red grapes (preferably medium to large)
1 garlic clove, lightly crushed
10 to 12 thin slices prosciutto, halved lengthwise
Extra-virgin olive oil, for drizzling
1. Make the pickling liquid: In a small nonreactive saucepan, whisk together the vinegar, sugar, cloves, mustard seeds, peppercorns, and salt and simmer over medium heat, stirring to dissolve the sugar and salt, 3 to 5 minutes. Remove from the heat and let stand for 5 minutes.
2. Pickle the grapes: Cut off the "belly button" at the top of each grape (where it connects to the stem), taking as little of the actual grape as possible, make a few shallow incisions in each grape, and put the grapes in a small bowl. Pour the pickling liquid over the grapes and let sit overnight in the refrigerator. These grapes keep for a long time, so make a jar and have them around for when you need them.
3. Serve the grapes: Rub the garlic over the prosciutto and wrap each grape in about 2 layers of the prosciutto and set seam side down on a serving platter. Secure the ham around each grape with a toothpick, if desired. When ready to serve, drizzle a little of the pickling liquid and a little olive oil over them.
Old School Variation: Alternatively, brown the grapes in a sauté pan in a thin layer of hot canola oil, turning them so the prosciutto crisps. Serve warm.