Mariah Carey Makes Frito Pie in the Weirdest Video You'll Watch This Week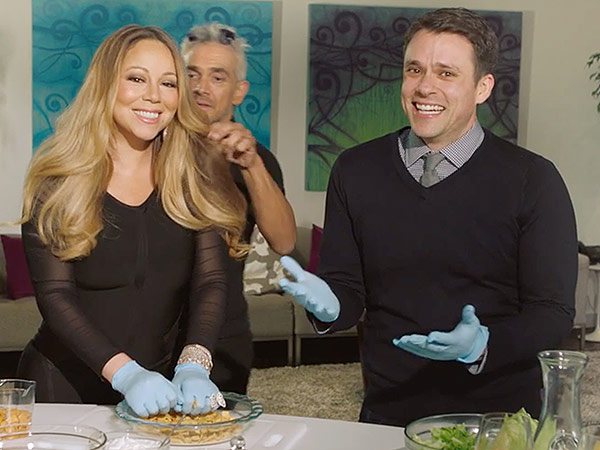 What can't Mariah Carey do?

In the new Funny or Die video, "Cooking with Mariah Carey (and Also with Bryan)," the diva prepares Frito pie with her goofy cooking companion Bryan and, as can be expected, looks impossibly flawless in the process.
"It's really like the only Frito recipe we know," Carey says, working the Fritos into the bottom of a pie pan, her hands protected by baby blue surgical gloves. ("The premise of this show is extremely narrow," Bryan adds.)
Less than a minute into the demo, Bryan digs into some deeper issues—namely, the following line in Carey's song "Infinity:" "Boy you acting so corny like Fritos."
Carey explains (and we commend her for her ability to keep a straight face). "I had an Italian lover named Frito a couple of years ago," she says. "Frito stole my car…He was kind of a jerk." The singer pauses to shake her golden waves, lest we'd forgetton her fabulosity.
"I used to date someone named Tostito," Bryan says.
Ex-lovers aside, the Frito concoction looks delicious, and the video offers some useful pro-tips. Especially to "wear a big diamond ring" over your surgical gloves, à la Carey. Oh, and definitely sprinkle M&Ms and sangria atop the pie, too.
And there's nothing better than surprise guests: Jeff Beacher, whose Beacher's Madhouse is located near Carey's residency venue at Caesars Palace, makes a cameo as her ex-boyfriend and director Brett Ratnor is invited on-stage to taste the pie—and against each and every odd, the video manages to get weirder from there.
—Maria Yagoda