Starbucks' New Mini Frappuccino Proves That Big Flavor Comes in Small Packages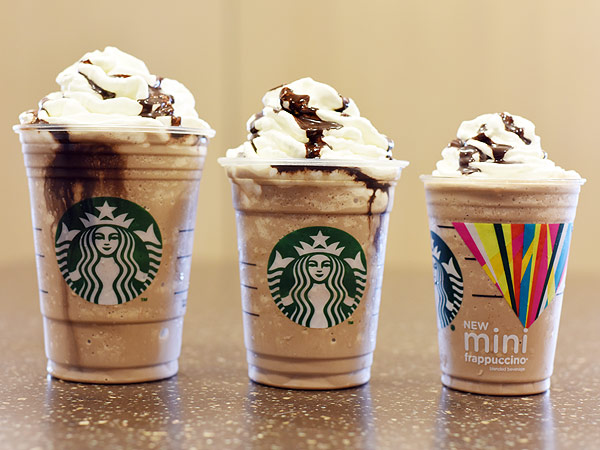 Starbucks
It's a proven fact that mini foods are far superior to regular-sized eats — most likely just because of the "cute" factor.

And Starbucks' latest menu item is no exception: Introducing the mini Frappuccino. The pint-sized cup — actually it's smaller than that; 10 oz., to be precise — will only be available May 11 through June 6.
"Our customers have asked for more choices when it comes to the size of Frappuccino," a Starbucks spokesperson tells PEOPLE.
Nutritionally speaking, a regular mini Coffee Frappuccino (made with whole milk) clocks in at 120 calories with 24 grams of sugar, while a grande (16 oz.) has 240 calories and 50 grams of sugar. A mini Coffee Light Frappuccino ("light" means it's made with nonfat milk and reduced-sugar syrup) is 60 calories with 13 grams of sugar, while a grande (16 oz.) is 110 calories with 23 grams of sugar.
This is just one of the several new Frap developments that the coffee chain is rolling out for summer: Starbucks introduced a limited-edition S'mores flavor, brought back the Caramel Ribbon Crunch blend and also debuted edible cookie straws. And in non-Frap news, just last month Starbucks unveiled its much-anticipated cold-brew coffee, (which we personally find to be darn delicious).
Starbucks debuted the Frappuccino in 1995 with just coffee and mocha flavors. Now, the company boasts a history of fancy Fraps including a pink Birthday Cake Frappuccino, a blue Seattle Seahawks flavor for the 2015 Super Bowl and a bright green Franken Frappuccino for Halloween.
Which will you try in this new itty-bitty cup?
—Morgan Gibson, @morgangibson