See Blake Lively's Face Made Entirely out of Food (Photo)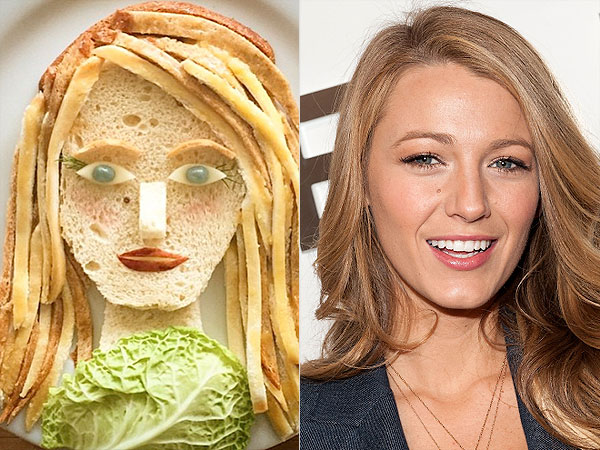 Courtesy Blake Lively/ D Dipasupil/FilmMagic
A talented blogger has made all of Blake Lively's dreams come true—by making her portrait out of food.

The actress reposted blogger Marie Saba's edible work of art made to resemble Lively's face and she couldn't be more excited about it.
"@mariesaba you made my dreams true. I finally are what I eat! Am. What I eat. You are what YOU eat. But I'm LITERALLY what I eat," the Preserve founder wrote on Instagram on Wednesday.
For the creative meal, Saba used white bread for Lively's face (decorated with cherry jam as blush), neck, nose and eyebrows; mozzarella and jellybeans for her blue eyes, plus dill for her lashes; apple skins for her mouth; chocolate for her infamous mole; a piece of cabbage as her ensemble; and the crusts of white and wheat bread with butter and maple syrup glaze for Lively's luscious locks.
The famous foodie also compared Sada's work—which includes food recreations of John Mayer and Gwyneth Paltrow, as well—to those of other great artists.
"Mona Lisa/ da Vinci. Adele Bloch-Bauer/Klimt. Kitchen Maid/Vermeer. Blake Lively / Marie Saba. …one of these things is not like the other," she wrote. "Art no less!!"
—Ana Calderone, @anacalderone