Hungry Girl: Make a Greek Salad in a Mason Jar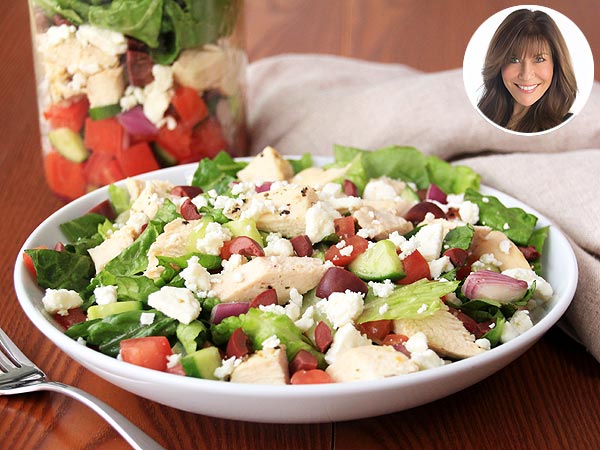 Getty; Courtesy Lisa Lillien
Lisa Lillien is the author of the popular Hungry Girl website and email newsletter, featuring smart, funny advice on guilt-free eating. She is also the author of ten best-selling books, six of which debuted at number one on the New York Times Best Sellers list. Read her PEOPLE.com blog every Monday for slimmed-down celebrity recipes and more.

The mason-jar renaissance has hit full boom, and I'm not complaining – those jars are a super-convenient way to package up a healthy lunchtime salad! The fact that the lid sizes are generally standardized is a major bonus. (Anyone who's rifled through a drawer full of mismatched Tupperware can back me up on this.)
Plus, layering salad ingredients in a jar is smart. You keep your greens from wilting and nix the need to pack a tiny dressing container or stash a bottle in your office fridge. Try out the technique with this super-delicious Greek salad recipe!
'Til next time… Chew the right thing!
Hungry Girl's Greek Salad in a Jar
Makes 1 Serving
2 tbsp. light red wine vinaigrette dressing
½ cup chopped cucumber
½ cup chopped tomatoes
2 tbsp. chopped red onion
4 oz. cooked and chopped skinless chicken breast
2 tbsp. reduced-fat crumbled feta cheese
1 tbsp. chopped kalamata or black olives
2 ½ cups chopped romaine lettuce
1. In a wide-mouth, quart-size mason jar, combine dressing, cucumbers, tomatoes, and onion. Top with chicken, feta cheese, olives, and lettuce. Cover and refrigerate.
2. When you're ready to eat, give the jar a shake, and flip contents into a medium-large bowl (or eat right from the jar)!
Nutritional information:: Entire recipe: 286 calories, 10.5g fat, 800mg sodium, 15g carbs, 4g fiber, 7.5g sugars, 35g protein