How Chris Pratt Trained for a Half Ironman — and Why He'd Do It Again!
Chris Pratt is the first to admit he's been both fat and fit.
"I can tell that people are motivated by my transformations, and that feels really good," Pratt, 36, said in the July issue of Men's Health. "But everyone should know when the movie-star stuff is over, I might go back to being the fat guy. My wife [Anna Faris] wants a pizza oven — she's going to learn how to bake bread, and I'm going to eat it. I love the health benefits of exercising, and I have a kid now. By exercising, you really can add 20, 30 years to your life. But you gotta live too, so hopefully I'll find a nice balance."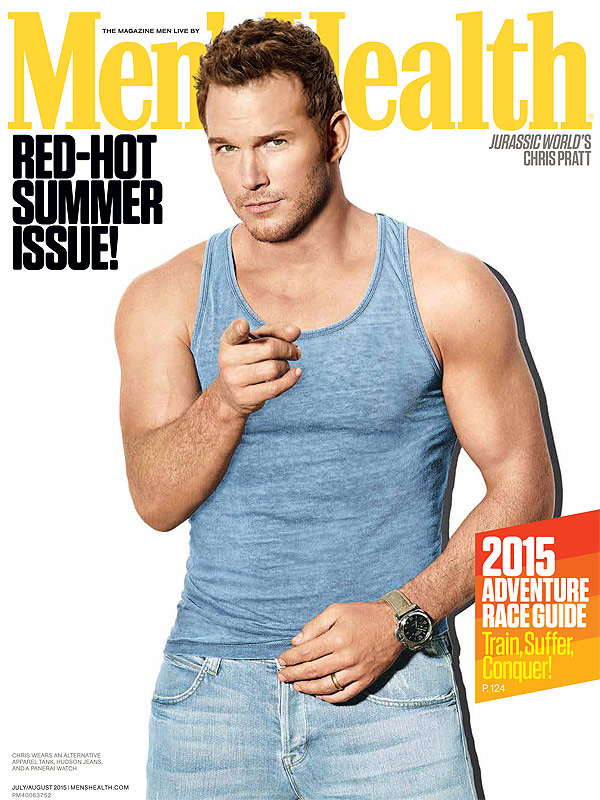 Men's Health
The Jurassic World heartthrob opened up about hitting his healthy stride in preparation for his first half Ironman, which he completed in April with his close friend Jared Shaw, a Navy SEAL he met while filming Zero Dark Thirty. (By the way, that's 1.2 miles of swimming, 56 miles of cycling and 13.1 miles of running!)
He raced for a good cause: to support retired wounded warrior Mike Day, who served for more than 21 years in the Navy. On Day's last deployment to Iraq in April 2007, he was shot nearly 30 times, Ironman.com reported.
To get race-ready in the three months prior, the 6'2″ Pratt incorporated three 25- to 50-mile bike rides and ran three or four times a week, mixing steady runs and hill intervals, according to MH. He also swam three days a week and added two weight-lifting sessions focusing on total-body exercises and core work.
He also told the fitness mag that leading up to the big day he had nightmares about forgetting his biking shoes or showing up to the starting line in skinny jeans!
According to the official Ironman site, the Parks and Recreation actor swam 47:55, biked 3:07:25 and ran the half-marathon portion in 2:53:42 to cross the finish line in 7:04:56.
Would he ever do it again? "Definitely," he said in the interview. "In fact, I want to do a full Ironman." (Yes, that's a 2.4­-mile swim, 112­-mile ride and 26.2-­mile run.)
"As an actor, I can't have proper mental prep without proper physical prep," Pratt said. "Even though I knew it deep inside, it took me a long time to realize how getting physically sharp helps me get ready for other things in my life."