Brewery Yoga Is the Hottest New Fitness Trend (Where Do We Sign Up?)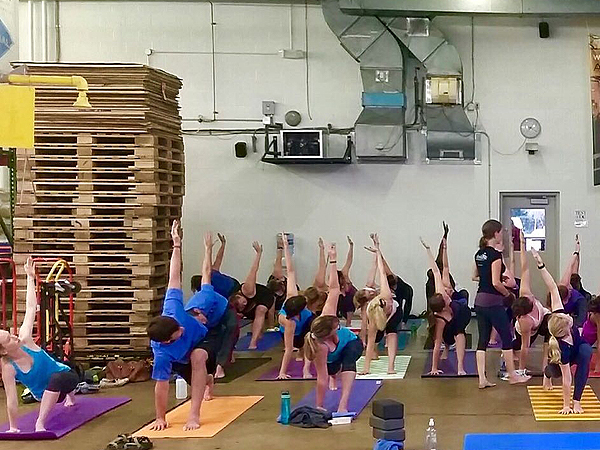 Courtesy Port City Brewing Company
If anything could get us excited about trekking to a yoga class, it's beer.
While wacky yoga trends are nothing new — cat yoga, for example, is a real thing that we've really done — we hope brewery yoga is here to stay.
According to ABC, breweries around the country have begun offering in-house yoga classes, which allows people to grab a beer and chill with their classmates after an hour of posing and sweating.
"Our feedback has been that they really enjoy that it's a mix of getting to do yoga and get in the yoga and get in that yoga session, but also being able to hang out and have a happy hour atmosphere afterwords," Tammy Portnoy, the marketing directer for Port City Brewing Co. in Alexandra, Virginia, told ABC News. "Going to a yoga studio, there's nowhere to hang out afterwards. This way we're able to give people the social and yoga experience all in one."
The brewery initially offered the classes once a month, but they became so popular they now offer one a week. Part of the appeal is the diversity of the crowd: "We've had folks come out with their moms, dads, all ages come out for yoga from 22 to 60s. It's a lot of people who say they wouldn't typically have tried yoga before, but because they like coming to our tasting room, they come out," Portnoy said.
Yoga instructor Beth Cosi founded Bendy Brewsky in Charleston, S.C. for exactly that reason: Beer gets more people to come to yoga, plain and simple.
"I get a lot of men, and you don't see a lot of men in yoga studios. Sometimes I have more men than women, which even after almost 4 years amazes me," she said.
Alright, we're sold. To be honest, we were sold the moment we read the word "brewery."
—Maria Yagoda, @mariayagoda