Bethenny Frankel's Summer Entertaining Guide: S'mores, Cocktails and Leftovers!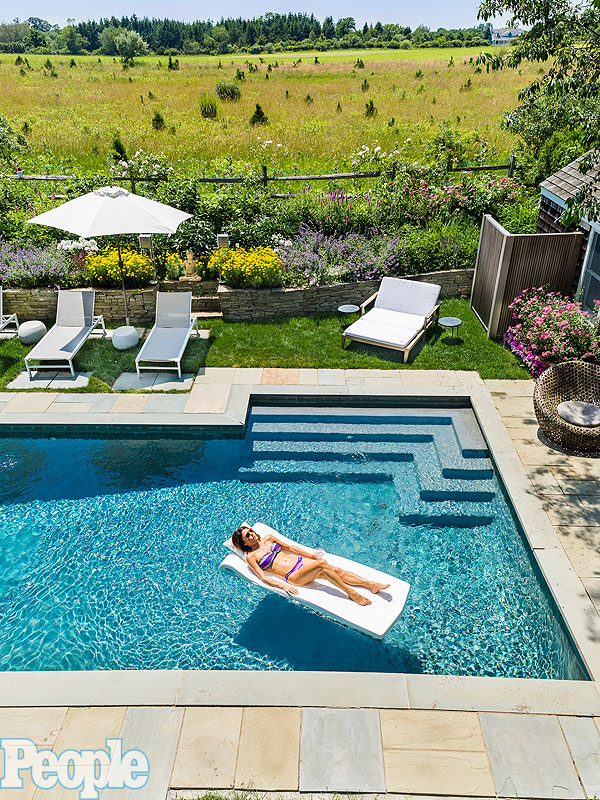 Larsen & Talbert
When the cameras are off, there's no drama when Bethenny Frankel invites friends over to her new Bridgehampton, New York, home. "It's makeshift, casual and fun – use what you have," she says of her Hamptons entertaining style. "I'm not worried about people spilling stuff."
Frankel's amazing property, which she showcases in this week's PEOPLE, plays host to both adult and kid-friendly gatherings with ease.
"I'll have Andy Cohen, maybe a Housewife, some locals and then seven kids running around," says the reality star. "I set up the $5 Dora the Explorer sprinkler and we eat out back. Sometimes I have dance parties with my daughter [Bryn, 5]. Or we'll get out the Slip 'N Slide. We do s'mores by the fire pit. Everything here lends itself to having fun."
The menu is equally stress free."People come out here and entertain so lavishly and get too stressed about it. Everybody knows I'm going to go in my fridge and clean out whatever's there," says the Skinnygirl mogul.
One recent party featured arugula and spinach salads with tomatoes and avocados topped with store-bought roast chicken. "Then we had quinoa salad and some slaws that I doctored up with my Skinnygirl dressing," says The Real Housewives of New York City star. "And we had cupcakes for dessert. I'll make the cocktails. I always have enough booze, obviously."
And the laid-back lifestyle is a welcome change from her usual, hectic schedule.
"In New York, you feel like you constantly have to go somewhere or do an activity, but here you don't have to go anywhere," she says. "I can cook dinner for a bunch of adults and set up a table for the kids who are on the playground. It doesn't make anyone feel uncomfortable what time they get here or what time they leave. It's just easy."
For more on Bethenny Frankel and her new Hamptons home, pick up a copy of this week's PEOPLE.
–Liz McNeil, @lizmcneil