Hungry Girl: Must-Have Summer Road-Trip Snacks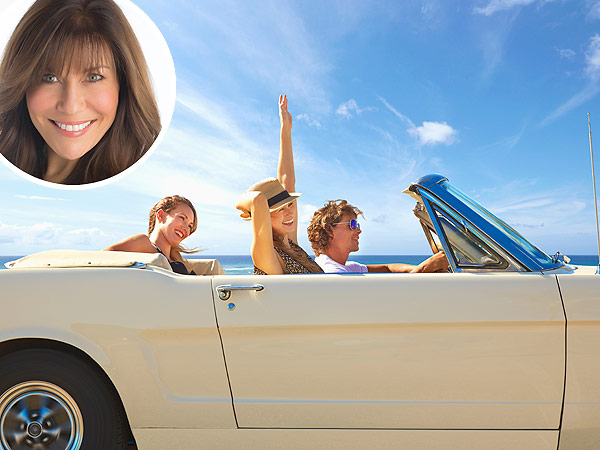 Colin Anderson/GEtty; Inset: Courtesy Lisa Lillien
Lisa Lillien is the author of the popular Hungry Girl website and email newsletter, featuring smart, funny advice on guilt-free eating. She is also the author of ten books, six of which debuted at number one on the New York Times Best Sellers list. Read her PEOPLE.com blog every Monday for slimmed-down celebrity recipes and more.

Don't leave yourself at the mercy of gas-station convenience stores and roadside junk food! Before you head out on your summer road trip, make sure you're supplied with snacks. Here are some of my favorites:
Bars
I'm so into Quest Bars and their high-protein, high-fiber, satisfying ways. The flavors are incredible, as is the nougat-like texture. But I also love to try new bars. Some recent picks on my radar are V8 Protein Bars, specifically the Chocolate Peanut Butter, and this B-Jammin PB&J Bar , which reminds me of a Fig Newton in the best possible way.
Jerky
Jerky doesn't get the respect it deserves. It's practically pure protein, and it's completely portable. It's basically one of the best travel snacks around. Props to Perky Jerky's new Hot & Bothered flavor of turkey jerky, which is spiked with guarana, a popular energy drink ingredient. For more of my favorites, click here.
Crunchy Munchies
Sometimes, you've gotta crunch. If the urge strikes, make sure you've got smart options on hand. Popchips are my go-to, since they come in a bazillion flavors and are available in single-serving bags. Looking to share with the rest of the car? Special K's Cracker Chips in Salt & Vinegar are a great choice, as are Popcorn Indiana's Fit Popcorn Chips. Wanna branch out a bit? Get some crispy seaweed snacks or dry-roasted edamame!
Refreshing Treats
If you have a cooler, BuddyFruits makes these cool FruitBreak squeezable pouches with Greek yogurt and fruit blended together (just 90 – 100 calories!). Cheese snacks, like light string cheese and Mini Babybel, are great too! And before you go, fill a few freezer bags with some easy-to-eat cut veggies.
'Til next time… Chew the right thing!