How These 4 Women Each Lost 100 Lbs.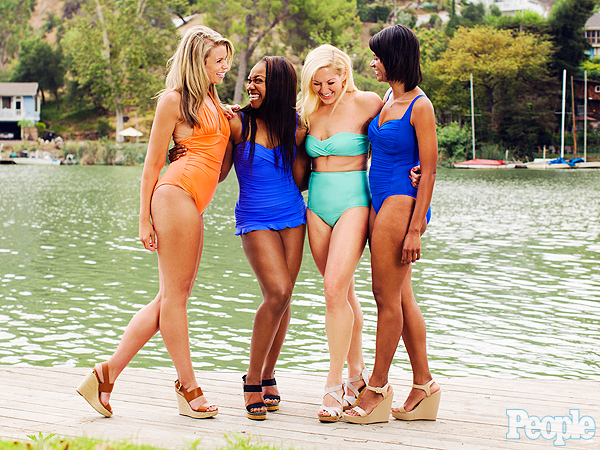 Amy Gillespie, Sharda Smith-Stevens, Melisa Menas and Tudie-Ann Clarke (Rennie Solis)
If you haven't stuck to your summer workout and diet plan as much as you'd hoped this year, we've got some serious inspiration to get you back on the wagon.

These four women each lost 100 lbs. or more and posed in bathing suits for this week's issue of PEOPLE to prove it.
"Being in a two-piece bathing suit is something I never thought I'd do," says Tudie-Ann Clarke, 27, who once tipped the scale at 241 lbs. before jump-starting her weight loss journey with Jenny Craig.
Amy Gillespie, 28, Sharda Smith-Stevens, 28, and Melisa Menas, 35, also found their own combination of diet and exercise to lose the weight.
"It wasn't until I found Lisa Lillien's Hungry Girl site in February 2010 that I was truly able to be successful," says Menas, who lost 112 lbs. and had has kept it off for almost 3 years. "I really like to eat, and her recipes allowed me to eat large quantities of food and still stay within my calorie count."
Smith-Stevens was able to reach her goal weight of 139 lbs. with the help of a personal trainer she met through church.
"She showed me how to use the equipment in the gym, and the weight started to fall off," she says. "Now I work out six times a week and am at 19 percent body fat."
Gillespie says being prepared really helped her stay on track.
"Prep your meals for the week so you always have something ready to eat," says the teacher, who also uses her Instagram to help her maintain her 100-lb. weight loss. "I only keep healthy food at the house, so if I want to go overboard, I literally have to leave the house to do it."
For more on their inspiring weight-loss stories, and to learn real weight-loss tricks that work, pick up the latest issue of PEOPLE, on newsstands Friday.
—Ana Calderone, @anacalderone