Cameron Diaz and Benji Madden Cook for Gwyneth Paltrow: See Their Stunning Dish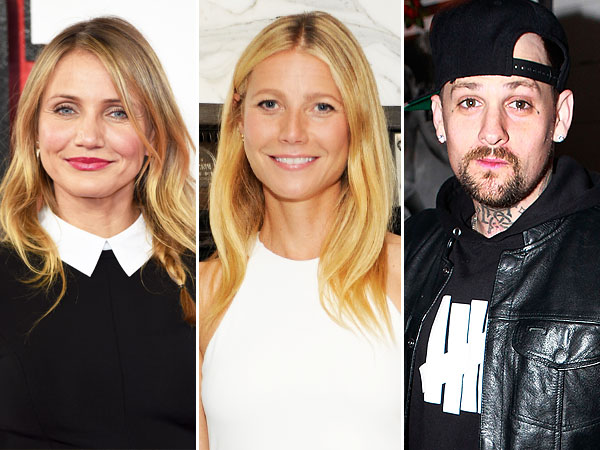 Karwai Tang/WireImage; Stefanie Keenan/Getty(2); T
Preparing a meal that will impress Gwyneth Paltrow is no small feat.

On Sunday, the Goop mogul and vocal food lover showed off a gorgeous plate of food on her Instagram — but this time, the cooking credit went to some different chefs: Cameron Diaz and Benji Madden.
The dish looks like a plate full of summer: a vibrant salad with the "freshest sweetest peaches and burrata," writes Paltrow. Other elements of the plate include fresh basil leaves, a drizzle of olive oil and balsamic vinegar, and chopped nuts for crunch. (Peanuts? Cashews? Blanched almonds? We have to know!)
"Thank heaven for @camerondiaz and @benjaminmadden," she concluded her post.
This isn't the first time we've seen Diaz flex her culinary muscle. Last year, she and her Charlie's Angels co-star Drew Barrymore and pal Reese Witherspoon — who recently launched her own lifestyle site, Draper James — got together for a pasta-making class at the Culinary Institute of America in Napa Valley, California.
It certainly seems like the lesson paid off: We're now adding "dinner at Cameron and Benji's" on our fantasy culinary to-do list.
While we're waiting on that invite, though, here's our take on the dish. With just 6 ingredients and no cooking necessary, this is perfect for lazy summer days.
Summer Peach & Burrata Salad
Makes 4
4 peaches, pitted and sliced into wedges
8 oz. burrata or fresh mozzarella, torn into pieces
¼ cup small or torn basil leaves
¼ cup chopped toasted almonds
Balsamic glaze* or vinegar, for drizzling
Extra virgin olive oil, for drizzling
On a large platter, arrange peaches and burrata. Top with basil and almonds; drizzle with balsamic and olive oil.
*NOTE: If you don't have or can't find balsamic glaze, simply cook balsamic vinegar in a small pot over medium heat until reduced by about half.
—Shay Spence, @chezspence