Alex Guarnaschelli: Why Sunflower Greens Are One of My Favorite Summertime Ingredients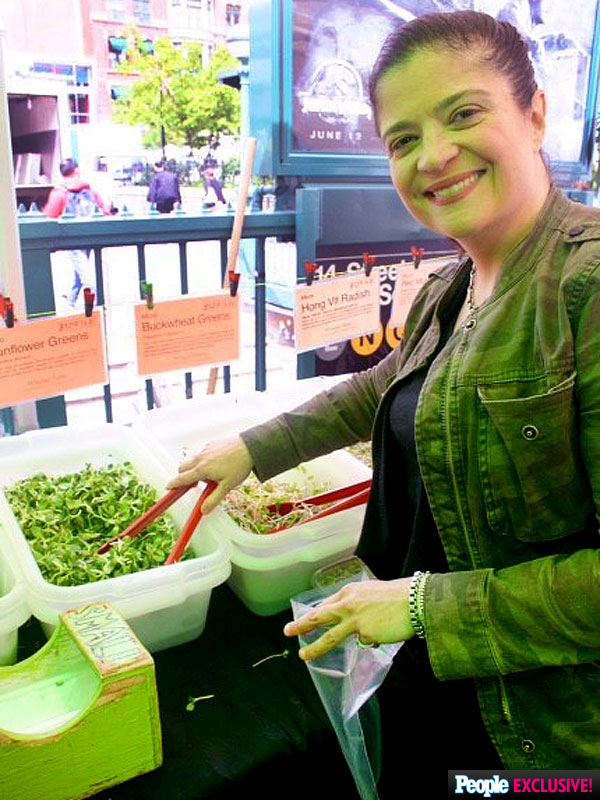 Courtesy Alex Guarnaschelli
Alex Guarnaschelli is an Iron Chef, Food Network celebrity chef, author of Old-School Comfort Food and the executive chef at New York City's Butter restaurants. Read her PEOPLE.com blog every Tuesday to get her professional cooking tips, family-favorite recipes and personal stories of working in front of the camera and behind the kitchen doors. Follow her on Twitter at @guarnaschelli.

At first glance, sunflower greens may not be the most exciting summer ingredient when you're staring at a giant bin brimming with ears of freshly picked corn and tables full of tiny strawberries at the market. Summertime is filled with deliciousness, and the kind we Americans never tire of. Buttered and salted corn on the cob? Strawberry shortcake? Blueberry pie? Yes please. But I also love when other less-known and less-touted ingredients deliver great flavor. I want to talk about one of my favorites: Sunflower greens.
You might begin by asking the obvious: how do sunflower greens taste? To me, they taste wonderfully nutty and rich. Almost like hazelnuts. They also have a very light, grassy note. Is it possible to say this green tastes like if you put hazelnuts, a pinch of grass and super fresh basil in a juicer together? I love when a green chocked with vitamins and anti-oxidants also offers richness. Their stems are also pretty juicy!
So, where do I buy them? I get them at green markets and at health food stores as they are a big health food ingredient. I have also seen them in supermarkets.
I know it's easy to say "toss them into a salad or put into a wrap," and that works wonderfully, but I sometimes feel like I could put anything in a salad or a wrap. I like this green in very specific places and feel the only way to express my love appropriately is to answer the question "How do I use them?"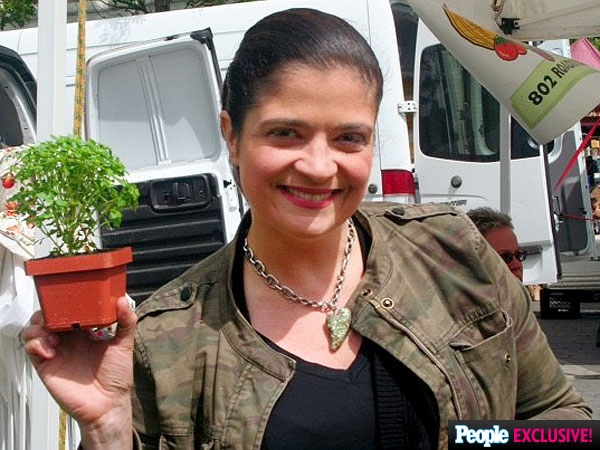 Courtesy Alex Guarnaschelli
I love roasting mushrooms as my "meat" for a meal so I put portobellos or white button mushrooms in the oven until they give up their liquid and are tender when pierced with the tip of a knife. This can take longer than you think! I go 15-20 minutes in a 350F oven and sometimes longer if the mushrooms are larger. I toast a few walnuts, crush them and whisk into a few tablespoons of olive oil and a generous tablespoon of lemon juice and toss with the sunflower greens and pour it over the mushrooms. Wow. Delicious when the mushrooms are hot or cold…
I also love sunflower greens with poultry. They bring out such wonderful flavors in chicken. Or duck. I just toast some chicken thighs and toss with red wine vinegar, any cooking juices from the chicken and sunflower greens. For duck, I glaze with some honey, lime juice and sunflower greens.
I am always looking for new snacks when friends come over. I love roasting some hazelnuts or almonds and toss them with lemon zest and sunflower greens. A green mixed with nuts is kind of cool and unusual.
I also love these greens with Jerusalem artichokes (sunchokes) or roasted red bliss potatoes. The richness of these greens amplifies the earthy notes of both vegetables. If you can't find sunflower greens, fret not, try other kinds of baby greens or micro herbs with some of the above ideas. There are lots of baby basil floating around this time of year. Pea Shoots or Alfalfa sprouts would be great too. Just taking one specific green and putting it somewhere unusual can really change something (like chicken or nuts) that you eat all the time. By the way, I can rarely get my daughter to eat salad but a sprinkle of one of these greens passes the test…
Don't get me wrong: while this is a list of my favorite places to park these greens, there are no rules. There is no "sunflower green" police coming to arrest you. Have a big bowl of them with some simple dressing as is.