Get Ready to Binge: These 9 Eating Competitions Actually Sound Awesome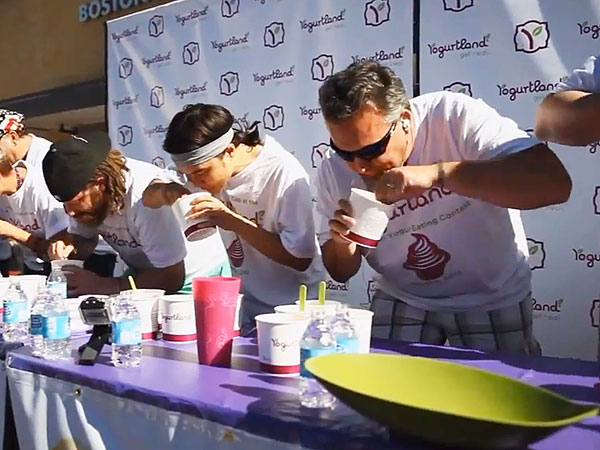 Courtesy Lululemon
The annual hot dog-eating challenge at Nathan's on Coney Island may attract the most attention, but as it turns out, there's a binge-ready competition for all kinds of foods. And while shoveling 60+ franks in your mouth as fast as humanly possible doesn't exactly sound appetizing, there are a few contests out there that actually do sound tasty (if not stomach-ache inducing).
The Knott's Boysenberry Festival World Pie Eating Championship

With its status as a Major League Eating event, the Knott's Boysenberry Festival World Pie Eating Championship was bound to attract some big name competitors, including Joey Chestnut, multi-time Nathan's champ, who set the boysenberry pie eating record at the inaugural competition. This contest also isn't for the faint of heart — eating a boysenberry pie this quickly may lead the eater to look like they've just been put through a food fight.
The Isle Waterloo World Cupcake Eating Championship

Cupcake lovers, get thee to Iowa. The world's annual Cupcake Eating Championship is held in the city of Waterloo each year, and the competition is fierce — past year's participants consumed over 660 cupcakes total.
Yogurtland Frozen Yogurt at Phantom Gourmet Food Festival

In 2013, a few hungry souls got competitive about their love for frozen yogurt at this festival. This one took a lot of slurping — and ended in a new record set for frozen yogurt eating — and, we're guessing, quite the brain freeze.
Sacramento Banana Festival
What's a food festival without a corresponding consumption contest? At Sacremento's annual Banana Festival, competitors stand with their hands tucked behind their back and dive face-first into a plate of banana pie. Warning: A post-contest face wash will be necessary.
Holy Cannoli-Eating Contest at the Feast of San Gennaro

Really, no one needs an excuse to indulge in flaky Italian pastries — but the Brooklyn Cannoli-Eating Contest is as good of a reason as any. Every year in New York City's Little Italy, there's a cannoli contest sanctioned by the organization. Participants have six minutes to wolf down as many cream-filled cannolis they can. The winner ate 26.75 of them. Sign us up for the next round, okay?
The Elk Grove Giant Pumpkin Festival World Pumpkin Pie Eating Championship

When it comes to dessert, nothing screams "Fall!" more than pumpkin pie. At this annual event, held in October in Elk Grove, CA, competitors eat as much of the autumn classic that they can. Last year's winner shoveled down over 20 pounds of pumpkin pie — breaking a world record in the process. This year's winner will take home $2,500 as well as a belly full of pie, too.
Takara Sushi Eating Contest

With each piece's bite size shape, it seems that sushi would lend it self perfectly to speedy eating. A Tampa, Florida eatery, Takara Sushi & Sake Lounge, decided to capitalize on that sort of thinking with a sushi eating contest. Contestants had 50 pieces of sushi, and no time limit — whoever finishes first is the winner.
Mango Eating Competition

If fruit's your thing, then you may want to consider hopping on a flight to New Delhi, India and heading to the Mango Festival. As the participants' bibs (and juice-covered faces) show, it's a messy business.
Dia De Los Muertos Taco Eating Contest
Taco bout a challenge! In this San Jose-based contest, eaters must scarf down as many tacos as they can. However, this wasn't much of a competition: The winner ate over 100 tacos, with the second place finisher eating just over 50.
—Diana Pearl