Hungry Girl: My New Calorie-Burning Obsession – Housewalking!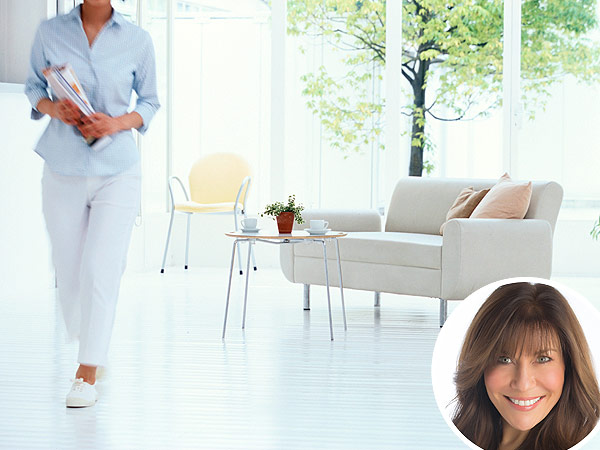 Getty; Inset: Courtesy Lisa Lillien
Lisa Lillien is the author of the popular Hungry Girl website and email newsletter, featuring smart, funny advice on guilt-free eating. She is also the author of ten books, six of which debuted at number one on the New York Times Best Sellers list. Read her PEOPLE.com blog every Monday for slimmed-down celebrity recipes and more.

Let's face it, sometimes we just don't feel like exercising. Whether it's because we have other stuff to do, don't feel like getting all sweaty, or just don't have the drive for something strenuous – it happens. (A lot.) Is that a good reason to just sit around and do nothing? Heck no! I'm gonna spill my favorite calorie-burning tip, which is so easy, it would be silly not to do it.
I started Housewalking when I began wearing a Fitbit to track my daily steps. In order to hit my daily 10,000-step mark (the recommended number), I started walking around my house whenever I could to rack up those steps. And I realized I was getting major activity in that way. Now I walk around wherever I am as much as I can (within reason), whether I'm at home or in the office.
Why does it rock? No special requirements (i.e. gym membership, treadmill, warm weather) needed – all you need is yourself! Plus, you can Housewalk even without a house (an apartment, hotel room, or even a balcony will do). And just because you're walking doesn't mean you have to be moving forward – walking in place totally works.
To get started, grab any simple pedometer or other step-counting tool — get a cheapie one, download an app for your phone, or use a fitness tracker if you've got one. Then … start walking! Waiting for the microwave to ding? Housewalk! Reading a magazine? Housewalk (in place)! Folding laundry? Housewalk! It adds up quickly and beats just sitting around while you do those things. I've logged a few thousand steps while chatting with my mom on the phone! (We're talkers.)
Lace up your shoes and start Housewalking…
'Til next time… Chew the right thing!