110-Year-Old Woman Credits Longevity to … Miller High Life?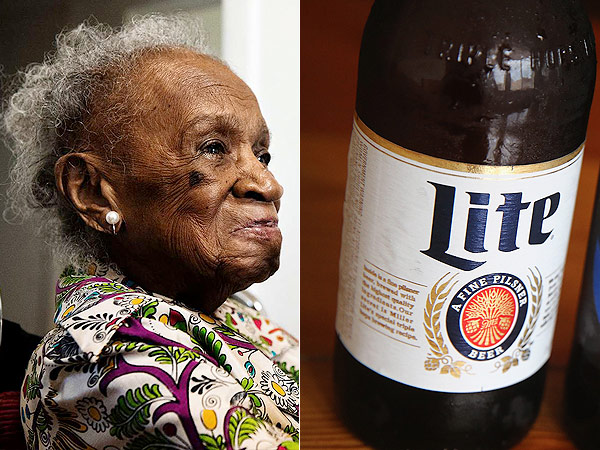 North Jersey/Landov; Scott Olson/Getty
If you want to live as long as Agnes Fenton, you're going to have to make some lifestyle changes — namely, adding Miller High Life to your diet. (If you already drink Miller High Life on a daily basis, this may be the first time someone's ever told you you're on the right track.)
The Englewood, New Jersey woman, who turned 110-years-old on Saturday, spoke with The Record about being a "supercentarian" and reflected on the art of aging gracefully. After all, she's basically a lifestyle guru  — Fenton told ABC in 2005 that she drank three beers and a whiskey every single day for over 70 years on her doctor's recommendation.
"He said, 'Agnes, you must drink three Miller High Lifes a day,' " Fenton recalled.
Sadly, her caregivers have recently discouraged her from drinking alcohol, as she no longer eats as much food as she used to (though, like us, she eats as much green beans, chicken wings and sweet potatoes as she can get her hands on).
While Fenton's 11 decades are miraculous, Stacy Anderson, a project manager with the New England Centenarian, doesn't necessarily think people should start buying "the champagne of beers" in bulk.
"Each of our centenarians has their different secrets," she said. "If Agnes feels hers is alcohol, maybe it is, but certainly we don't find that to be consistent across all our centenarians."
Fenton, who's in a wheelchair, could hardly believe her milestone birthday.
"When I was 100 years old, I went to the mirror to thank God that I was still here. And I thank him every morning," she said.
"He gave me a long life and a good life, and I have nothing to complain about … You've got to have God in your life. Without God, you've got nothing."
When asked whether her caregivers would let her drink some Johnnie Walker for her 110th birthday party, Fenton's response was simple: "They better."
—Maria Yagoda, @mariayagoda