EXCLUSIVE: Watch Neil Patrick Harris and David Burtka Get in the Kitchen with Ina Garten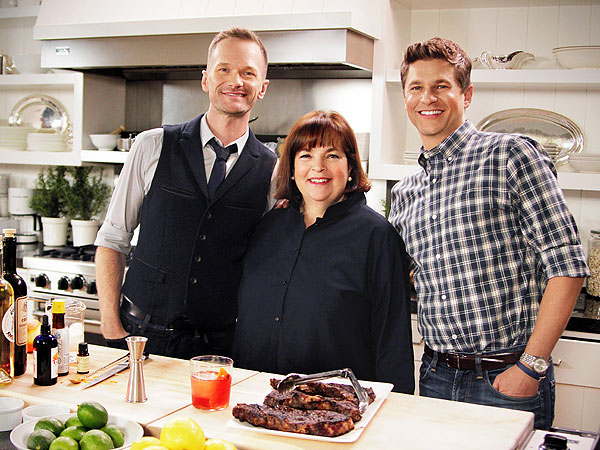 Courtesy Food Network
Ina Garten has some new kitchen companions with major star power.

In April, Neil Patrick Harris posted an Instagram photo of him and husband David Burtka with the celebrity chef in her Hamptons, New York kitchen, teasing an upcoming appearance on her show. "Spent yesterday filming the the kitchen of @inagarten," the actor captioned, adding: "What a wonderful woman  — classy, talented, and smart. Great times!"
RELATED: Anthony Bourdain: 'Ina Garten Is One of the Few People on Food Network Who Can Actually Cook'
Well, we've now got an exclusive sneak peek of Barefoot in Los Angeles (which airs Saturday, August 8 at 11 a.m. ET on Food Network), and the three appeared to hit it off just as well as his description implied. In the video below, Garten starts off the session by joking, "Don't you like the way I invite you over for lunch, and then I make you cook?" (We're sure they didn't mind.)
And on the menu? Juicy ribeye steaks grilled by Burtka, a chef himself, while Harris puts his recent mixology lesson to use and whips up a drink he dubs the "Rye-groni," a twist on the classic Campari-based Negroni, made with rye whiskey instead of gin. He lets his Barefoot Contessa super-fandom show, saying, "I know that you love Campari." How, she asks? "I stalk you," Harris deadpans.
This is not the only cooking session the couple has had with a Food Network star: Burtka gifted Harris an epic grilling lesson with Bobby Flay for the star's 42nd birthday in July.
Their segment is part of a special episode of Barefoot Contessa in which Garten — also no stranger to celebrity cooking sessions (looking at you, Taylor Swift) — heads to Hollywood to get in the kitchen with stars like Jennifer Garner, Carnie Wilson, and Wolfgang Puck before heading back to her Hamptons home with Harris and Burtka.
—Shay Spence, @chezspence