Hungry Girl: 5 Must-Have Beach Bag Snacks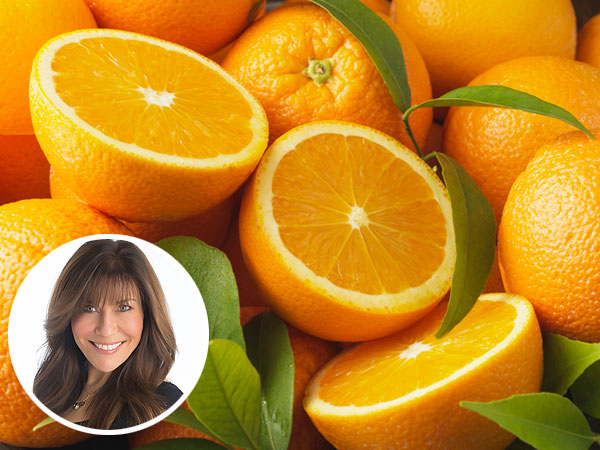 Getty; Inset: Courtesy Lisa Lillien
Lisa Lillien is the author of the popular Hungry Girl website and email newsletter, featuring smart, funny advice on guilt-free eating. She is also the author of ten books, six of which debuted at number one on the New York Times Best Sellers list. Read her PEOPLE.com blog every Monday for slimmed-down celebrity recipes and more.

Beach days are awesome, but the food available there? Not really the kind of stuff you wanna be chowing when you're lounging around in your swimsuit. BYOS: Bring your own snacks!
Crispy Bean Snacks
Crunchy munchies are the ultimate snack, but pretzels and potato chips aren't exactly filling. Roasted or freeze-dried beans, on the other hand, pack satisfying protein and fiber. My top picks? Enlightened The Good-for-You Crisp Roasted Broad Beans, Cruncha Ma-me Freeze-Dried Edamame, and The Good Bean Roasted Chickpea Snacks.
Oranges
What's so great about basic oranges? You don't have to do a darn thing to prep them. They're sweet, juicy, portable, and they'll keep you away from candy or sugar-packed smoothies. Plus, vitamin C is good for your skin, which is always beneficial when you're out in the sun. (Don't forget that sunscreen, though!)
100-Calorie Packs of Nuts
Want to satisfy that hunger without taking in large volumes of food? Nuts will do the trick, with their healthy fats, fiber, and protein. Almonds, pistachios, walnuts… Just make sure you find something portion controlled; it's so easy to overdo it! Blue Diamond, Wonderful, and Emerald are my go-to brands.
Jicama Sticks
We all know that veggies are a smart snack, but baby carrots and celery sticks can seem a little ho-hum. Well, it's time you discovered jicama. It's juicy like an apple, but mild like a cucumber. So good! Look for pre-cut sticks in the produce section; or grab a whole jicama, and then peel and slice!
Single-Serving Tuna Pouches
Tuna might not sound like the most beachy snack in the world, but these pouches are perfectly portable and super satisfying. An added bonus? No one's gonna be bothered by the smell of fish when you're at the beach! Just bring a fork, and get your snack on. I'm a huge fan of StarKist's flavored Tuna Creations varieties, especially the Sweet & Spicy. 110 calories or less, with no draining and no mess.
'Til next time… Chew the right thing!