Arby's Dedicates a Sandwich to Jon Stewart … and It Sounds Delicious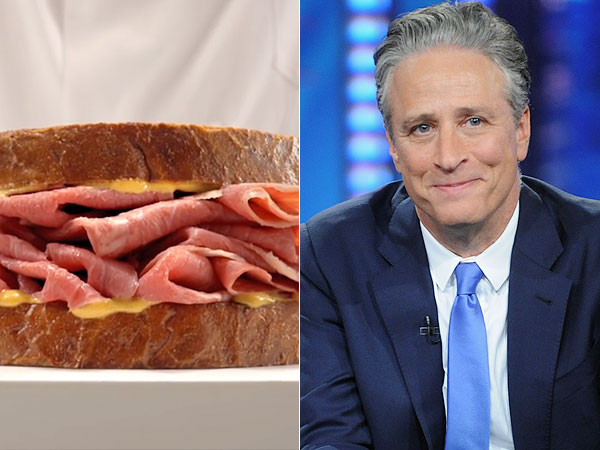 Getty
We thought we were sad about Jon Stewart's departure from The Daily Show, but clearly Arby's is having the hardest time saying goodbye.

The fast-food sandwich chain, which Stewart routinely (and mercilessly) mocked on The Daily Show, just created a sandwich in honor of the comedian. As announced in a melodramatic trailer, the Jewish-deli-inspired sandwich — The Daily Deli — will consist of double corned beef and deli mustard on marbled rye. (Yes, it sounds incredible.)
RELATED: 10 Secret Menu Items You Can Order at Fast Food Restaurants
Before The Daily Show finale on Thursday, Arby's expressed its enduring love for Stewart with an expertly edited montage of every time he insulted the chain (calling it things like "The Shock and Awe of Bowels"), proving that the Arby's crew are excellent sports.
The chain even offered Stewart a job back in February, to which he replied: "I guess my only question is, as a future employee, would be, to work there, would I have to handle, serve, touch, eat or even look at what you so generously describe as food? That's right, Arby's. This motherf—— thing ain't over. I do not accept your peace offer. We shall always be enemies!"
In any case, we offer our heartfelt congratulations to Stewart. Nothing cements a legacy like an honorary sandwich.
—Maria Yagoda, @mariayagoda