Kylie Jenner Celebrates Her 18th Birthday with a Plump, Lip-Shaped Cake (PHOTO)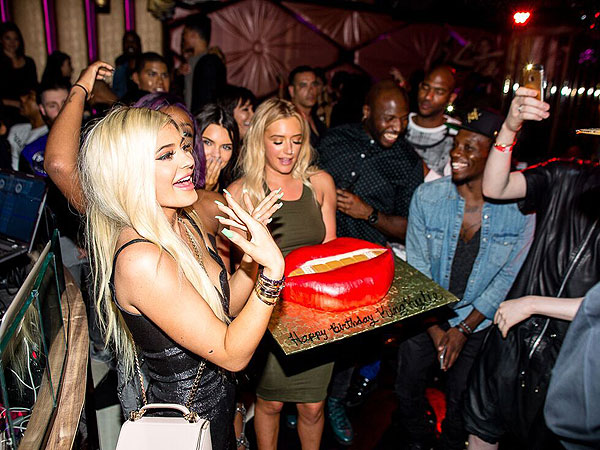 The h.wood Group
Pucker up! Kylie Jenner ushered in adulthood with her 18th birthday celebration on Sunday, and her cake matched her most buzzed-about asset.

The cake, crafted in the shape of a pair of lips, was covered with fire-engine-red frosting and what looks like a grill over the teeth to match the one Kylie wore to the American Music Awards last November.
"Happy Birthday King Kylie," the golden platter holding it read.
The reality star, who officially turned 18 on Aug. 10, also debuted a new platinum blonde hair color and got a lavish (read: $320,000) present from rumored boyfriend Tyga during her celebration at West Hollywood nightclub Bootsy Bellows.
RELATED: Kim Kardashian, Kendall Jenner, Lada Gaga & More: See the Best Celebrity Birthday Cakes
And cake wasn't the only thing guests — who included famous family members Kim, Khloé and Kourtney Kardashian, and Kendall, Kris and Caitlyn Jenner — were feasting on at the bash. Beverly Hills' Mulberry Street Pizzeria delivered a boatload of pies, per Kylie's request. As far as toppings go, she stuck with the classics: cheese and pepperoni, with the restaurant's famous hot oil on the side.
Kylie set the Internet abuzz in May when she admitted to cosmetically enhancing her lips with temporary fillers on an episode of Keeping Up with the Kardashians. "It's just an insecurity of mine, and it's what I wanted to do," the then 17-year-old said.
We're happy to see some proof that Kylie has a sense of humor about the situation — now pass us a slice, please.
RELATED: The Definitive Guide to Kim Kardashian's 'Favorite' Foods
—Shay Spence, @chezspence