American Hero Figures Out How to Get 86 Percent More Chipotle Burrito — for Free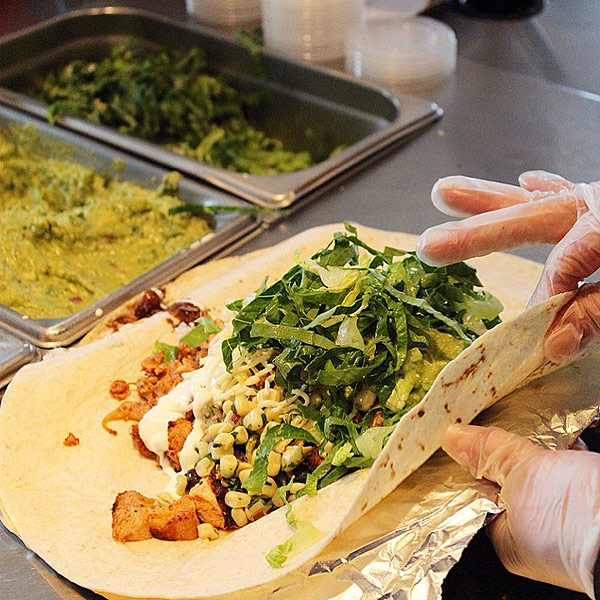 Courtesy Chipotle
Apartment List employee Dylan Grosz has performed a great service to his country.
After several days of burrito-centric research and experimentation, Grosz figured out a way to maximize the size of his Chipotle burrito by 86 percent, at no extra cost.
Wizardry! You may say. But his methodology is actually quite simple (and does not require witchcraft). On Monday, Grosz shared his findings with the public, outlining a series of tips for getting more burrito for your buck.
RELATED: Check Out Chipotle's Actual Guacamole Recipe
"It's basically a universal truth that the only thing better than Chipotle is … more Chipotle," Grosz writes. "I'm no religious scholar, but I'm pretty sure heaven is just one big Chipotle restaurant where the guac and chips are ALWAYS free and hell is just some Taco Bell."
He goes on: "Through a lot of burrito research and even more company write-offs and office burrito donations, I've discovered these 6 tips that can increase the size of your burrito by 86% without spending any more money … You're welcome, world. Please send the Nobel Prize to my mom's house."
We present you Grosz's tips:
1. Order a burrito bowl with a tortilla on the side.
"Burrito legend has it that the bowl's lack of tortilla constraints influences servers to give burrito bowl customers huge portions in general. In my experiments, I found that this method alone gets 15% more ingredients across the board, without changing anything else about the order."
2. Order two tortillas on the side to increase total weight by 85 percent.
"Congratulations, your burrito just became 25% bigger. Ordering tortillas on the side and wrapping it yourself may be a daunting task for some, but if you value the time it takes you to wrap the burrito at $0 per hour (hey, burritos are worth your time), then you should add this method to your burrito maximization arsenal."
3. Order both kinds of rice for 93 percent more rice.
"The next time your server asks if you want white or brown rice, request both types – you'll get almost 93% more rice, at no extra cost. This carbo-loading method increases the overall weight of the burrito by 23%. As an ancient American proverb puts it: more burrito, more food, more happiness."
4. Order both types of beans for 92 percent more beans.
"Just like rice, there are two different types of beans we can choose from: black and pinto. If you really want to maximize burrito weight, asking for both kinds gets you 92% more beans (another note: we aren't responsible for the gas you'll be having afterwards)."
5. Go half and half on meats. Order half of each meat to get 54 percent more meat.
"In theory, asking for half chicken, half steak should yield one full serving, but our tests showed that you actually get 54% more meat – basically 3/4 scoop of each. This increase in meat grows the burrito's weight by around 9%."
6. Ask for fajita veggies and corn salsa – it'll increase your burrito size by 15 percent.
"Hidden away and rarely mentioned by servers, the fajita vegetable mix and corn salsa are free to add, and taste good to boot."
AND IF YOU COMBINE ALL SIX OF THESE TIPS TOGETHER?!?!?
You get a giant burrito that weighs a whopping 32 ounces. At zero additional cost.
Dylan Grosz, you're an American hero.
—Maria Yagoda, @mariayagoda