Geek Out, You Will: Star Wars Characters Are Now Available in Soup Form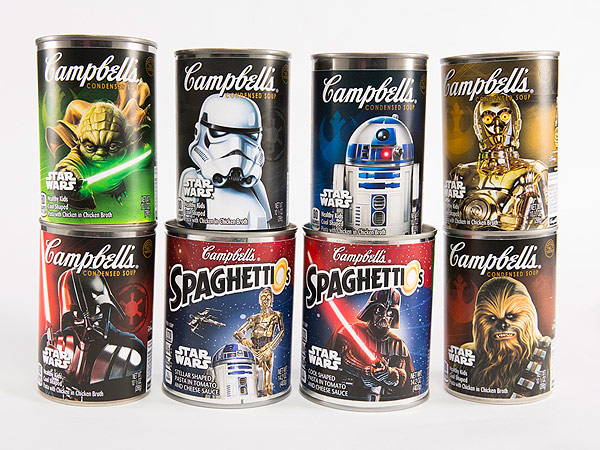 Campbell's
We always knew chicken noodle soup was missing something.
Turns out, the missing piece was Star Wars. Campbell's has just released a series of limited-edition Star Wars soups packed with noodles cut into the shapes of Stormtroopers, Darth Vader, R2-D2 and C3PO.
RELATED: Sesame Street Takes on Star Wars in 'Star S'Mores'
The new soups are bringing us way, way back — watching Star Wars and eating chicken noodle soup were two of our favorite parts of childhood, aside from not having responsibilities or an understanding of injustice.
The limited-edition cans also come in SpaghettiO's form, with tomato and cheese sauce and noodles shaped like Star Wars characters. (The college student inside of us is screaming with excitement.)
This may be over the top, but hear us out: We'd love to pair these soups with the Star Wars–themed lunches that LunchBox Dad whipped up back in May.
Too much Star Wars? Impossible. (That reminds us. We still need to buy tickets to this Star Wars–themed cruise.)
—Maria Yagoda, @mariayagoda