Bob and Cortney Novogratz Blog: Hollywood Hills Ideas to Steal for Your Own Home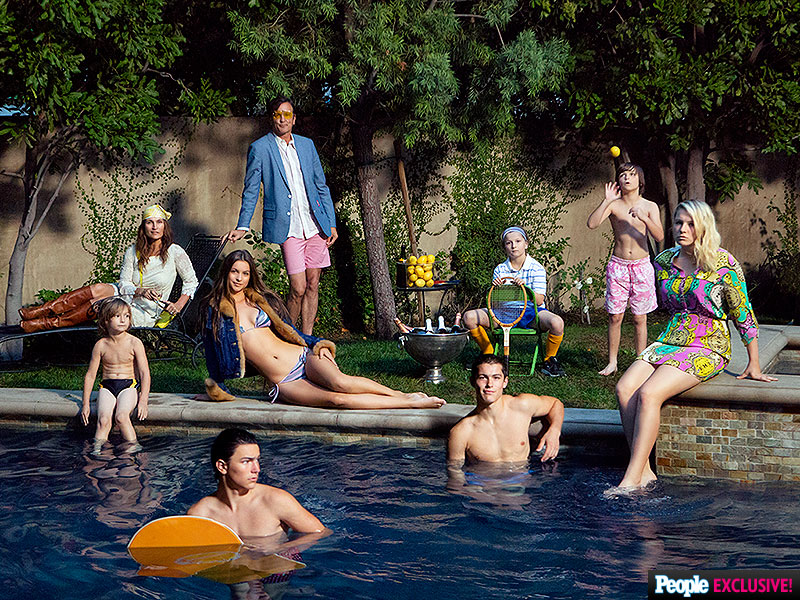 Catherine Hall
Bob and Cortney Novogratz are a design duo—and parents to seven children—who recently bought a 1920s-era castle in the Hollywood Hills. Check back regularly on PEOPLE.com as they blog about the rewards, risks, messes, and successes of the project, giving their expert tips and tricks for home renovation. You can follow them on Twitter at @TheNovogratz.
Moving to L.A. after 25 years in New York is a bit of a culture shock. Everything is different in a great way, from the pace, to the food (where are the slices of pizza?!) to the design aesthetic.

Though we miss New York and love going back, it's amazing to immerse ourselves in everything that is L.A., and particularly Hollywood Hills, where our new home is.
Everyone deserves a bit of Hollywood glam in their lives, whether it's a home's entire vibe, or a nod here and there. Glam has taken so many forms in L.A.'s history: the lobby of the Pantages Theater; Mocambo Nightclub on the Sunset Strip; the Beverly Hills Hotel; Case Study House #22 by architect Pierre Koenig; Chateau Marmont's outdoor patio; and Capitol Records, the world's first circular office building. Everything goes here, and luxury and comfort don't have to be mutually exclusive.
In designing our new home near Laurel Canyon, we're drawing inspiration from the beauty of the interiors around us. Chateau Marmont striped awnings, a pink diving board, vibrant old Hollywood colors, and citrus trees in pots for the hot summer days are all making appearances at our new house.
Here are a few tips for bringing the Hollywood Hills glam into your home:
1. Find beautiful antique mirrors at your local flea market. It can be a focal point, or you can mirror an entire wall. Any mirror you use will make the room feel bigger.
2. Make indoor and outdoor living seamless. Get a big table for your family to eat outside. Use durable fabric like Sunbrella on your outdoor furniture. Bring old sliding doors up to date with beautiful new French doors. If you've got outdoor space, enjoy it! Outdoor living is truly a luxury.
3. Bring beautiful metallic accents into your home. People don't realize that metallics are colors too, and everyone needs a little bling-bling. If you're afraid of metallics in fabrics, replace drab knobs and door handles with bronze hardware. Metallics bring so much life to spaces.
If you want to bring a little of the Hollywood Hills glam into your home, be sure to keep it comfortable. A huge part of the Hollywood Hills glam is Laurel Canyon's 1960s bohemian, rocker vibe; everyone from Jim Morrison to Carole King made a home in the canyon and contributed to the area's vibe. Our go to store for boho, hip designs is nearby CB2 on Sunset, and our favorite place to shop vintage furniture in L.A. is Sunbeam Vintage.
The key to Hollywood glam is a luxurious, laid-back, eclectic vibe. Make the designs your own, be bold in the accessories you choose, and serve your friends fancy cocktails on a fabulous tray. The L.A. life is all about enjoying your free time, so make your home a space that allows you to do just that.