Get the Sweet Details on Tracy Morgan's 5-Foot-Tall Wedding Cake (PHOTO)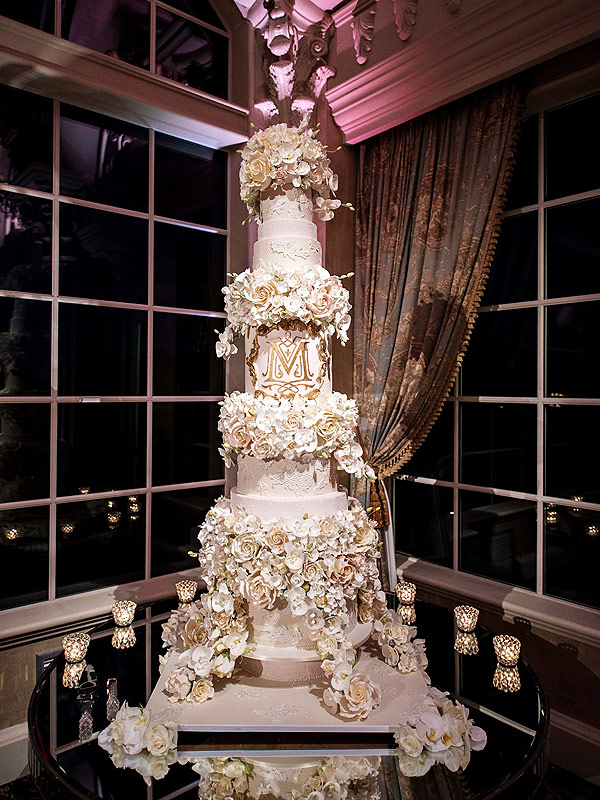 Jeff Tisman Photography
There's your average wedding cake, and then there's the towering, super-sweet extravagance that took center stage at Tracy Morgan's wedding to Megan Wollover.

"The cake was a showstopper!" Morgan's wedding planner Jenny Orsini tells PEOPLE of the 5-foot-tall, multi-tiered creation by Pink Cake Box.
Covered in hand-made rose and orchid sugar flowers, the dessert featured individual levels of vanilla, marble and chocolate cakes, and multiple layers of filling, including vanilla bean Italian meringue, hazelnut and raspberry.
RELATED: The Ultimate Celebrity Wedding Cakes
Matching the color scheme incorporated throughout the wedding decor, the cake highlighted ivory, cream and blush tones with gold accents, and was adorned with the couple's custom "M" monogram.
Lest guests still have room for more sweets, the dessert menu also included Flaming Bananas Foster over vanilla ice cream, cookie and milk shooters and banana bread pudding bites with salted caramel sauce.
Although Morgan relished being involved in the wedding planning (and food tasting!), Orsini had one surprise up her sleeve. "We had a fabulous custom groom's cake designed too to surprise Tracy," she says.
And as for the shape of groom's the cake? What else, a Rolex watch!
RELATED: This Superhero Wedding Cake Is All Business in the Front, Party in the Back
—Lizz Leonard