Khloé Kardashian Shows Off Her Insanely Organized Pantry: 'As You Can Tell, I Like Containers'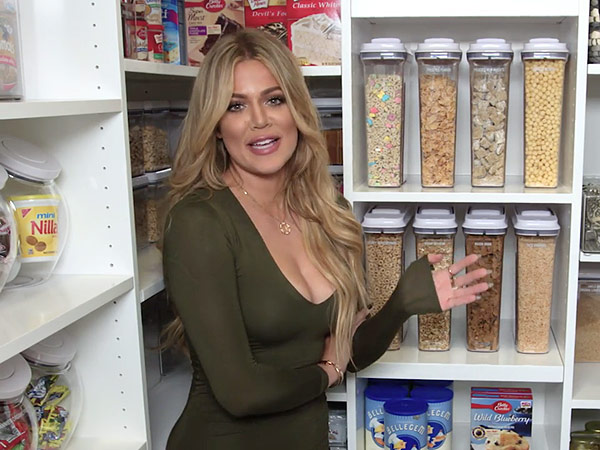 Khloe Kardashian
Khloé Kardashian is scary organized.
In a new "Khlo-C-D" video posted on her website, Kardashian takes viewers inside her immaculately organized pantry, showing off all of her beautiful snacks (cookies, crackers, nuts, Gushers, cereal, cake mix and more), as well as her organizational prowess.
RELATED: Khloé Kardashian Shows You How to Recreate Her O.C.D. Cookie Jars
"Normally, I think areas like this for a homeowner are intimidating, so everything for me has a home," she says at the beginning of the video.
"As you can tell, I like containers. I like for things to all look the same and have some fluid flow to it. I find a ton of really cool things at yard sales all the time, so you don't have to spend a lot of money in order to organize, so don't give me the excuses, people."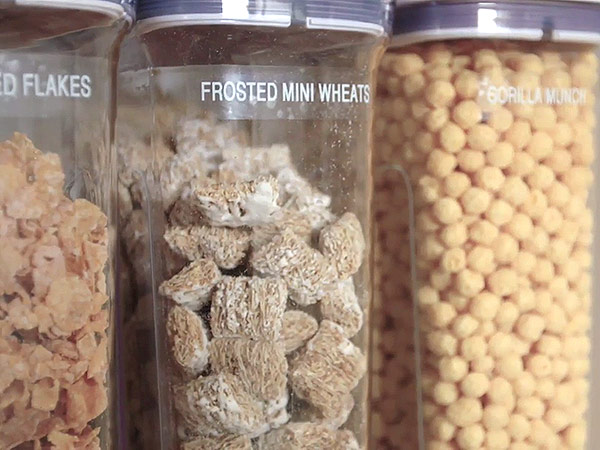 Khloe Kardashian
Kardashian typically buys snacks in bulk, and then makes sure to label everything once she transfers them to their proper containers.
RELATED: (Snack) Break the Internet: The Definitive Guide to Kim Kardashian West's Favorite Foods
"I am a big label maker, so if Dad likes Dad snacks, put a basket for Dad. Have one for Mom," she says. "I know it's an extra expense to buy containers, but it makes everything so pretty."
Organized by category — with foods she grabs for first, like "Blow Pops and caramels" stored at arm's level — her pantry is a wonderland for her frequent visitors, including her brother Rob, sister Kylie and 5-year-old nephew, Mason.
"A lot of the stuff I have in here is for other people. The Lucky Charms are for Kylie and Mason specifically. Kylie eats Lucky Charms all the time. She's like a 3-year-old; she only picks out the marshmallows," Kardashian says.
On the family's recent vacation to St. Barths, Jenner introduced Mason to the wonder that is Lucky Charms, much to his mother Kourtney Kardashian's chagrin.
RELATED: Khloé Kardashian: 'I Felt I Was Beautiful Bigger'
"It was his first time having them, and now all he does is ask for it — and Kourtney doesn't allow it at her house, so he comes here everyday to get cookies, and now his new thing since St. Barthes is getting Lucky Charms. I'm the cool aunt that has everything fun."
She's also the cool sister.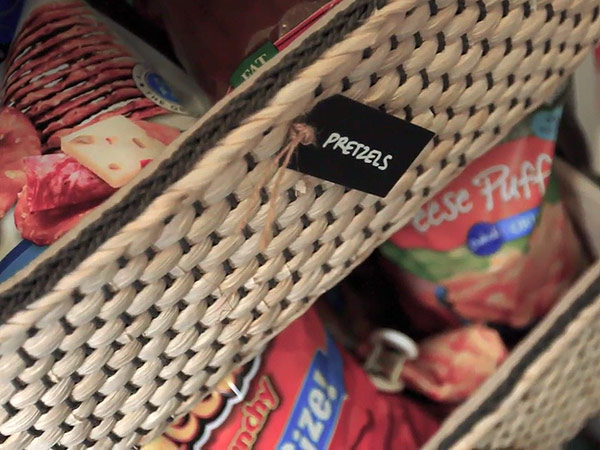 Khloe Kardashian
RELATED: Khloé Kardashian Lands New Talk Show: Get All the Details
"When you're stocking your pantry, you need to think about your guests. My brother lives with me and randomly he'll come over with like ten guys." (Her go-to snack for feeding a pack of 20-something dudes? Lipton French Onion Dip.)
Kardashian concludes the video by shutting the door of her pantry, so she can snack in peace.
"I'm actually really hungry, and I don't want to eat on camera."
—Maria Yagoda