The 10 Best Shows and Movies Streaming in October — and What You Should Be Snacking on While You Watch Them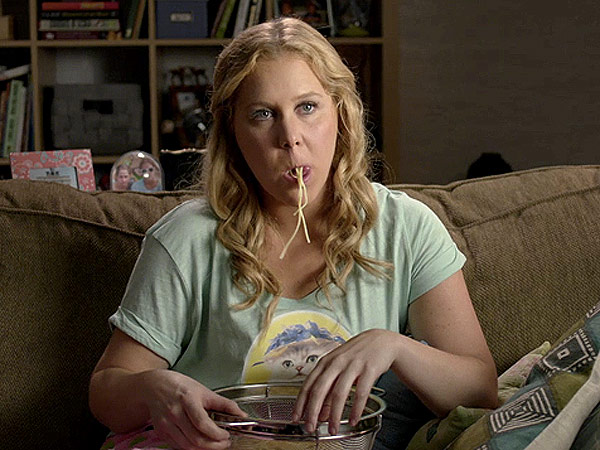 Courtesy Comedy Central
NOW PLAYING
Ahh, October. Fall is in the air, pumpkin spice lattes are in peak season, and according to every office building elevator conversation, the masses remain adorably "excited about sweater weather." (Talk to us in a couple months).

It's also a fact that as temperatures fall, your inclination to cancel previously-made social arrangements and spiral into a persistent vegetative state rises. When that happens, we are here to guide you.
Here are our top picks for what you should be streaming on Netflix, Hulu, Amazon Prime, and HBO Now this month, and what you should be snacking  and drinking on to go along with it. Whether it's a full-on meal or a post-Seamless dessert, go ahead and treat yourself, because you're worth it.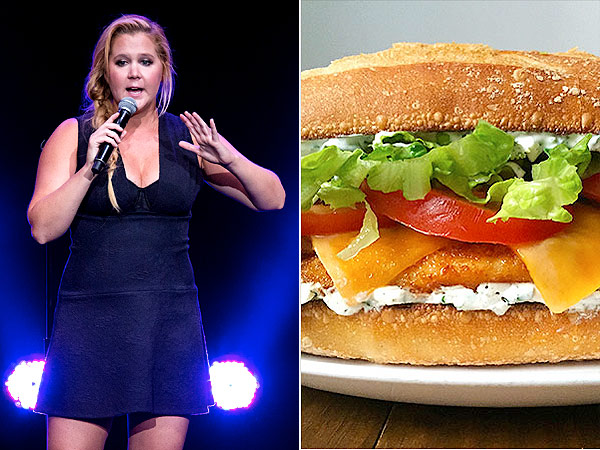 Scott Legato/Getty Images; Shay Spence
AMY SCHUMER: LIVE AT THE APOLLO
Coming to HBO Now October 17
Saying you think Amy Schumer is funny at this particular time in pop culture would be like going back to 1776 and saying Betsy Ross is good with a needle and thread.
Too old of a reference? Okay, it's like going back to 1993 and saying you think Zack Morris has a charming smile. If that is too old, we can not help you.
The point is, no one is going to argue. Schumer is undeniably hilarious, she's having her moment, and we're hoping her moment lasts forever. In this new HBO comedy special, she promises to be as raunchy and trainwreck-y as ever, and we'll be watching to make sure it lives up to the hype.
And in case you doubted our dedication to Schumer superfandom, we created an entire sandwich in her honor, based on her specific requests. Make it, eat it, watch it.
RELATED: Amy Schumer Leaves a 1000% Tip at Long Island Restaurant
"The Amy Schumer" Sandwich
Makes 4
For the ranch dressing:
¾ cup sour cream
3 tbsp. chopped chives
1 tbsp. lemon juice
1 clove garlic, minced or grated
For the chicken:
¼ cup vegetable or canola oil
½ cup flour
2 eggs, beaten
½ cup panko breadcrumbs
½ cup grated parmesan
4 chicken cutlets
For the sandwich:
4 hero rolls, split
1 clove garlic, halved
8 slices bacon, cooked
8 slices sharp cheddar cheese
3 tomatoes, sliced
1 cup chopped romaine lettuce
1. In a bowl, combine all ingredients for ranch dressing and season to taste with salt and lots of coarse black pepper. Stir to combine and set aside in the refrigerator.
2. Set up a breading station: in one shallow dish, add flour. In another dish, add eggs. In a third dish, combine breadcrumbs and parmesan. Season chicken and dip each cutlet into the flour, then eggs, then breadcrumb mixture to create a breading.
3. In a large skillet, preheat oil over medium-high and cook chicken, turning once, until golden brown and cooked through, about 3 minutes per side. Transfer to plate.
4. Preheat your broiler on high. Toast the rolls cut side up on a baking sheet under the broiler until slightly browned, about 3 minutes. Rub toasted rolls with cut garlic clove. Spread ranch dressing on the bottom rolls. Top with cutlet, bacon, cheese, tomato, lettuce, top roll (also slathered with ranch dressing, duh.)
RELATED: Make Amy Schumer's Favorite Mac 'n' Cheese from Her Waitressing Days in N.Y.C.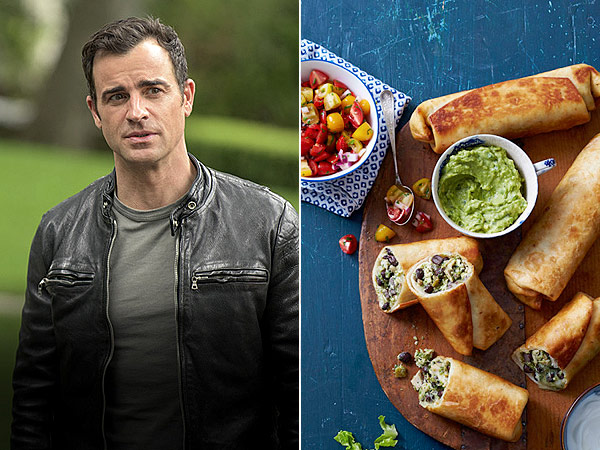 Courtesy HBO; Hector Sanchez/Southern Living
THE LEFTOVERS, SEASON 2
Coming to HBO Now October 4
When he's not surprise-marrying Jennifer Aniston and surprise-honeymooning with all of their famous friends, Justin Theroux stars in a pretty gripping show about a suburban community dealing with the sudden disappearance of 2% of the world's population.
If you are anything like us, though, you heard the title and were like "Oh, I totally forgot I have that leftover kung pao chicken and a quarter of a bottle of pinot grigio in the fridge. Dinner, score." And then your mind went elsewhere.
What we're trying to say is that you should always have leftover chicken in your fridge, or even just a store-bought rotisserie chicken that you pretend you roasted yourself like Ina Garten.
Once you have that down, the possibilities are endless. You can, for example, toss it with a bunch of other awesome things, wrap it in a tortilla, and fry it. You're welcome.
Leftover Chicken and Black Bean Chimichangas
1 pound shredded leftover chicken
1 (15-oz.) can black beans, drained and rinsed
1 (4-oz.) can mild chopped green chiles
¼ cup salsa verde
½ tsp. kosher salt
¼ tsp. freshly ground black pepper
¼ cup chopped fresh cilantro
4 (10-in.) flour tortillas
1 cup (4 oz.) shredded Monterey Jack cheese
⅓ cup canola oil
Toppings: guacamole, sour cream, chopped tomatoes
1. Stir together first 7 ingredients in a large bowl. Divide chicken mixture among tortillas, placing mixture just below center of each tortilla. Sprinkle with cheese. Fold sides of tortilla over filling, and roll up.
2. Fry chimichangas, in 2 batches, in hot oil in a large skillet over medium-high heat 3 to 4 minutes on each side or until browned and crispy. Drain on paper towels. Serve with desired toppings.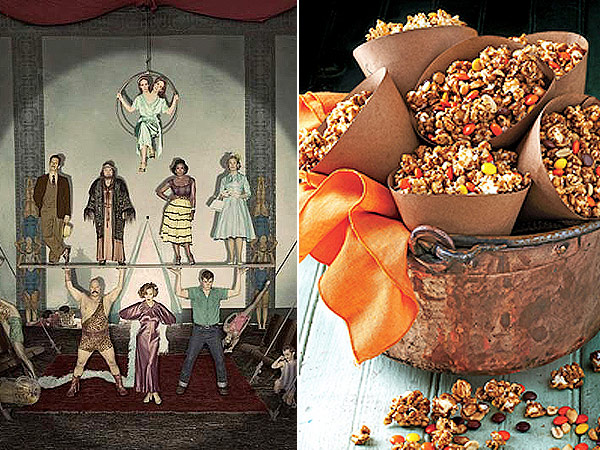 Courtesy Fox; Greg Dupree/Southern Living
AMERICAN HORROR STORY: FREAK SHOW
Coming to Netflix October 6
If you are easily spooked or have a (totally rational and understandable) phobia of clowns, this fourth installment of Ryan Murphy's cult series might not be your jam.
If you can stomach it, though, it's worth a watch. Anchored by the always-haunting Jessica Lange as ringmaster and Kathy Bates as the bearded woman with a vaguely unsettling Canadian accent, the creepy circus show lives up to the legacy of its predecessors.
This caramel peanut popcorn is a mash-up of all of our favorite circus foods (or so we imagine, as we generally avoid circuses due to the aforementioned clown situation) and just so happens to be perfect for Halloween entertaining, too.
Caramel Peanut Popcorn
15 cups popped popcorn (about 3/4 cup kernels)
Vegetable cooking spray
1 cup plus 2 tbsp. packed dark brown sugar
½ cup butter
½ cup dark corn syrup
¼ teaspoon kosher salt
1 cup lightly salted dry-roasted peanuts
Wax paper
1 (10.5 oz.) package candy-coated peanut butter pieces (such as Reese's Pieces)
1. Preheat oven to 325°F. Spread popcorn in an even layer on a lightly greased (with cooking spray) heavy-duty aluminum foil-lined 13- x 18-inch pan. Stir together brown sugar and next 3 ingredients in a small saucepan over medium-low heat; bring to a simmer, and simmer, stirring constantly, 1 minute. Pour over popcorn, and stir gently to coat.
2. Bake for 25 minutes, stirring every 5 minutes. Add peanuts during last 5 minutes. Remove from oven, and spread on lightly greased (with cooking spray) wax paper. Cool completely (about 20 minutes). Break apart large pieces, and stir in candy pieces. Store in an airtight container up to 1 week.
RELATED: Watch the Cast of Scream Queens Compete in an Ice Cream Eating Contest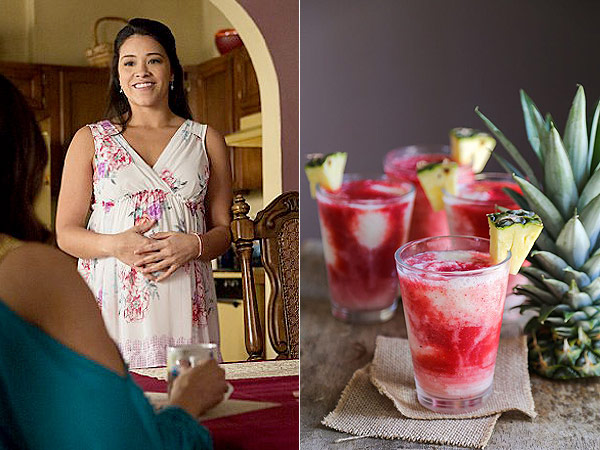 Courtesy The CW; thechicsite/pinterest
JANE THE VIRGIN, SEASON 1
Coming to Netflix October 12
We admit that the premise of a 20-something virgin experiencing a seemingly immaculate conception does not seem like the most promising vehicle for truly witty comedy. But we were wrong.
The show is instantly attention-grabbing with sharp writing and a beyond-endearing lead in Gina Rodriguez.
It also makes us want to live in its setting of a lux hotel in Miami. Sure, it might be fall in your area, but Miami doesn't have fall. Miami's seasons are summer, summer, spring break, and summer.
So sip on of these Miami Vices (A.K.A. the love child of a piña colada and strawberry daiquiri A.K.A. what people mean by "having it all") and dream of a warm getaway. Get the full recipe here.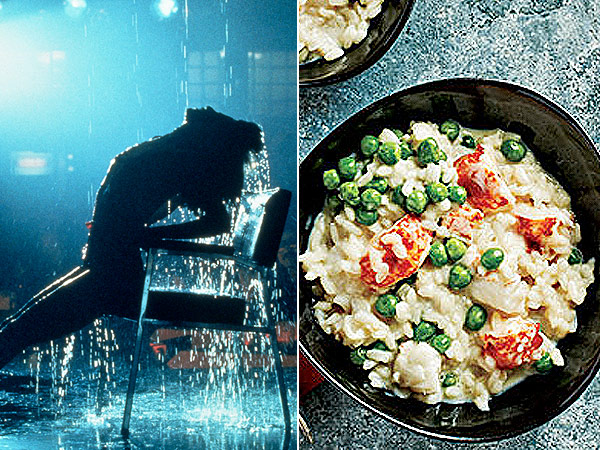 Courtesy SNAP/REX Shutterstock; Courtesy John Autry/Cooking Light
FLASHDANCE
Now Streaming on Hulu Plus
It's the film that made teenage girls in the '80s collectively pull out their scissors and butcher their favorite sweatshirts in the name of always having on casual dance attire (because you never know when the music is gonna get to you).
Anyone who's seen the movie would also instantly remember this iconic restaurant scene (Warning: Contains semi-graphic content, primarily between Jennifer Beals and an unsuspecting lobster).
We are not condoning nor advocating that this is an acceptable way to eat lobster. In fact, we prefer the much more civilized vessel of risotto by way of a fork, and keeping these, erm, romantic gestures confined to the privacy of your own home.
Lobster Risotto
4 cups low-sodium chicken broth
3 (5-oz.) American lobster tails
3 tbsp. butter, divided
1 cup uncooked arborio rice or other medium-grain rice
¾ cup frozen green peas, thawed
1. Bring broth and 1 ½ cups water to a boil in a saucepan. Add lobster; cover and cook for 4 minutes. Remove lobster from pan; cool for 5 minutes. Remove meat from cooked lobster tails, reserving shells. Chop meat.
2. Place shells in a large zip-top plastic bag. Coarsely crush shells using a meat mallet or heavy skillet. Return crushed shells to the broth mixture. Reduce heat to medium-low. Cover and cook for 20 minutes. Strain shell mixture through a sieve over a bowl, reserving broth; discard solids.
3. Return broth mixture to saucepan; keep warm over low heat. Heat 1 tablespoon butter in a medium saucepan over medium-high heat. Add rice to pan; cook 2 minutes, stirring constantly. Stir in 1 cup broth mixture, and cook for 5 minutes or until liquid is nearly absorbed, stirring constantly. Reserve 2 tablespoons broth mixture.
4. Add the remaining broth mixture, ½ cup at a time, stirring constantly until each portion is absorbed before adding the next (about 22 minutes total).
5. Remove from heat, and stir in lobster, the reserved 2 tablespoons broth mixture, 2 tablespoons butter, and green peas.
RELATED: Cook from the Book: Chili Lobster from Marc Forgione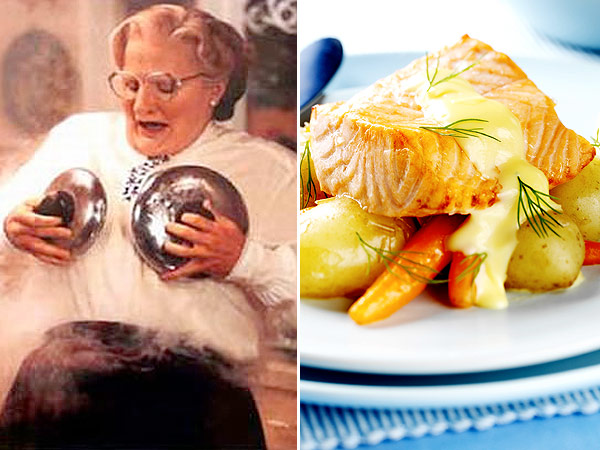 SNAP/Rex/REX USA; Getty Images
MRS. DOUBTFIRE
Now Streaming on HBO Now
A classic, forever and always! A throwback to a time when having a wild party meant dancing on the pool table with your dad to House of Pain's "Jump Around". Don't act like you're too cool for it now.
Perhaps the most iconic scene from the movie comes when Robin Williams attempts to cook, in full nanny garb, and the results were a classic '90s comedy disaster.
There are obviously many egregious cooking errors happening here, the most glaring of which is that giant pan of boiling hollandaise sauce.
Hollandaise is a delicate flower, and needs to be treated as such. The most foolproof way to prevent disaster? Make it in the blender. No fussing, no separating, just good old-fashioned rich deliciousness.
Blender Hollandaise
4 egg yolks
2 tbsp. lemon juice
¼ teaspoon salt
Dash of pepper
½ cup butter, melted
1. Combine egg yolks, lemon juice, salt, and pepper in container of an electric blender; process at high speed until thick and lemon colored.
2. Turn blender to low speed; add butter to yolk mixture in a slow, steady stream. Turn blender to high speed; process until thickened (about 30 seconds).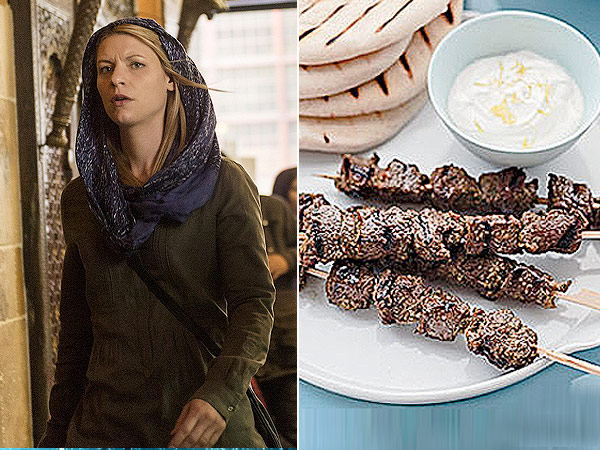 JOE ALBLAS/SHOWTIME; Quentin Bacon/Food & Wine
HOMELAND, SEASON 5
Coming to Hulu Plus October 4
Crazy Carrie is back for a new season!
We hardly ever see her eat anything (besides pills) on the show, and Claire Danes recently opened up about the dearth of vegetables while filming on location in Morocco, so we say embrace it and get this girl some protein. These spiced lamb skewers should do the trick.
Middle Eastern Lamb Skewers
1 onion, quartered
1 garlic clove, peeled
4 flat-leaf parsley sprigs
½ tsp. finely grated lemon zest
3 tbsp. fresh lemon juice
1 tsp. ground allspice
1 tbsp. kosher salt
Pinch of saffron threads
1 ¼ pounds trimmed lamb loin, cut into 1-in. cubes
2 tbsp. vegetable oil
Warm pita and Greek-style plain yogurt for serving
1. In a blender, combine the onion, garlic, parsley sprigs, lemon zest, lemon juice, allspice, salt and saffron and puree until smooth. Transfer the marinade to a resealable plastic bag, add the cubed lamb and turn to coat. Seal the bag, pressing out any air. Refrigerate the lamb for at least 6 hours or preferably overnight.
2. Light a grill or preheat a grill pan. Drain the lamb, shaking off the excess marinade. Thread the lamb onto 4 long skewers, leaving a bit of room between the cubes. Brush the lamb with the oil and grill over high heat, turning occasionally, until lightly charred, about 5 minutes for medium-rare meat. Serve the lamb skewers with warm pita and yogurt.
RELATED: Claire Danes: 'We Couldn't Eat Any Fresh Vegetables' for a Month While Filming Homeland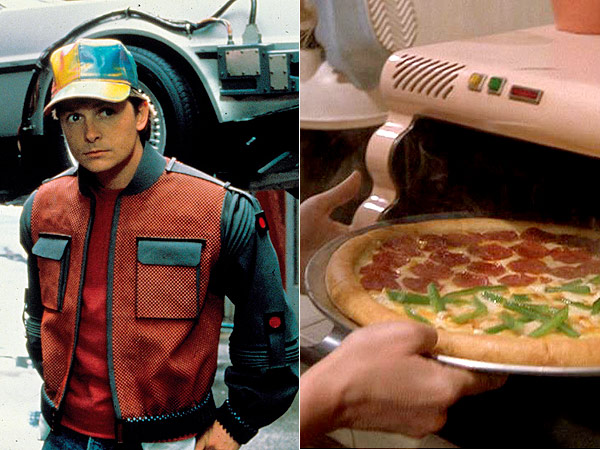 Moviestore/Re/REX Shutterstock
BACK TO THE FUTURE I, II, and III
Now Streaming on Amazon Prime
There are so many reasons that why having this entire classic trilogy at our disposal this month is exciting, first and foremost being that October 21, 2015 is the official, one-time-only Back to the Future day.
Yes, it is the exact date that Marty McFly travels to from 1985 in the second movie. It is the reason we are still all, "Where are our hover boards and flying cars? THERE WERE SUPPOSED TO BE HOVER BOARDS AND FLYING CARS BY NOW."
You know what else there isn't? This:
Dehydrated mini Pizza Hut pizzas that turn into hot, full-sized regular pizzas in seconds. Scientists, please make this a priority.
Until then, though, we've created our own version of this seemingly half pepperoni-half green bean (?!) concoction. So mark October 21 on your calendar and have yourself a pizza party.
Green & Red Pizza
½ cup trimmed green beans
1 lb. store-bought pizza dough
¼ cup marinara sauce
¼ cup basil pesto
1 cup low-moisture mozzarella cheese, shredded
1 cup fontina cheese, shredded
4 oz. sliced pepperoni
¼ cup parmesan cheese
1. Preheat your oven to 500°F.
2. In a small saucepan full of boiling, salted water, cook green beans for 2 minutes. Transfer to bowl of ice water to shock them and set their color. Drain and pat dry.
3. On a lightly floured surface, roll your pizza dough out into a 14-inch circle. Transfer to baking sheet lined with parchment.
4. On one half of the dough, add marinara sauce, on the other half, add pesto. Sprinkle the marinara side with mozzarella and top with pepperoni slices; sprinkle the pesto side with fontina and top with blanched green beans. Sprinkle the whole pizza with parmesan.
5. Bake for 12-15 minutes, or until crusts are browned and cheese is bubbly.
RELATED: 9 Cool Ways to Hack Your Pizza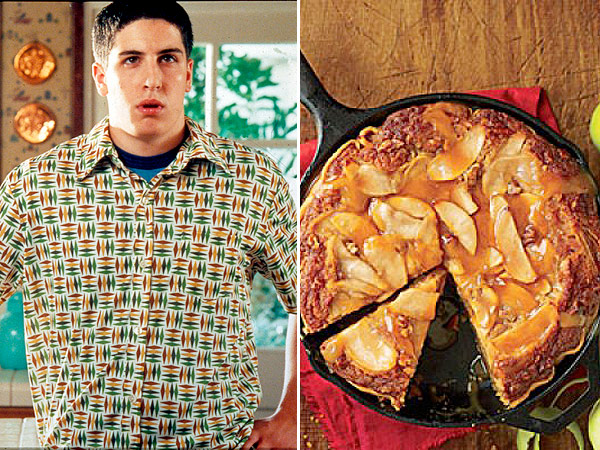 Moviestore/Re/REX Shutterstock; Hector Sanchez/Southern Living
AMERICAN PIE
Now Streaming on Netflix
We know. WE KNOW. It's so wrong to eat a pie while watching this movie, but what choice have we?
Plus, doesn't this pie look delicious?! It has apple cider caramel sauce on top! It's all innocent fun, and this discussion is over.
Caramel Apple Blondie Pie
6 large Granny Smith apples (about 3 lb.)
2 tbsp. all-purpose flour
2 cups firmly packed light brown sugar, divided
1 cup butter, divided
1 ½ cups all-purpose flour
1 ½ tsp. baking powder
½ tsp. table salt
3 large eggs, lightly beaten
3 tbsp. bourbon
¾ cup coarsely chopped toasted pecans
½ (14.1-oz.) package refrigerated piecrusts
Apple Cider Caramel Sauce (recipe below)
1. Peel apples, and cut into ¼-inch-thick wedges. Toss with 2 tbsp. flour and ½ cup brown sugar in a large bowl. Melt ¼ cup butter in a large skillet over medium-high heat; add apple mixture, and sauté 15 minutes or until apples are tender and liquid is thickened. Remove from heat; cool completely (about 30 minutes).
2. Meanwhile, preheat oven to 350°. Melt remaining ¾ cup butter. Stir together 1 ½ cups flour and next 2 ingredients in a large bowl. Add eggs, bourbon, melted butter, and remaining 1 ½ cups brown sugar, stirring until blended. Stir in pecans.
3. Fit piecrust into a 10-in. cast-iron skillet, gently pressing piecrust all the way up the sides of skillet. Spoon two-thirds of apple mixture over bottom of piecrust, spreading and gently pressing apple slices into an even layer using the back of a spoon. Spoon batter over apple mixture; top with remaining apple mixture.
4. Place pie on lower oven rack, and bake at 350°F for 1 hour and 10 minutes to 1 hour and 20 minutes or until a wooden pick inserted in center comes out with a few moist crumbs. Remove from oven; cool pie completely on a wire rack.
5. Drizzle cooled pie with ⅓ cup Apple Cider Caramel Sauce. Serve with remaining sauce.
Apple Cider Caramel Sauce
1 cup apple cider
1 cup firmly packed light brown sugar
½ cup butter
¼ cup whipping cream
Cook cider in a 3-qt. saucepan over medium heat, stirring often, 10 minutes or until reduced to 1/4 cup. Stir in remaining ingredients. Bring to a boil over medium-high heat, stirring constantly; boil, stirring constantly, 2 minutes. Remove from heat, and cool.
RELATED: 20 Sensational Salted Caramel Desserts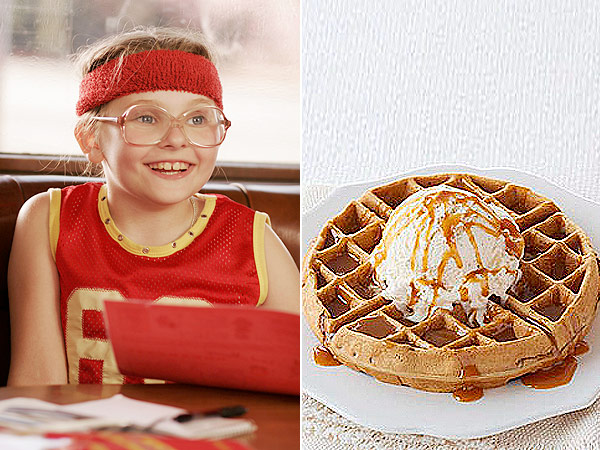 Moviestore/REX Shutterstock; Courtesy All You
LITTLE MISS SUNSHINE
Now Streaming on HBO Now
It's the movie that made Abigail Breslin an instant star and the most adorable Oscar nominee of all time.
It's admittedly hard to watch this scene where Greg Kinnear's character body shames his own daughter for ordering waffles with ice cream.
…but it also makes us hungry for waffles with ice cream. Because waffles with ice cream are awesome, and we will not be silenced, dad!
Waffles a la Mode
1 ¾ cups all-purpose flour
¼ cup sugar
1 tsp. baking soda
½ tsp. salt
1 ½ cups milk
⅓ cup vegetable oil
1 large egg
1 tsp. vanilla extract
1 tbsp. instant coffee
Vanilla ice cream and caramel sauce, for serving
1. Preheat oven to 200°F; preheat waffle iron. Stir together flour, sugar, baking soda and salt in a large bowl. In a medium bowl, whisk milk, vegetable oil, egg, vanilla and instant coffee. Add milk mixture to dry ingredients; whisk until just combined.
2. Mist waffle iron lightly with cooking spray. Pour as much batter as manufacturer suggests, usually about ½ cup, onto waffle iron, close and cook until golden, about 2 minutes. Place finished waffles directly on rack in oven to keep warm.
3. Allow waffle iron a minute to heat up, then repeat with remaining batter. Mist iron with cooking spray as needed between batches. Serve with ice cream and caramel sauce, if desired.
RELATED: A Waffle Sundae Worthy of Parks and Recreation's Leslie Knope
—Shay Spence, @chezspence