Start Stocking Up! There Could Be a Canned-Pumpkin Shortage This Fall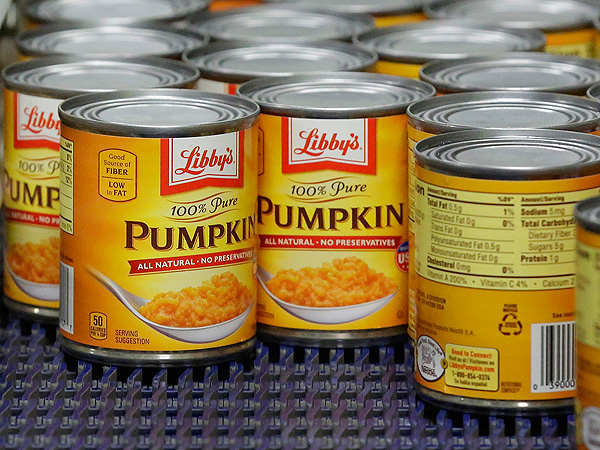 Seth Perlman/AP
If the beginning of fall means pumpkin is basically your only food group for the next few months, you better hurry to the supermarket.

According to crop experts, canned pumpkin yield could be off by as much as a third this year in Illinois. The Midwestern state — which is responsible for about 90 percent of the U.S.-grown pumpkins — experienced a record rainfall in June causing the shortage, say farmers.
"I would not wait until Nov. 20 [to buy canned pumpkin]," University of Illinois's Department of Crop Sciences professor Mohammad Babadoost told the Associated Press. "I'd buy it whenever it comes to the store."
RELATED: There's Now a Secret Society for Pumpkin Spice Latte Lovers (Seriously)
Pumpkin pie fans shouldn't worry too much though. Roz O'Hearn, corporate and brand affairs director for canned pumpkin manufacturer Libby's, says they'll be enough supply for the autumn holidays.
But, "once we ship the remainder of the 2015 harvest, we'll have no more Libby's pumpkin to sell until harvest 2016," she says.
Farmers whose crop was washed out once, even tried to replant to no avail.
"When you deal with Mother Nature," said Jane Moran, owner of Moran's Orchard in Neoga, Illinois, "you just have to take it and go on."
RELATED: Where Does Your Favorite Celebrity Fall on the Great Pumpkin Spice Debate?
We're just hoping the shortage won't affect our pumpkin spice latte addiction.
—Ana Calderone, @anacalderone