Sally's Baking Addiction: Celebrate the Season with This Autumn Sangria Recipe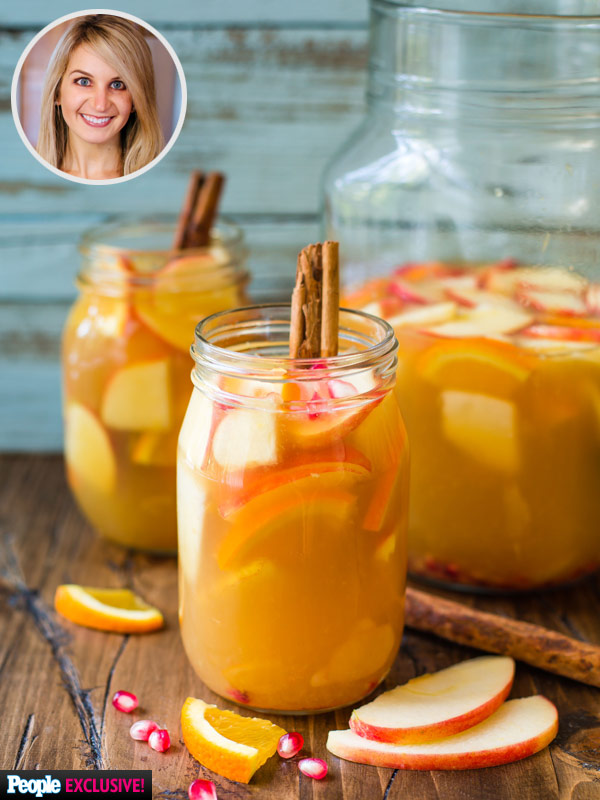 Sally McKenney Quinn; Inset: Jen Woodruff
Baking enthusiast Sally McKenney Quinn is the author of the popular blog and cookbook Sally's Baking Addiction as well as a food blogger for PEOPLE.com. Check back each month for her latest easy-to-follow recipes! You can order her new cookbook, Sally's Candy Addiction, here. Warning: Don't read when hungry. 
As the leaves fall and the cooler weather creeps in, my preferred cocktail is this autumn sangria.

It's filled with favorite fall flavors like apple, orange, pear, pomegranate, apple cider, and cinnamon spice.
I love making sangria not only because it is undeniably simple, it's also tastier when prepped in advance. This saves me time before the thirsty crowd arrives!
RELATED: Sally's Baking Addiction: How to Make Decadent Skillet Caramel Brownies
Make sure you let the fruit soak before serving — the longer, the better. Their natural flavors and juices will infuse into the alcohol and cider over a few hours (and the alcohol into the fruit!).
I prefer to let the sangria sit for 6-8 hours before serving, 3 hours at a minimum. This means you can prep it in the morning to serve in the evening. It's so convenient!
My number one tip? Serve this autumn sangria with a splash of club soda. This really gives the sangria a little something extra. Don't add the club soda anytime before that or it will lose a lot of its wonderful fizz.
Wine lovers and I agree: Pour yourself a tall glass! Cheers.
RELATED: Sally's Baking Addiction: This Pumpkin French Toast Recipe Is the Perfect Fall Brunch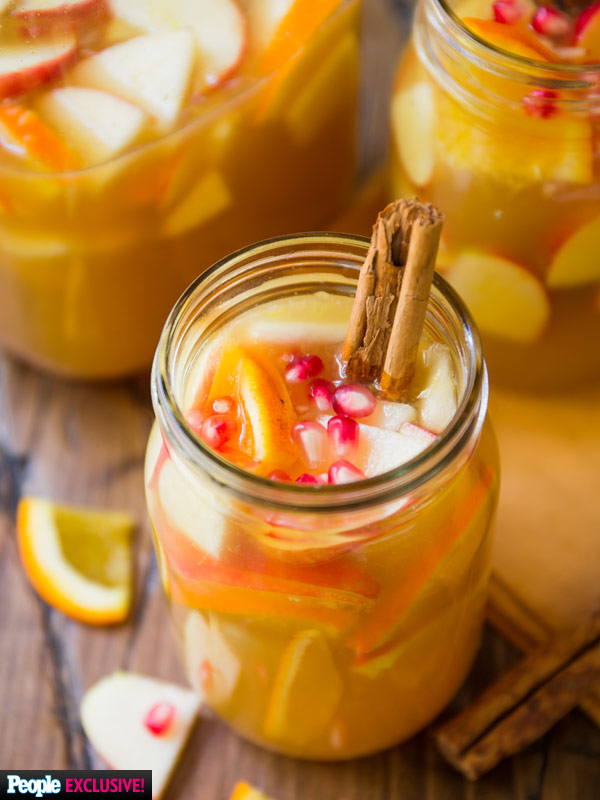 Sally McKenney Quinn
Autumn Sangria
Serves 6-8
2 cinnamon sticks, plus more for serving
2 medium apples, thinly sliced (I prefer Honeycrisp)
1 medium pear, thinly sliced
1 medium orange, thinly sliced
⅔ cup pomegranate seeds
1 (750 ml) bottle white wine (I suggest a Pinot Grigio)
2 cups apple cider
½ cup brandy
¼ cup orange juice
2 tbsp. lemon juice
Club soda, for serving
RELATED: The Comprehensive Guide to Pumpkin Spice Flavored Foods
1. Place the cinnamon sticks and fruit into a large pitcher. Add wine, apple cider, brandy, orange juice, and lemon juice. Allow to sit in the refrigerator for 3 – 24 hours (6-8 hours is best!).
2. Pour the sangria and fruit into glasses. Add a splash of club soda. Garnish with a cinnamon stick, if desired.
Prep Time: 30 minutes
Total Time: 3 hours, 30 minutes (or overnight)