We Tried It: Naked Yoga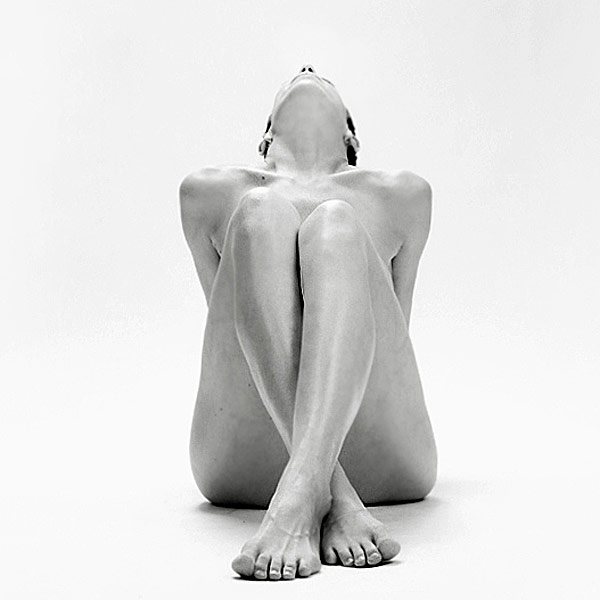 Bold and Naked
What Is It: Bold and Naked, a nude yoga class in New York City
Who Tried It: Maria Yagoda, Writer-Reporter
Level of Difficulty: 10/10. For a person who practices yoga and/or moves with some regularity: 7/10.
My name is Maria Yagoda, and I am not flexible.
"Don't say that!" Monika Werner shouted, as though I put a plague on both our houses. I was trying to explain why I'm the slowest, least flexible woman she'd ever meet, which she found unproductive. "It's getting in your head."
I could see where Werner — beautiful-fit-tall yoga instructor and owner of Bold and Naked, an all-naked yoga class — was coming from, but I also can't touch my toes, at least not since the bath times of my infancy.
My relationship with yoga is complicated. Like most complicated things, it can be traced back to one fairly straightforward incident: As a teen, I signed up for an adult education yoga class at my high school. Not that I compared myself to my senior classmates, because I am strong and believe in myself, but I read the room carefully, like a stand-up comedian in a new city. And everyone, it seemed, was able to perform downward facing dog without releasing low and croaky Tina Belcherian "uhhhhhhhhhhh"s. I stopped going after the second class, and not just because I farted once during bridge pose, though that certainly played its part.
RELATED: We Tried It: An Underwater Spin Class
I arrived early to my first naked yoga class, so I could scope out the studio — pristine, spacious and dimly lit — and chat with Werner. By "chat" I mean that she said words like "awareness" and "energy" while I imagined doing tree pose, butt exposed, then falling forward, boobs first, as a mob of laughing naked people — all prettier and more toned than me, all without irregular left arm moles and knees that resemble smiling baby faces — slowly surround me until I can't breathe. (I have very specific insecurities).
"All day long you put on masks and pretend to be X, Y, Z. And here, you're supposed to take your masks off and show who you really are, with no judgments, and love who you are," she said, explaining the benefits of practicing yoga without clothes. "And in that way, the connections you make with your classmates are so much easier. Because we're all the same. You go into yoga class and you compare — maybe she has a cute tank top, or she has Lululemon yoga pants. People are more open-minded. The energy is more supportive, less judgmental."
But if I compare myself constantly to people — right now, as I type this, I'm gazing at my colleague Grace's immaculate top bun, wishing I could grab it off her head and put it on mine — would that impulse not be amplified when everyone strips down, and my flab is left to flap about like pale sails on the open seas?
"I find yoga classes nowadays can be very competitive," she continued. "Nobody's looking at you. And that's the thing too — you have a better self-awareness in a class. And anatomically, you really feel the muscles move or stretch. It's a different experience."
RELATED: We Tried It: The World's Largest Gummy Skull … Eaten in One Day, by One Woman
Werner, who has an MBA and manages the business side of Bold and Naked with her partner, Joschi, has been practicing yoga for 15 years and teaching for nine. She and Joschi have been teaching naked yoga for the past two years, though they've practiced naked for almost a decade. Once you try yoga without clothes, you're hooked, she says. You see your body differently. "We take our bodies for granted. It's amazing what this machine can do."
Yes, yes, yes, I thought. Amazing. But what about that place where my thigh links up to my pelvis? Surely that is not meant to be seen.
Five minutes before it was time to take my clothes off, Werner told me, "The scary part is taking your clothes off."
Cool cool cool cool cool cool. Cool.
"But once you're naked and you're in on your mat — nobody's looking, nobody's judging, nobody cares," she said. "I would say 99 percent of people forget eventually that they're naked, and they're totally cool with it. I think in those two years I had only one person who was like, 'I could not forget that I was naked.' We don't have anyone gawking."
I looked toward the studio, a large room off to the side of the cozy reception area. A man had already de-robed, and was sitting naked on his mat, stretching forward onto his toes. I took my glasses off and headed to the cubby area. Keeping my eyes to the ground, I took off piece by piece — shirt, pants, bra, underpants — as the rest of the 20-person class poured through the doors and undressed beside me. The quarters were close, like an 8:45 a.m. L train.
I walked into the studio, holding my mat in front of my naked body, but making sure it looked natural, as though I always carried things so they unfurl and cover the whole front of my body.
We all spread out on the floor. I found a spot by the wall. People started stretching, doing really professional-looking stretches, so I sat down and flopped over my legs. I made quick eye contact with some of my naked comrades — I wanted to show them that I could hang, that I was one of them. Wait would I make eye contact with people if I weren't naked?!? Or would I? How do I act clothed?
I wasn't sure of anything anymore, except that I wish I hadn't eaten an ice cream cake for my afternoon snack.
RELATED: One PEOPLE Staffer Tried Meow Parlour's Cat Yoga
I leaned back onto my yoga mat and looked up at the ceiling, starting to feel more comfortable — I mean, we were all so, so naked. Behind me, a man started conversation with a woman next to him. "How's it going?" She said good. "I've seen you here before right?" She said it was her first time. "I guess everyone looks pretty similar here!" he said. They both laughed. It was an exchange that could have sounded creepy — a naked man exchanging pleasantries with a naked woman he didn't know — but it didn't: it was sweet. We were all naked and we all knew it. Most importantly, we were all together, as a group. Bodies are shaped differently, yes, but we're all connected by the simple fact of having them, and that's more beautiful than an impeccably formed warrior pose, or even Grace's top bun.
Werner dimmed the lights and began the class; I had already forgotten I was naked. What I could not forget, however, was that I was the least flexible girl in all the land, just as I'd suspected. Two minutes in, I was dripping sweat, slipping and sliding on my mat, doing first grade versions of 12th grade moves. I ached. I puffed. I flopped. I flabbed.
Verdict: Weirdly, I didn't mind. I was working so hard to keep up — focusing so intently on breathing, pushing each pose to the best of my abilities, not dying — that I had no time to worry about comparing myself to others, athletically or aesthetically. The class, an hour-and-a-half long, was all-consuming. It was also far more aerobic, and advanced, than I'd expected. But that's the beautiful thing about yoga: There's still value in it even if you can't do the moves perfectly. "Perfect" is beside the point here — something that being naked helps you better appreciate. Yeah, my chubby baby knees still looked weird as hell. I have weird knees, damnit. But being in this room of 20 naked people reminded me: LITERALLY NO ONE CARES ABOUT MY WEIRD KNEES, especially not when there's work — intense-ass yoga/intense ass yoga — to be done.
After the class, I put on clothes and gave Werner a big hug.
Then I went outside and threw out my yoga mat.
— Maria Yagoda, @mariayagoda