Hungry Girl: Trick or Treat! Try These Halloween Costume and Candy Pairings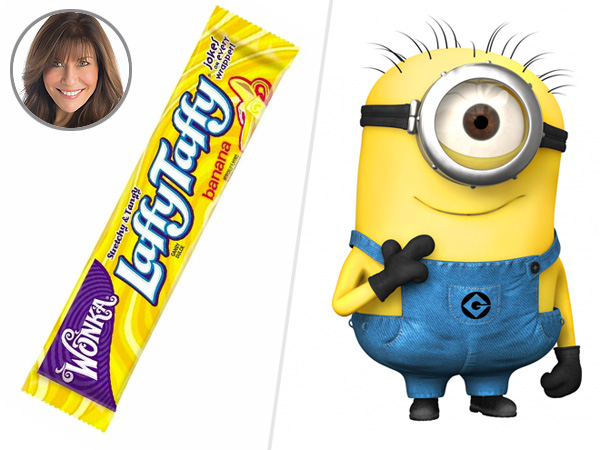 Inset Courtesy Lisa Lillien
Lisa Lillien is the author of the popular Hungry Girl website and email newsletter, featuring smart, funny advice on guilt-free eating. She is also the author of ten books, six of which debuted at number one on the New York Times Best Sellers list. Read her PEOPLE.com blog every Monday for slimmed-down celebrity recipes and more.

Wondering how to pull off the hot Halloween costumes for 2015? I've got the scoop, plus the perfect Halloween candy to pair with this year's costumes! (And, of course, the calorie counts 'cuz that's kind of my thing.)
Costume: Left Shark
Candy: Gummy sharks (8 small pieces = around 120 calories)
It feels like Katy Perry's Super Bowl halftime performance was ages ago, but Halloween is the perfect opportunity to bring back Leftie! If you haven't already ordered your official Katy Perry shark gear, just get yourself a pair of powder blue sweats, a matching hoodie, and a white tee. Draw black eyes and a shark mouth on your tee, and you're good to go…
Costume: Ellie Kemper as Kimmy Schmidt in Unbreakable Kimmy Schmidt
Candy: Mini jawbreakers (3 pieces = 60 – 70 calories)
Find your brightest yellow cardigan, your brightest pink pants, and your most un-jaded grin. HG tip: Salvation Army is a great place to shop for your Kimmy outfit. Just be careful with the jawbreakers – those things are super strong!
RELATED: Hungry Girl Lightens Up Lady Gaga's Favorite Fried Chicken
Costume: Dancing Twins Emoji
Candy: Twix Bars (3 Mini cookie bars = 150 calories)
You'll need a friend, a couple of black leotards, and, are those bunny ears? Yup. The twins could also be sporting bunny tails, but there's no way to know! If you wanna really commit, a couple of blonde bobs are in order.
Costume: Elizabeth Banks as Lindsay in Wet Hot American Summer
Candy: Smarties Candy Necklace (1 necklace = 90 calories)
I spotted the jeans online, but you could always fake it by pinning a rainbow ribbon to your denim. And who doesn't want an excuse to wear a candy necklace? Just don't eat your costume too early in the night!
Costume: Kim Kardashian's 'Break the Internet' Cover
Candy: Twizzlers Black Licorice Twists (4 pieces = 150 calories)
Grab your sleekest (and sparkliest) long black dress, a pair of fancy black gloves, and some hair gel (you'll need it to coax your hair into that extreme up-do). For props, a champagne bottle and glass are in order. Warning: Get ready for both your costume and candy to be extremely divisive.
Costume: Minion
Candy: Banana Laffy Taffy (4 Fun Size bars = 140 calories)
BANANA! You know you've waiting for a reason to try out the overall trend. Throw on a bright yellow long-sleeve shirt, a pair of goggles, and some functional black gloves. Consider yourself Minioned.
RELATED: Hungry Girl: My Must-Make Pumpkin Milkshake – It's Only 112 Calories!
'Til next time… BOO, I mean, CHEW the right thing!