Celeb Trainer Harley Pasternak: The Scariest Thing About Halloween Isn't the Ghosts … It's the Candy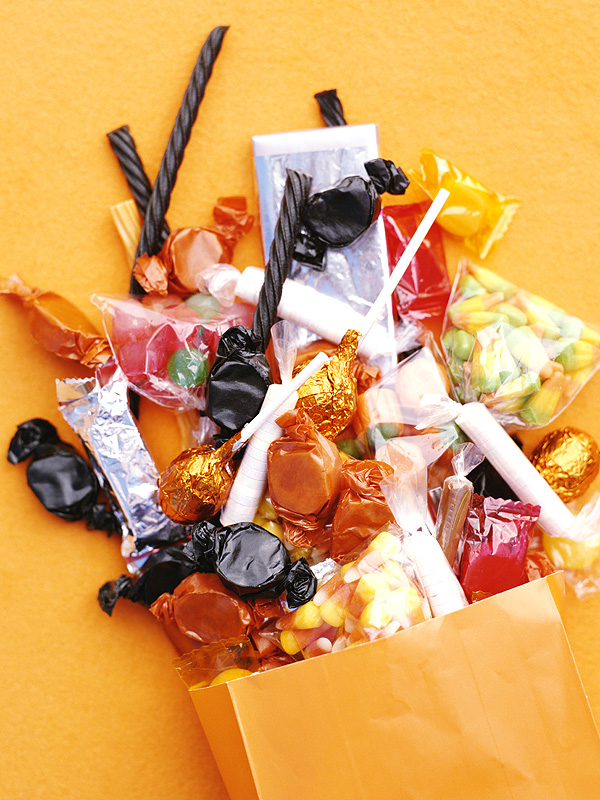 John Block/Getty
Harley Pasternak is a celebrity trainer and nutrition expert who has worked with stars from Halle Berry and Lady Gaga to Robert Pattinson and Robert Downey Jr. He's also a New York Times best-selling author, with titles including The Body Reset Diet and The 5-Factor Diet. His new book 5 Pounds is out now. Tweet him @harleypasternak.

Ghosts, goblins, bats, skeletons, spiders and their webs — all these spooky Halloween images both terrify and delight kids. But the real fright is the one you (and they) can't see — what's hiding in ingredients of our beloved Halloween candies. And there's nothing delightful about that.
First, let me remind you that I love good fun and accept that there are times when it's okay to relax a bit about what you and your family eat. Don't worry, I won't tell you to make your kids toss their bags of loot when they get home. Nor will I suggest that you offer the neighborhood trick-or-treaters apples or toothbrushes or some other "healthy" treat. (The next day you're apt to find them tossed on your lawn.) But I do hope that forewarned and forearmed, you'll be able to choose one or more of the less unhealthy offerings.
1. Be on the lookout for sneaky trans fats.
Hydrogenated oil is (primarily) saturated fat that has been bombarded with hydrogen gas to give it a long shelf life. It and other trans fats ramp up your "bad" cholesterol and diminish your "good" cholesterol, and are associated with an increased risk of heart disease, stroke and diabetes. Although trans fats are not banned from food products, they must be listed on food labels, and even small amounts are dangerous. But as long as a single serving contains less than 0.5 grams, the nutrition label is allowed to state 0 grams.
To ensure your kids get no trans fats, check out the ingredients list to make sure it includes no hydrogenated or partially hydrogenated oils. What are trans fats doing in a product for kids anyway? Well, like high-fructose corn syrup, it's not as pricy as other fats like cocoa butter. Often fun size and mini sizes don't have nutrition facts listed right on them, but most companies have nutrition facts on their websites.
2. Artificial flavors are tricks, not treats.
It may taste like vanilla, butterscotch or strawberries, but these phony flavors masquerading as the real McCoy are right out of the chemistry lab, rather than Mother Nature's pantry. These chemicals are as spooky as a stranger in a Halloween witch costume knocking on your door at midnight. Simply said, if any food item is modified with the word "artificial," it doesn't belong in any child's mouth.
3. Same goes for artificial colors.
Artificial food colors have been under fire for more than a century for causing health problems from ADHD to cancer, but seven synthetic colors still remain on the FDA's approved list. There is no conclusive evidence that those are harmful, but there's plenty of study and speculation by consumer groups and food safety advocates that cast doubt on their safety.
Luckily, food manufacturers have started to more widely embrace natural coloring. This year cereal giants General Mills and Kellogg's have announced they'll start phasing out artificial flavors and colors and replace them with natural ones.
Artificial coloring isn't just for candy and cereal, though. Burger King just introduced its Halloween Whopper with a black bun, featuring four different artificial colors. Just when you thought a fast food burger couldn't get any more unhealthy …
4. Pick your poison (NOT).
High-fructose corn syrup (HFCS) is used in most candies because it's sweeter and cheaper than cane sugar, but as I'm sure we've all heard, HFCS is scary when it comes to your health. A high intake boosts triglyceride levels, meaning more risk for heart disease. Its increasing use parallels the increase in obesity, including child obesity. And, of course, it promotes dental cavities.
5. A little petroleum in your bag of candy?
The three most commonly used preservatives are derived from petroleum, which is probably why they're usually listed with their acronyms. Their full names sound scary. Butylated hydroxytoluene (BHT) and its close relative butylated hydrooxyanisole (BHA) prevent fats from separating and going rancid, which can affect flavor and pose health risks. BHA began to replace BHT several years ago because of concern over its health risks, but the FDA continues to regard BHT as safe. Go figure! Avoid any products with preservatives. There's no need for them in foods such as candy that are typically consumed shortly after purchase.
Some Better Options
Your best bet is purchase organic candy made with molasses, honey, maple syrup and agave syrup, or rice, cane or fruit juice. But organic products are more expensive than conventional candy. There are a number of conventionally made candies that don't contain one or more of the scary five above, but you'll be hard put to find any that omit all five without taking the organic route.
Natural sugars, including cane sugar, are still preferable to HFCS, but aim for less than 10 grams of sugar per serving. A fun size bar of either Mounds or Nestlé Crunch contains only 7 grams of sugar. Dove chocolate bars are made with sugar instead of HFCS but do contain some artificial flavors, as do Lindt Lindor chocolate truffles. Ditto for several of Hershey's brands, including Reese's Peanut Butter Cups, Symphony bars, Skor and Special Dark Chocolate. Again, organic products won't contain any trans fats. Nor do Reese's Peanut Butter Cups, Mounds and Kit Kat, Hershey's Miniatures, Smarties and Haribo Gummy Bears, though some do contain artificial flavors and/or colors.
Bottom line, read the ingredients lists and/or check websites for brands. And look at it this way: You may not be able to find products that meet all five of the challenges above, but the fewer of these ingredients in the candies you do hand out, the better. And Happy Halloween!
Celeb Trainer Harley Pasternak Shares a Go-To Move to Get Buns like Beyoncé