Chips Ahoy Just Turned Our Favorite Winter Drink into a New Cookie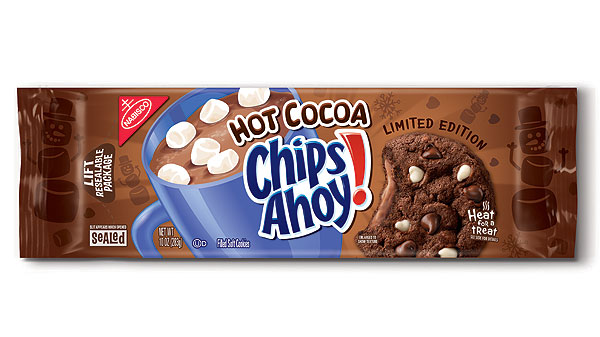 Chips Ahoy!
As the days get colder, we no longer feel the urgent need to quench our thirst and pesky sweet tooth craving with pumpkin spice lattes (that's right, PSLs — it's over between us).

No, a dip in temperatures sets off a desire for beloved hot cocoa — and let us tell you, we can't wait until it's seasonally appropriate to start waxing poetic about the drink on a daily basis.
RELATED: Taylor Swift Says These Chocolate Chip Cookies Were a 'Real Turning Point in My Life' — Get the Recipe!
While we're not knee-deep in hot cocoa-flavored products, as was the case with pumpkin spice, trusted cookie brand Chips Ahoy has jumped on the cocoa-train to offer up its first-ever hot cocoa-flavored cookie.
The new creation is made up of chocolate and marshmallow chips and boasts a gooey center that undoubtedly mimics (especially when served warm) a nice cup of hot chocolate. And get this, unlike its original chocolate chip cookie, Chips Ahoy's hot cocoa-flavored treats are soft.
RELATED: We Tasted (and Graded) Every Crazy New Oreo Flavor
Unfortunately, as is the case with plenty of other special edition flavors, Chips Ahoy's new invention is only available for a limited time, starting Nov. 2nd.
BRB, adding them to our holiday wish list, stat!
—Grace Gavilanes