Khloé Kardashian Reveals Her Perfectly Organized Refrigerator: 'There Is a Method to the Madness'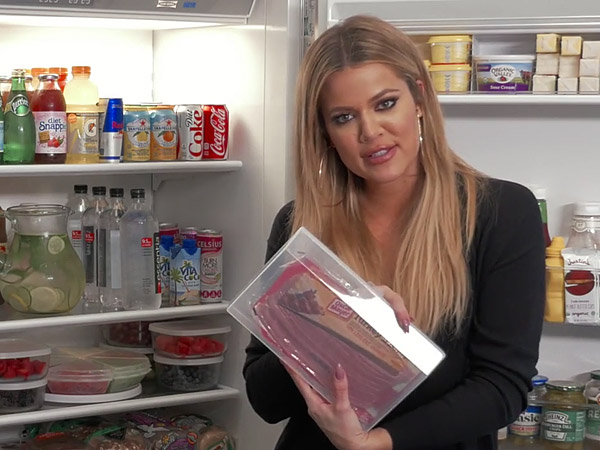 Khloe Kardashian
Khloé Kardashian's unparalleled food organization skills strike again.

After previously sharing her meticulous method for stacking cookies and then showing off her entire pantry (complete with all the candy and junk food anyone could ever dream of), the reality star has taken us to the next frontier: her refrigerator.
In a new KHLO-C-D video on her website, Kardashian shows not only how she does what she does, but why.  "There is a method to the madness when it comes to placing everything in your refrigerator," she begins, before breaking it down shelf by shelf.
RELATED: Here's How You Can Recreate the Look of Khloé Kardashian's Super Organized Pantry
"The top shelf is normally used for drinks because the top shelf is where it gets warmest," she says as she shows off rows upon rows of beverages like almond milk (she doesn't drink regular milk anymore), Diet Snapple, Gatorade, Redbull, Coca Cola, as well as still and sparkling water (San Pellegrino and Perrier, ooh la la).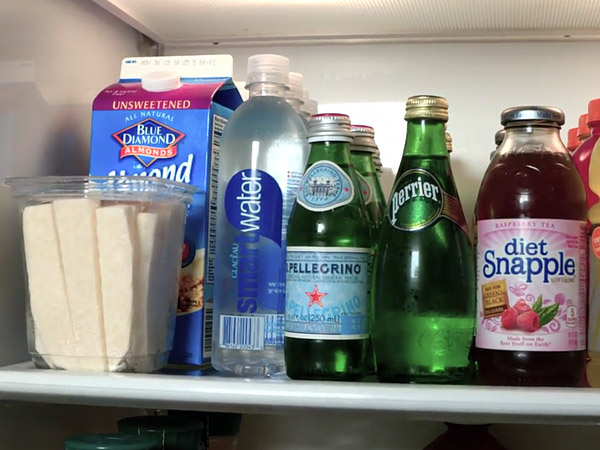 Khloe Kardashian
Another warmer spot? The door. "You always put condiments and everything on the side of the door, because those are the items that normally won't go bad so easily." (Side note: That pickle selection is on point.)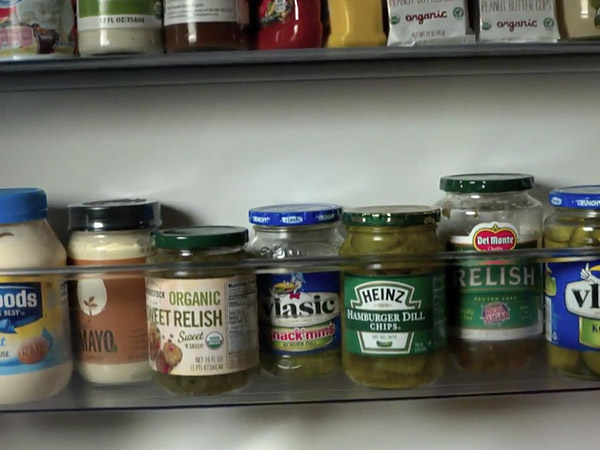 Khloe Kardashian
And as for those more perishable items like meats, they "always go at the bottom." Not just because it's a cooler part of the fridge, but in Kardashian's words: "The juices of the meat start to come out and they drip through the rest of your food; that's really unsanitary and gross." Agreed.
RELATED: Khloé Kardashian Shows How She Tones Her Famous Butt — Try It At Home!
Proving her hyper-organzined tendencies have no bounds, she even has a special "bacon holder," a plastic container shaped perfectly to keep bacon fresh, which goes in the meat drawer as well.
As far as her healthy side goes, Kardashian has a whole shelf dedicated to pre-cut veggies and fruits, which she stores individually in airtight containers for snacking and grazing (can't eat cookies all the time and still look as good as she does, we suppose).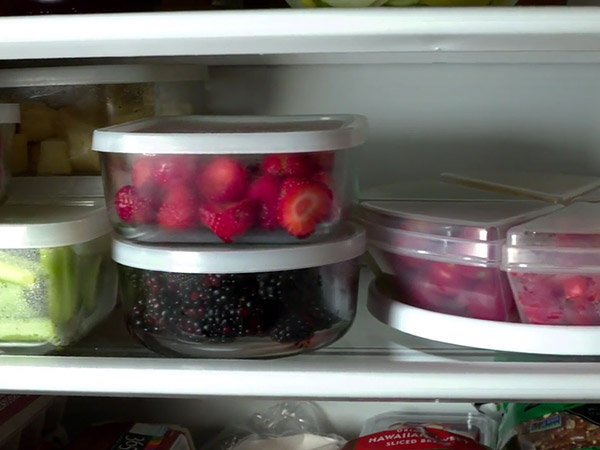 Khloe Kardashian
As far as material of the containers go, it's all glass, all the time — because of her sister, Kourtney, who she calls "a crazy warrior on like going green."
And, like her pantry, she keeps her fridge stocked with favorites of the little ones in her life (though this time it's not junk food). "I don't drink Pellegrino and Perrier, but my nieces and nephews do," she says.
RELATED: Get Khloé Kardashian's Secrets for Perfectly Arranged (and Long-Lasting!) Flower Bouquets
One final tidbit of wisdom? Keep a box (or 3, in her case) of baking soda in there. "It prevents your fridge from smelling or having bad odors," Kardashian says. Who knew?!
—Shay Spence, @chezspence